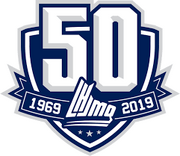 This is the 2018-19 Quebec Major Junior Hockey League season. This is the league's 50th season.
Franchise changes
Outdoor Game
The Shawinigan Cataractes host the Rimouski Oceanic on February 8th and then the Quebec Remparts on February 9th in the 2019 QMJHL Winter Classic  at the Grandes Estrades du Festival Western de Saint-Tite in Saint-Tite, Quebec.  This is the third edition of the Winter Classic for the QMJHL and is being held at the site of the first event in 2015.
Player Death
On March 3, 2019, Alec Reid a forward with the Blainville-Boisbriand Armada died unexpectedly at the age of 18.  He died of complications from epilepsy.  Reid had several seizures during the month of February and had not played since February 19th.
Member teams
Division
Team
City
Arena
Capacity
West
Blainville-Boisbriand Armada
Boisbriand, Quebec
Centre d'Excellence Sports Rousseau
3,269
Gatineau Olympiques
Gatineau, Quebec
Centre Robert Guertin
3,196
Rouyn-Noranda Huskies
Rouyn-Noranda, Quebec
Aréna Iamgold
2,993
Val-d'Or Foreurs
Val-d'Or, Quebec
Centre Air Creebec
2,398
Central
Drummondville Voltigeurs
Drummondville, Quebec
Centre Marcel Dionne
2,889
Shawinigan Cataractes
Shawinigan, Quebec
Centre Gervais Auto
4,350
Sherbrooke Phoenix
Sherbrooke, Quebec
Palais des Sports
3,718
Victoriaville Tigres
Victoriaville, Quebec
Colisée Desjardins
2,753
East
Baie-Comeau Drakkar
Baie-Comeau, Quebec
Centre Henry-Leonard
2,779
Chicoutimi Saguenéens
Saguenay, Quebec
Centre Georges-Vézina
3,759
Quebec Remparts
Quebec City, Quebec
Videotron Centre
18,482
Rimouski Océanic
Rimouski, Quebec
Colisée Financière Sun Life
4,415
Maritimes
Acadie–Bathurst Titan
Bathurst, New Brunswick
K.C. Irving Regional Centre
3,162
Cape Breton Screaming Eagles
Sydney, Nova Scotia (Cape Breton Regional Municipality), Nova Scotia
Centre 200
5,010
Charlottetown Islanders
Charlottetown, P.E.I.
Eastlink Centre
3,718
Halifax Mooseheads
Halifax, Nova Scotia
Scotiabank Centre
10,595
Moncton Wildcats
Moncton, New Brunswick
Avenir Centre
10,000
Saint John Sea Dogs
Saint John, New Brunswick
Harbour Station
6,297
Standings
West Division
Central Division
East Division
Telus Maritimes Division
2019 President's Cup Playoffs
Format
The top 16 teams qualify for the playoffs. The three division winners are seeded 1, 2, and 3 based on record. The balance of the teams are seeded 4 to 16 regardless of division. Teams are re-seeded after each round. All series are best-of-seven.
The President's Cup champion (or runner up if the Halifax Mooseheads win the playoffs) advances to the 2019 Memorial Cup being held a the Scotiabank Centre in Halifax, Nova Scotia and hosted by the Halifax Mooseheads.
Bracket
First Round
Quarterfinals
Semifinals
Final
Both the Halifax Mooseheads and the Rouyn-Noranda Huskies advance to the 2019 Memorial Cup as Halifax is hosting and Rouyn-Noranda representing the league. Noah Dobson was awarded the Guy Lafleur Trophy as QMJHL Playoff MVP.