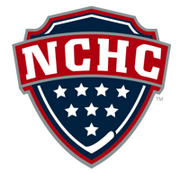 This is the 2018-19 National Collegiate Hockey Conference men's ice hockey season. This is the league's 6th season.
Membership changes
Membership
Standings
Note: With the 2018-19 season the NCAA started to allow conferences to use overtime and shootouts in conference games. The NCAA considers these games as a tie game. Shoot out loses are listed on above table but are also included in the loss column.
Conference Tournament
Format
The 2019 conference tournament will involve all teams playing in a best-of-three quarterfinal series with the winners advancing to the NCHC Frozen Faceoff. The teams are re-seeded prior to the semifinals. The semifinal winners meet in the championship game for the conference's automatic bid to the 2019 NCAA Division I Men's Ice Hockey Tournament. The semifinal losers will meet in the consolation game. The semifinal, championship, and consolation games will be held at the Xcel Energy Center in St. Paul, Minnesota on Friday, March 22 and Saturday, March 23, 2019.
Quarterfinals
Semifinals
Third Place
Final