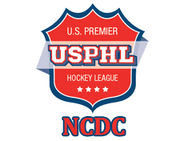 This is the 2018-19 National Collegiate Development Conference season.  This is the league's second season.
Membership Changes
Teams
National Collegiate Development Conference

Team
Location
Arena
Boston Bandits
Bridgewater, Massachusetts &
Bourne, Massachusetts
Bridgewater Ice Arena &
Gallo Ice Arena
Boston Jr. Bruins
Marlborough, Massachusetts
New England Sports Center
Connecticut Jr Rangers
Stamford, Connecticut
Chelsea Piers
Islanders Hockey Club
Tyngsborough, Massachusetts
Skate 3
Jersey Hitmen
Wayne, New Jersey
Capital One Bank Ice Vault Arena
New Hampshire Jr. Monarchs
Hooksett, New Hampshire
Tri-Town Ice Arena
New Jersey Rockets
Berkeley Heights, New Jersey
Prudential Center & Bridgewater Sports Arena
Northern Cyclones
Hudson, New Hampshire
Cyclones Arena
P.A.L. Jr. Islanders
Hauppauge, New York & Syosset, New York
The Rinx-Hidden Pond Park & Islanders Iceworks
Syracuse Stars
Utica, New York
Adirondack Bank Center at Utica Memorial Auditorium
Standings
Playoffs
Format
The top eight teams qualify for the playoffs. All rounds are best-of-three.
Quarterfinals
Semifinals
Final
References