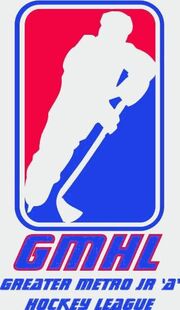 This is the 2018-19 Greater Metro Junior A Hockey League season. This is the league's 13th season.
Membership Changes
On April 19, 2018 the Wiarton Schooners announced their intention of returning to the league for the 2018-19 season. The team announced they were accepting applications for players for the 2018-19 season and brought in more staff to operate the team.[2]
The Wiarton Schooners were removed from the schedule on November 19, 2018. The franchise had been terminated without option for return.[6]
On March 8, 2019 the league posted that applications for the head coach position were being taken for the Bancroft Rockhounds expansion team for the 2019-20 season.[7]
Teams
North Division
South Division
Standings
North Division
Note Wiarton franchise was removed from the schedule on November 19, 2018.  Their record was removed from the other teams' records.
South Division
Russell Cup Playoffs
Format
All teams qualify. Teams are re-seeded after each round. Single elimination rounds are held until both conferences are down to 8 teams. The division quarterfinals are best-of-three. The division semifinals are best-of-five. The division final and Russell Cup final are best-of-seven.
North Preliminary Round 1
South Preliminary Round 1
North Preliminary Round 2
South Preliminary Round 2
South Preliminary Round 3
North Quarterfinals
South Quarterfinals
North Semifinals
South Semifinals
North Final
South Final
Postings on the St. George Ravens twitter page indicated that Tilsonburg was forced to forfeit games 3 and 4 of the series due to a lack of players caused by food poisoning.[8] Later reports indicated the team may have in fact folded.[9]
Russell Cup Final
References