2017 IIHF U20 World Championship
Division III
Tournament details
Host country
 New Zealand
Dates
16–22 January 2017
Teams
8
Venue(s)
1 (in 1 host city)
Tournament statistics
Matches played
20
Goals scored
148 (7.4 per match)
Attendance
3,105 (155 per match)
Scoring leader(s)

Rudi Ying


(19 points)
The 2017 World Junior Ice Hockey Championship Division III tournament was played in Dunedin, New Zealand, from 16 to 22 January 2017.[1] Division III represents the sixth tier of the World Junior Ice Hockey Championships. The winners – Turkey – were promoted to Division II B for the 2018 tournament. Chinese Taipei returned after a five-year absence. With an increase of teams for 2018, the two bottom-place teams, South Africa and Chinese Taipei, were afterwards moved to a Division III Qualification tournament.
Participants
[
]
Results
[
]
Preliminary round
[
]
Format
[
]
The two best ranked teams from each group of the preliminary round advance to the semi-finals, while two last placed teams from both groups play for final placement.
All times are local. (New Zealand Daylight Time – UTC+13)
Group A
[
]
Pos
Team
Pld
W
OTW
OTL
L
GF
GA
GD
Pts
Qualification
1
 China
3
3
0
0
0
19
8
+11
9
Advance to Semifinals
2
 Iceland
3
2
0
0
1
11
6
+5
6
3
 Israel
3
1
0
0
2
7
9
−2
3
4
 Chinese Taipei
3
0
0
0
3
5
19
−14
0
Game reference

Ren Mingwei

Goalies

He Wei-chih




Huang Sheng-chun

Referee:
Sergey Morozov


Ying

– 02:11 /

Ma

(

Huang

) – 08:19 / Ying (

Li

) – 13:21 / Li – 15:03 / Huang (

Zuo

) (SH) – 17:55 /

Deng

(Li, Ying) (PP) – 21:07 / Deng (SH) – 27:13 / Ying (Li) – 37:51 / Li (Ying) (SH) – 52:30
1–0 / 1–1 / 2–1 / 3–1 / 4–1 / 5–1 / 5–2 / 6–2 / 7–2 / 8–2 / 8–3 / 9–3
02:11 –

Yu

/ 18:24 –

Chiang

(

Chang C.

) / 50:17 – Chiang (Chang C.) (PP)
16 min
Penalties
4 min
53
Shots
17
Game reference

Raz Werner

Goalies

Maksymilian Mojzyszek

Referee:
Michael Weber

0–1 / 0–2 / 0–3
05:48 –

Johannsson

(

Oskarsson

,

Maack

) / 31:38 –

Sigrunarson

(

Olafsson

,

Induss

) (PP) / 31:44 –

Orongan

(

Kristinsson

,

Kristveigarson

)
8 min
Penalties
8 min
18
Shots
33
Game reference

Raz Werner

Goalies

Huang Sheng-chun

Referee:
Sergey Morozov


Merkulov

(

Aharonovich

,

Mostovoy

) – 27:58 /

Levin

(

Halpert

,

Ignatovich

) – 36:00 /

Kapulkin

(PP) – 46:47
1–0 / 2–0 / 3–0
6 min
Penalties
6 min
37
Shots
26
Game reference

Maksymillian Mojzyszek




Arnar Hjaltested

Goalies

Ren Mingwei

Referee:
Peter Tarnaris


Induss

(

J. Arnason

) (PP) – 04:48
1–0 / 1–1 / 1–2 / 1–3 / 1–4
16:34 –

Gao

(

Ying

) / 42:55 –

Li

(Ying,

Huang

) / 58:52 – Ying (Huang) (PP) / 59:12 – Li (

Deng

, Ying)
18 min
Penalties
18 min
28
Shots
35
Game reference

Huang Sheng-chun

– Out 27:17


Wei-Chih-he

– In 27:17
Goalies

Arnar Hjaltested

Referee:
Michael Weber


Huang P.

(

Tang

,

Pan

) – 34:04 /

Hsu

(Pan, Huang P.) – 58:03
0–1 / 0–2 / 0–3 / 0–4 / 0–5 / 0–6 / 1–6 / 1–7 / 2–7
03:37 –

Induss

(

J. Arnason

,

V. Arason

) (SH) / 12:36 – J. Arnason (

Olafsson

,

Sigrunarson

) / 20:43 – Induss (Sigrunarson, Olafsson) / 24:51 – Olafsson (Sigrunarson,

Thorsteinsson

) / 27:17 –

Maack

(

Gunnlaugsson

,

Oskarsson

/ 28:25 – Sigrunarson (Induss, Olafsson) / 38:21 –

Kristveigarson

(

A. Orongan

) (PP)
14 min
Penalties
14 min
18
Shots
60
Game reference

Ren Mingwei




Wang Yupeng

Goalies

Raz Werner

Referee:
Peter Haxell


Guo J.

(

Zuo

,

Gao

) – 07:50 /

Huang

(

Wang C.

, Guo J.) (PP) – 09:43 /

Zhang

(

Wu

,

Deng

) (PP) – 15:36 / Wu (

Xie

,

Ma

) – 24:34 / Huang (Zuo, Guo J.) (PP) – 48:23 /

Ying

(Zhang, Deng) – 54:48
0–1 / 1–1 / 2–1 / 3–1 / 4–1 / 4–2 / 5–2 / 6–2 / 6–3 / 6–4
07:40 –

Revniaga

/ 29:11 –

Sever

(

Hoffman

) (PP) / 56:48 –

Ignatovich

(

Kapulkin

) / 59:45 – Ignatovich (Kapulkin, Hoffman)
10 min
Penalties
10 min
47
Shots
20
Group B
[
]
Pos
Team
Pld
W
OTW
OTL
L
GF
GA
GD
Pts
Qualification
1
 Turkey
3
3
0
0
0
20
5
+15
9
Advance to Semifinals
2
 New Zealand
3
2
0
0
1
12
12
0
6
3
 Bulgaria
3
1
0
0
2
10
15
−5
3
4
 South Africa
3
0
0
0
3
4
14
−10
0
Game reference

Dimitar Dimitrov

Goalies

Aslam Khan

Referee:
Shingo Ikegami


Vachkov

(

M. Vasilev

) – 01:02 / M. Vasilev (Vachkov) – 03:47 /

Dilkov

(

T. Georgiev

, M. Vasilev) (PP) – 31:15 / M. Vasilev (T. Georgiev) – 53:44 /

Blagoev

(

Genkov

) (SH,ENG) – 58:47
1–0 / 2–0 / 2–1 / 2–2 / 3–2 / 4–2 / 5–2
15:16 –

Beukes

(

Venter

) (PP2) / 29:46 –

Ruthven

(

Bremner

,

Compton

)
14 min
Penalties
18 min
37
Shots
23
Game reference

James Moore

(out 07:50)


Taylor Goodall

(in 07:50)
Goalies

Tolga Bozaci

Referee:
Peter Tarnaris


Rooney

(

S. Brown

,

Vortanov

) – 19:25 / Vortanov (

Harford

) – 20:34 / Harford – 48:37 / Vortanov (Rooney, S. Brown) – 54:25
0–1 / 0–2 / 0–3 / 1–3 / 2–3 / 2–4 / 2–5 / 2–6 / 3–6 / 4–6
02:18 –

H. Salt

(

Bakal

) (SH) / 05:42 – H. Salt (Bakal) (PP) / 07:50 –

Bingol

(

Savas

) / 34:26

Taygar

(

Y. Kars

) / 37:04 – H. Salt (Savas) / 46:59 – H. Salt (Bakal, Y. Kars)(PP) /
8 min
Penalties
4 min
13
Shots
21
Game reference

Tolga Bozaci

Goalies

Dimitar Dimitrov

Referee:
Peter Haxell


Kavaz

(

Savas

,

Bingol

) – 15:26 / Bingol (Kavaz, Faner) (PP) – 18:23 /

Bakal

(SH) – 24:52 /

H. Salt

(

Taygar

, Bakal) – 36:18 / Kavaz (

K. Salt

) (PP) – 50:18 /

Y. Kars

(Savas) (PP) – 50:34 / Bingol (

H. Secer

, H. Salt) – 52:10 / Kavaz (PP) – 58:39
1–0 / 2–0 / 3–0 / 4–0 / 5–0 / 6–0 / 7–0 / 7–1 / 8–1
55:30 –

Ivanov

(

I. Gerogiev

)
12 min
Penalties
20 min
54
Shots
18
Game reference

Tyler Goodall

Goalies

Ryan Boyd

Referee:
Michael Weber


Vortanov

– 00:52 /

Rooney

(

S. Brown

) – 05:44 / Vortanov (

Fraser

) – 56:12
1–0 / 2–0 / 2–1 / 2–2 / 3–2
13:55 –

L. Vivier

(

Compton

,

Bremner

) / 15:05 –

De Jager

(

Britz

,

Patrick

)
8 min
Penalties
31 min
41
Shots
19
Game reference

Aslam Khan

Goalies

Muhammed Karagul

Referee:
Shingo Ikegami

0–1 / 0–2 / 0–3 / 0–4 / 0–5 / 0–6
07:05 –

E. Secer

/ 27:55 –

O. Kars

(

Y. Kars

) / 31:19 –

Kavaz

(Y. Kars) / 44:32 – Faner (

H. Secer

) (PP) / 53:08 – O. Kars (

K. Salt

) (PP) / 59L02 –

Bingol

(O. Kars)
16 min
Penalties
6 min
10
Shots
55
Game reference

Dimitar Dimitrov

Goalies

Taylor Goodall

Referee:
Sergey Morozov


Dilkov

(

T. Georgiev

) (PP) – 20:55 /

Gatchev

(

Genkov

) (PP) – 24:52 / Gatchev (T. Georgiev) (PP) – 27:34 /

Blagoev

(T. Georgiev) – 48:02
0–1 / 0–2 / 0–3 / 1–3 / 2–3 / 3–3 / 4–3 / 4–4 / 4–5
03:29 –

Rooney

(

S. Brown

) / 13:01 –

Egan

/ 18:06 – Rooney (S. Brown) (PP2) / 56:50 – Rooney / 59:35 –

Vortanov

(S. Brown) (PP2)
67 min
Penalties
34 min
26
Shots
46
Playoff round
[
]
Semifinals
[
]
Game reference

Raz Werner




Yoav Regev

Goalies

Ryan Boyd




Aslam Khan

Referee:
Peter Haxell


Kapulkin

(

Ignatovich

,

Hoffman

) – 20:37 /

Sever

(

Avraham

,

Revniaga

) – 24:00 / Ignatovich (Kapulkin,

Merkulov

) – 24:49 /

Aharonovich

(Avraham,

Kozev

) (PP) – 31:04 / Kapulkin (Ignatovich,

Kafri

) – 39:41 / Revniaga – 44:16 /

Mostovoy

(Avraham, Sever) – 52:23 /

Levin

(

Haver

,

Halpert

) – 56:36 / Revniaga (Kapulkin, Hoffman) (PP) – 59:48
1–0 / 2–0 / 3–0 / 4–0 / 5–0 / 6–0 / 7–0 / 8–0 / 9–0
8 min
Penalties
6 min
47
Shots
13
Game reference

Dimitar Dimitrov

Goalies

He Wei-chih




Huang Sheng-chun

Referee:
Shingo Ikegami


M. Vasilev

(

Vachkov

,

Gatchev

) – 03:20 / M. Vasilev (

Dilkov

,

I. Georgiev

) – 05:09 / Dilkov (M. Vasilev, Gatchev) – 05:23 / Gatchev (

Blagoev

) – 35:31 / I. Georgiev (

Dikov

) – 36:12 / Blagoev (Dikov) – 59:08
1–0 / 2–0 / 3–0 / 4–0 / 5–0 / 5–1 / 6–1
48:14 –

Pan

(

Chang C.

)
16 min
Penalties
4 min
40
Shots
36
Game reference

Tolga Bozaci

Goalies

Maksymilian Mojzyszek

Referee:
Michael Weber


Bakal

– 45:24 /

K. Salt

(

Savas

,

Y. Kars

) (PP) – 54:55 / Faner (K. Salt, Bakal) – 56:40
0–1 / 0–2 / 1–2 / 2–2 / 3–2
11:42 –

Johannsson

(SH) / 39:25 –

V. Arason

(

G. Arason

,

Oskarsson

)
18 min
Penalties
18 min
28
Shots
28
Game reference

Mingwei Ren

Goalies

Taylor Goodall




James Moore

Referee:
Peter Tarnaris


Ying

(

Zuo

) – 04:30 /

Huang

(Zuo) – 04:55 / Ying (

Deng

) – 06:06 / Deng (Ying,

Zhang

) (PP) – 13:57 / Deng, (

Wu

) (PP) – 36:18 /

Li

(Ying) – 40:20 / Deng (Ying) – 42:50

/ Ma (Goa, Ying) – 49:38 / Wu (Li) (PP2) – 53:21 / Ying (Zhang) – 56:44 / Ma (Si) – 58:26

1–0 / 2–0 / 3–0 / 4–0 / 4–1 / 5–1 / 5–2 / 6–2 / 7–2 / 8–2 / 9–2 / 10–2 / 11–2
34:16 –

Leahy

(

Rooney

) / 39:02 –

S. Brown

8 min
Penalties
10 min
58
Shots
15
7th place game
[
]
Game reference

Aslam Khan

Goalies

Huang Sheng-chun




He Wei-chih

Referee:


Peter Tarnaris




Bremner

(

Husselman

) (PP) – 33:10
0–1 / 0–2 / 0–3 / 1–3 / 1–4 / 1–5 / 1–6 / 1–7
01:40 –

Lo

(

Tang

) / 08:51 –

Chen K.

(

Chiang

) (PP) / 28:42 –

Hsu

(

Huang P.

) / 33:18 – Chen K. / 40:17 –

Chang H.

(Huang P. ) / 46:31 –

Hsu

(

Lu

) / 54:11 – Hsu (

Pan

, Huang P.) (PP)
22 min
Penalties
12 min
18
Shots
34
5th place game
[
]
Game reference

Raz Werner

Goalies

Dimitar Dimitrov

Referee:
Peter Haxell


Kapulkin

(

Merkulov

,

Hoffman

) – 03:02 /

Revniaga

(Kapulkin,

Kafri

) (PP) – 12:10 /

Ignatovich

– 54:38
1–0 / 2–0 / 3–0 / 3–1 / 3–2
55:34 –

Dikov

(

T. Georgiev

) / 55:52 –

Gatchev

10 min
Penalties
14 min
22
Shots
37
Bronze medal game
[
]
Game reference

Arnar Hjaltested

Goalies

James Moore




Taylor Goodall

Referee:
Shingo Ikegami


Johannsson

(

H. Arnason

) – 21:46 /

J. Arnason

(

Maack

,

Kristinsson

) – 23:14 /

Sigrunarson

(

Olafsson

, J. Arnason) – 32:13 /

Induss

(J. Arnason) – 33:52 / Olafsson (

V. Arason

, Sigrunarson) – 34:54 / Kristinsson – 44:47 /

Thorsteinsson

(

Orongan

) (PP) – 46:48 /

Kristveigarson

(J. Arnason) – 49:47 /

Gunlaugsson

(Orongan, Kristveigarson) – 51:00 / Gunnlaugsson (Kristveigarson) – 59:57
1–0 / 2–0 / 3–0 / 4–0 / 5–0 / 6–0 / 7–0 / 8–0 / 9–0 / 10–0
6 min
Penalties
16 min
63
Shots
20
Final
[
]
Game reference

Tolga Bozaci

Goalies

Ren Mingwei

Referee:
Sergey Morozov


H. Salt

(

E. Secer

) – 18:22 /

Y. Kars

(

Savas

) – 30:53
1–0 / 2–0 / 2–1
35:00 –

li

(

Deng

,

Ying

)
4 min
Penalties
4 min
25
Shots
31
Statistics
[
]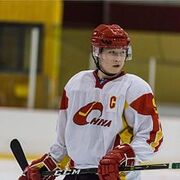 Top 10 scorers
[
]
| Pos | Player | Country | GP | G | A | Pts | +/- | PIM |
| --- | --- | --- | --- | --- | --- | --- | --- | --- |
| 1 | Rudi Ying |  China | 5 | 9 | 10 | 19 | +14 | 0 |
| 2 | Li Ou |  China | 5 | 6 | 4 | 10 | +10 | 2 |
| 3 | Hakan Salt |  Turkey | 5 | 7 | 2 | 9 | +9 | 0 |
| 4 | Deng Zemin |  China | 5 | 4 | 5 | 9 | +12 | 4 |
| 4 | Ariel Kapulkin |  Israel | 5 | 4 | 5 | 9 | +8 | 4 |
| 6 | Taylor Rooney |  New Zealand | 5 | 5 | 2 | 7 | −1 | 2 |
| 7 | Huang Qianyi |  China | 5 | 4 | 3 | 7 | +2 | 8 |
| 7 | Tom Ignatovich |  Israel | 5 | 4 | 3 | 7 | +8 | 4 |
| 7 | Miroslav Vasilev |  Bulgaria | 5 | 4 | 3 | 7 | 0 | 14 |
| 10 | Hafthor Sigrunarson |  Iceland | 5 | 3 | 4 | 7 | +6 | 20 |
Goaltending leaders
[
]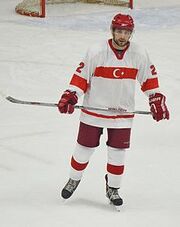 (minimum 40% team's total ice time)
| Pos | Player | Country | MINS | GA | Sv% | GAA | SO |
| --- | --- | --- | --- | --- | --- | --- | --- |
| 1 | Arnar Hjaltested |  Iceland | 120:00 | 2 | 94.74 | 1.00 | 1 |
| 2 | Raz Werner |  Israel | 279:51 | 11 | 92.76 | 2.36 | 1 |
| 3 | Tolga Bozaci |  Turkey | 240:00 | 8 | 91.75 | 2.00 | 0 |
| 4 | Maksymillian Mojzyszek |  Iceland | 179:00 | 7 | 91.25 | 2.35 | 1 |
| 5 | Huang Sheng-chun |  Chinese Taipei | 206:14 | 13 | 90.08 | 3.78 | 0 |
Awards
[
]
Best players selected by the directorate
[
]
Final ranking
[
]
Promoted to

2018 IIHF U20 Division II B
References
[
]
External links
[
]
IIHF World U20 Championships
Current champions (2020):  Canada
2021 Championship teams
 Austria -  Canada -  Czech Republic -  Finland -  Germany -  Russia -  Slovakia -  Sweden -  Switzerland -  United States of America
Championships
Soviet Union 1974 (unofficial) - Canada 1975 (unofficial) - Finland 1976 (unofficial) - Czechoslovakia 1977 - Canada 1978 - Sweden 1979 - Finland 1980 - West Germany 1981 - United States 1982 - Soviet Union 1983 - Sweden 1984 - Finland 1985 - Canada 1986 - Czechoslovakia 1987 - Soviet Union 1988 - United States 1989 - Finland 1990 - Canada 1991 - Germany 1992 - Sweden 1993 - Czech Republic 1994 - Canada 1995 - United States 1996 - Switzerland 1997 - Finland 1998 - Canada 1999 - Sweden 2000 - Russia 2001 - Czech Republic 2002 - Canada 2003 - Finland 2004 - United States 2005 - Canada 2006 - Sweden 2007 - Czech Republic 2008 - Canada 2009 - Canada 2010 - United States 2011 - Canada 2012 - Russia 2013 - Sweden 2014 - Canada 2015 - Finland 2016 - Canada 2017 - United States 2018 - Canada 2019 - Czech Republic 2020 - Canada 2021 - Canada 2022 - Russia 2023 -

Sweden 2024

Division I
2001 - 2002 - 2003 - 2004 - 2005 - 2006 - 2007 - 2008 - 2009 - 2010 - 2011 - 2012 - 2013 - 2014 - 2015 - 2016 - 2017 - 2018 - 2019 - 2020 -

2021

Division II
2001 - 2002 - 2003 - 2004 - 2005 - 2006 - 2007 - 2008 - 2009 - 2010 - 2011 - 2012 - 2013 - 2014 - 2015 - 2016 - 2017 - 2018 - 2019- 2020 -

2021

Division III
2001 - 2002 - 2003 - 2004 - 2005 - 2006 - 2007 - 2008 -

2009

- 2010 - 2011 - 2012 - 2013 - 2014 - 2015 - 2016 - 2017 - 2018 - 2019 - 2020 -

2021

Medalists - Finals - Directorate award winners - Media All-Star Teams - Players for Canada - Punch-up in Piestany - Team Canada New Year's Eve Game