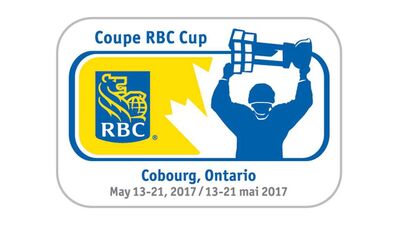 This is the 2017 Royal Bank Cup, which is Canada's National Junior A Championship.  the event will be held May 13 to 21, 2017 at the Cobourg Community Centre in Cobourg, Ontario hosted by the Cobourg Cougars of the Ontario Junior Hockey League.
The awarding of the bid was announced on June 2, 2016.  The bid was intended to coincide with the team's 50th anniversary.
Participants
Edit
The teams play a single round robin with the fifth place team being eliminated. The first place team playing the fourth place team and the second place team playing the third place team in the semifinals and the semifinal winners play for the Royal Bank Cup.  Each game is worth 3 points (3 points for a regulation time win, 2 points for an overtime win, 1 point for an overtime loss, 0 points for a regulation time loss)
Round Robin
Edit
May 13
May 14
May 15
May 16
May 17
May 18
Round Robin Standings
Edit
Semifinals
Edit
May 20
May 21
Community content is available under
CC-BY-SA
unless otherwise noted.