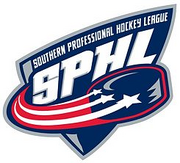 This is the 2017-18 Southern Professional Hockey League season.  This is the league's 13th season.
Membership Changes
In early March 2017, the owner of the Columbus Cottonmouths, who had been trying to sell the team, announced that the team will cease operations after the 2016-17 season if a new owner is not found.  The team was reported to be in the process of being sold, however; it would not be in time to keep the team active for the 2017-18 season as the team announced they were suspending operations for the 2017-18 season. The Columbus Burn were supposed to be a replacement team to take up residence in the Columbus Civic Center. As of August 10, 2017 the SPHL announced it was no longer interested in working on adding the team to the league in a vote to terminate working with the team owner who had apparently mised a payment to the league on an expansion fee and then tried to re-negotiate the fee.
Teams
Team
City/Area
Arena
Founded
Joined
Head Coach
Birmingham Bulls
Pelham, Alabama
Pelham Civic Center
2017

Jamey Hicks

Evansville Thunderbolts
Evansville, Indiana
Ford Center
2016
Jeff Pyle
Fayetteville Marksmen
Fayetteville, North Carolina
Cumberland County Crown Coliseum
2002
2004

Nick Mazzolini

Huntsville Havoc
Huntsville, Alabama
Von Braun Center
2004
Glenn Detulleo
Knoxville Ice Bears
Knoxville, Tennessee
Knoxville Civic Auditorium and Coliseum
2002
2004

Jeff Carr

Macon Mayhem
Macon, Georgia
Macon Coliseum
2010
2015
Kevin Kerr
Mississippi RiverKings
Southaven, Mississippi (Memphis area)
Lander's Center
1992
2011
Derek Landmesser
Pensacola Ice Flyers
Pensacola, Florida
Pensacola Bay Center
2009
Rod Aldoff
Peoria Rivermen
Peoria, Illinois
Carver Arena
2013
Jean-Guy Trudel
Roanoke Rail Yard Dawgs
Roanoke, Virginia
Berglund Center
2009*
Sam Ftorek
Note * - Represents a franchise move.
Standings
Playoffs
The top eight teams qualify.  All rounds are best-of-three.
Quarterfinals
Semifinals
Final
References