This is the 2017-18 Provincial Junior Hockey League season. This is the league's second season.
In the works since 2014, it was announced in the spring of 2016 that the eight Junior C leagues of the Ontario Hockey Association would merge for the 2016-17 season to create the Provincial Junior Hockey League. The union was in an effort to streamline rules across the classification and to promote growth and development.
The leagues that make up the PJHL are the former Central, Empire B, Georgian Mid-Ontario, Great Lakes, Midwestern, Niagara & District, Southern, and Western leagues that are now the eight divisions split into four conferences.
Membership Changes
Edit
The Erin Shamrocks, who announced on June 1, 2016 that they were granted a year's leave of absence for the 2016-17 season do not return.
The Fergus Devils do not return taking a leave of absence for 2015-16 and 2016-17.  The town was granted an expansion team in the Greater Metro Junior A Hockey League for the 2017-18 season
On February 2, 2018 the OHA announced that the Little Britain Merchants would not finish the season effective January 28th.  All games from that date on are considered 5-0 forfeits under OHF regulations
Standings
Edit
South Conference
Edit
Bloomfield
Edit
East Conference
Edit
Orr Division
Edit
Note: Little Britain folded late in January and forfeited its' last two games 5-0 (against Lakefield and Georgina)
Tod Division
Edit
Note: Games Jan 22 (Gananoque/Port Hope), Feb 3 (Picton/Campbellford), Feb 11 (Port Hope/Gananoque) were cancelled and the league schedule only listed 39 games on the scheduled for Port Hope and Amherstview.
West Conference
Edit
Note: a February 3 game between Lambeth and Exeter was cancelled and apparently not made up as it had no bearing on the standings.
North Conference
Edit
Carruthers
Edit
2018 Schmalz Cup Playoffs
Edit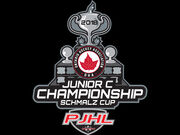 All Series are best-of-seven.
South Conference
Edit
Bloomfield Division
Edit
All 8 teams qualify
Quarterfinals
Edit
Semifinals
Doherty Division
Edit
The top 8 teams qualify
Quarterfinals
Edit
Semifinals
Edit
South Conference Final
Edit
East Conference
Edit
Orr Division
Edit
format was changed from 7 teams to all 6 qualify when Little Britain suspended operations for the season (byes offered on declining basis) taken by 1 seed Lakeland Chiefs and 3 seed Uxbridge Bruins
Quarterfinals
Edit
Semifinals
Edit
Tod Division
Edit
Top four teams qualify
Semifinals
Edit
East Conference Final
Edit
West Conference
Edit
Stobbs Division
Edit
All 8 teams qualify
Quarterfinals
Edit
Semifinals
Edit
Yeck Division
Edit
All 8 teams qualify
Quarterfinals
Edit
Semifinal
Edit
West Conference Final
Edit
North Conference
Edit
Carruthers Division
Edit
All 8 teams qualify
Quarterfinals
Edit
Semifinal
Edit
Pollock Division
Edit
All 7 qualify (bye offered on decliinng basis) taken by division winner Mount Forest
Quarterfinals
Edit
Semifinals
Edit
North Conference Final
Edit
Schmalz Cup
Edit
Schmalz Cup Semifinals
Edit
Schmalz Cup Final
Edit