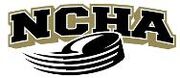 This is the 2017-18 Northern Collegiate Hockey Association Women's hockey season.
Membership Changes
[
]
On June 14, 2016; the conference announced that they were adding the women's programs for the Aurora Spartans and Northland Lumberjills to match the men's programs and that Trine University would be added to the conference in men's and women's ice hockey when they begin Division III play.  All four teams will join conference play for the 2017-18 season
Membership
[
]
Location
Arena
Adrian Bulldogs
Adrian, Michigan
Arrington Ice Arena
Aurora Spartans
Aurora, Illinois
Fox Valley Ice Arena
Concordia Falcons
Mequon, Wisconsin
Ozaukee Ice Center
Finlandia Lions
Hancock, Michigan
Houghton County Arena
Lake Forest Foresters
Lake Forest, Illinois
Alumni Memorial Fieldhouse
Marian Sabres
Fond du Lac, Wisconsin
Blue Line Ice Center
Northland Lumberjills
Ashland, Wisconsin
Bay Area Civic Center
St. Norbert Green Knights
De Pere, Wisconsin
Cornerstone Community Center
St. Scholastica Saints
Duluth, Minnesota
MARS Lakeview Arena
Trine Thunder
Angola, Indiana
Thunder Ice Arena
Standings
[
]
Slaats Cup Tournament
[
]
Format
[
]
The top six teams qualify for the playoffs.  The top seed plays the six seed, 2 plays 5 and 3 plays four in the first to three point quarterfinals.  A mini game will be played if the series is tied.  The highest seeded quarterfinal winner advances to the final and the other two quarterfinal winners meet in a single game semifinal with the winner meeting the highest seeded team in the tournament championship.  The semifinal and final rounds are held at the rink of the highest seeded quarterfinal winner.  The conference tournament champion earns the conference's automatic bid to the 2018 NCAA Division III Women's Ice Hockey Tournament.
Quarterfinals
[
]
Semifinal
[
]
Final
[
]