This is the 2017-18 Big Ten Conference men's ice hockey season. This is the conference's 5th season.
Change in Conference Tournament Format
[
]
Due to the poor attendance of the neutral site tournaments, and the addition of Notre Dame as a Big Ten team in hockey, the 2018 tournament will introduce a new three-week playoff format. In the first round, the No. 1 team in the regular season conference standings receives a bye, and the remaining six play in a set of best-of-three series.[1] The winners of these three playoff series, along with the No. 1 team, will then participate in two semifinal games. Their winners will advance to the Big Ten championship game.[2][3]
All games will be held at the home arena of the highest seed in each match-up, rather than a neutral site. Unlike other playoff-style conference tournaments in college hockey, the Big Ten will only use single-game semifinals and finals to reduce the likelihood of conflicts with other events that may be scheduled at team arenas.[2][3]
Membership changes
[
]
Membership
[
]
Standings
[
]
Conference Tournament
[
]
Format
[
]
See Above
Quarterfinals
[
]
Semifinals
[
]
Final
[
]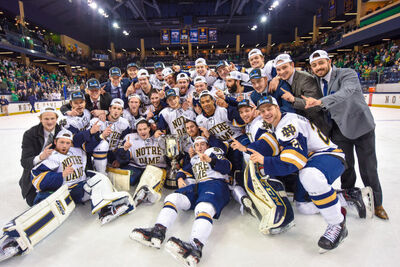 References
[
]