This is the 2017-18 Alberta Junior Hockey League season. This is the league's 54th season dating back to its founding in 1964.
Membership Changes
[
]
Teams
[
]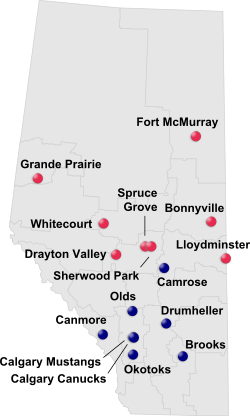 Viterra North Division
Team
City
Arena
Joined AJHL
Bonnyville Pontiacs
Bonnyville, Alberta
R. J. Lalonde Arena
1991
Drayton Valley Thunder
Drayton Valley, Alberta
Drayton Valley Omni-Plex
1998
Fort McMurray Oil Barons
Fort McMurray, Alberta
Casman Centre
1981
Grande Prairie Storm
Grande Prairie, Alberta
Revolution Place
1995
Lloydminster Bobcats
Lloydminster, Saskatchewan
Centennial Civic Centre
1988 (founded in 1982 as SJHL team)
Sherwood Park Crusaders
Sherwood Park, Alberta
Sherwood Park Arena
1976
Spruce Grove Saints
Spruce Grove, Alberta
Grant Fuhr Arena
2004 (as Spruce Grove Saints, 1963 originally for franchise as Edmonton Movers)
Whitecourt Wolverines
Whitecourt, Alberta
Scott Safety Centre
2012 (as Whitecourt Wolverines, 1976 as Fort Saskatchewan Traders)
Viterra South Division
Team
City
Arena
Joined AJHL
Brooks Bandits
Brooks, Alberta
Centennial Regional Arena
2000
Calgary Canucks
Calgary, Alberta
Max Bell Centre
1971
Calgary Mustangs
Calgary, Alberta
Father David Bauer Olympic Arena
2010 (as Calgary Mustangs, originally joined as The Pass Red Devils in 1972)
Camrose Kodiaks
Camrose, Alberta
Edgeworth Centre (Encana Arena)
1997
Canmore Eagles
Canmore, Alberta
Canmore Recreation Centre
2001 (as Canmore Eagles, originally joined 1995 as Bow Valley Eagles)
Drumheller Dragons
Drumheller, Alberta
Drumheller Memorial Arena
2003
Okotoks Oilers
Okotoks, Alberta
Pason Centennial Arena
2005 (as Okotoks Oilers, originally joined 1998 as Crowsnest Pass Timberwolves)
Olds Grizzlys
Olds, Alberta
Olds & District Sports Complex
1981 (as Olds Grizzlys, originally joined 1974 as Taber Golden Suns)
Standings
[
]
North Division
[
]
South Division
[
]
Note: The Sherwood Park Crusaders were credited with a default win on October 3, 2017 versus the Bonnyville Pontiacs (originally a 7-2 Bonnyville win). The Canmore Eagles were credited with a default win on December 5, 2017 versus the Okotoks Oilers (originally a 6-2 Okotoks win).
2018 Playoffs
[
]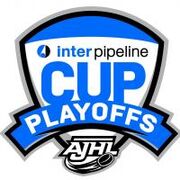 The league announced on September 13, 2017 that the new title sponsor of the League championship will be Inter Pipeline Ltd. and that the playoffs will be renamed the Inter Pipeline AJHL Playoffs and the championship trophy would be renamed the Inter Pipeline Cup.[1]
Format
[
]
The top seven teams in each division qualify for the playoffs with the top team in each division receiving a first round bye. The 2nd place team  play the 7th place team, the 3rd place play 6th, and 4th place play the 5th place team in best of five series. In the second round the first place team play the lowest seeded first round winner and the other two first round winners play each other in best of seven series. The division semifinal winners meet in the best of seven division final. The Viterra AJHL South Division and Viterra AJHL North Division playoff champions meet in the best of seven AJHL Inter Pipeline Cup Final.
The playoff winning team will advance to an inter-provincial best-of-seven playoff with the British Columbia Hockey League for the Pacific region spot in the 2018 Royal Bank Cup; which is being held in Chilliwack, British Columbia; as the Western Canada Cup format has been abandoned by the four leagues that participated in that tournament. This is the same format that had been used from 1962 to 2012. The series is scheduled to begin in the BCHL team's rink on April 27th and 28th, 2018.[2]
North Division Quarterfinals
[
]
South Division Quarterfinals
[
]
North Division Semifinals
[
]
South Division Semifinals
[
]
North Division Final
[
]
South Division Final
[
]
Inter Pipeline Cup Final
[
]
References
[
]