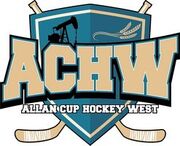 This is the 2017-18 Allan Cup Hockey West season.  This is the league's 49th season.  This would be the league's first season under this name as the league was renamed from the Chinook Hockey League during the 2017 off season.
For the fourth straight season the league had a pre-season classic. It was hosted by the Lacombe Generals  The event was held Sepetember 29 to October 1st at the Gary Moe Auto Group Sportsplex in Lacombe, Alberta to celebrate the grand opening of the facility which had been extensively renovated over the summers of 2016 and 2017.  In addition to the five league members, the Red Deer College Kings participated as the sixth team to round out the field.
Membership changes
[
]
None, but the Rosetown Red Wings will participate in the league playoffs for the 2017-18 season unlike 2016-17.
Present Teams
[
]
Standings
[
]
Playoffs
[
]
The league changed the format to a single elimination tournament.
Semifinal
[
]
February 9th
Final
[
]
February 10th