This is the 2014-15 Central/West Senior Hockey League season.  This was the league's first season. The league was created after the Newfoundland Senior Hockey League disolved, which all teams played in previously.
Standings
Edit
Team                          GP  W  L OTL GF  GA  P  
Corner Brook Royals           24 14 10  0  89  82 28
Grand Falls-Windsor Cataracts 24 13 10  1  99  82 27
Clarenville Caribous          24 13 10  1 110  94 27
Gander Flyers                 24  8 14  2  67 107 18

Scoring Leaders
Edit
Player                            Team   GP  G   A  PTS
Goaltending Leaders
Edit
Player                            Team   GP   W   L  OTL  GAA
Semifinals
Edit
Best of Seven
Corner Brook defeated Gander 4 games to none  (5-0, 5-1, 8-3, 9-3)
Grand Falls-Windsor defeated Clarenville 4 games to none (7-1, 3-2, 6-3, 6-3)
Best of seven
Grand Falls-Windsor defeated Corner Brook 4 games to none (4-0, 5-2, 5-2, 3-2 (ot))
On February 27th, Hockey Newfoundland and Labrador announced that this series would also be for the Herder Memorial Trophy (as the CWSHL is the only Senior A league in the province) after another plan to play the champion of the Avalon East Senior Hockey League for the Herder fell through.  Grand Falls-Windor qualifies foe 2015-16 Atlantic Canada Provincials by virtue of winning the 2015 Herder Memorial Trophy.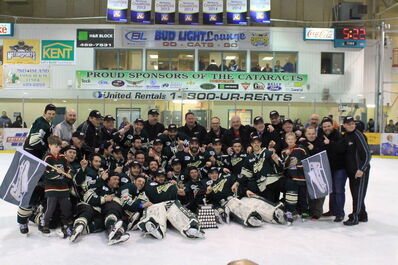 Allan Cup
Edit
The Clarenville Caribous qualified for the 2015 Allan Cup as the host.  The Grand Falls-Windsor Cataracts and the Lameque Au Ptit Mousse (from New Brunswick) also qualify as they are the only 3 "Senior AAA" teams in the Atlantic Region. Quebec had no registered teams and the host branch traditionally get the non-used spot.  This would give the Atlantic region 3 spots (host, qualifier, and Quebec's bid) and negate the need for any qualifying playoff.