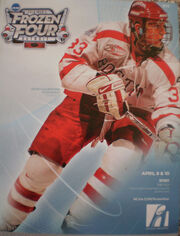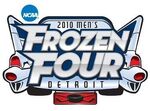 The 2010 Frozen Four took place April 8 and April 10, 2010 in Detroit, Michigan at Ford Field. It was hosted by the Central Collegiate Hockey Association and the Detroit Metro Sports Commission.
The participants were:
Miami RedHawks (#1 overall seed) (Midwest)
Wisconsin Badgers (#3 overall seed) (

West

)
Boston College Eagles (#4 overall seed) (

Northeast

)
This was Miami's second appearance in the Frozen Four, after making their first appearance last year. It was Wisconsin's first appearance since 2006. Boston College was making their fifth appearance in six years, missing only in 2009. RIT was appearing for the first time in the Division I Frozen Four and is the first Atlantic Hockey team to make the Frozen Four.
Unlike the previous year, when only one #1 seed (Boston University) made it through the Regional brackets, three of this year's #1 seeds appeared in the Frozen Four. RIT was a #4 seed and upset Denver in the East Regional; they are the fourth #4 seed to make it to the Frozen Four in three years, a feat that hadn't been accomplished once prior to 2008.
Coincidentally, the four teams in the tournament were also the top four teams ranked by scoring differential in Division I this season (Miami first, followed by RIT, Wisconsin, and BC).
National semifinals
April 8
National championship
April 10
 
 
 
 
 
 
MW1
Miami (OH)
1
NE1
Boston College
7
NE1
Boston College
5
W1
Wisconsin
0
E4
RIT
1
W1
Wisconsin
8
Semifinals
Game reference
Jared DeMichiel (out 54:55)
Jan Ropponen (in 54:55, out 57:27)
Shane Madolora (in 57:27)
Goalies
Scott Gudmandson
Referees:
Tim Benedetto, Jeff Bunyon
Chris Aughe, Bob Bernard






Tyler Brenner (Ringwald, Favot) - pp - 39:32
0 – 1
0 – 2
0 – 3
0 – 4
0 – 5
0 – 6
1 – 6
1 – 7
1 – 8
01:27 - John Mitchell (Goloubef, Schultz)
09:38 - Derek Stepan (McDonagh)
22:18 - Jordy Murray (Bendickson)
24:26 - pp - Justin Schultz (B. Smith, Stepan)
31:15 - pp - Michael Davies (B. Smith, Geoffrion)
33:24 - pp - Blake Geoffrion (B. Smith, Stepan)

47:28 - Craig Smith (Bohmbach, B. Smith)
47:48 - Derek Stepan (Street, B. Smith)
29 min
Penalties
10 min
14
Shots
37
April 8, 2010
8:30 PM
Boston College
7 – 1
(1–0, 2–0, 4–1)
Miami (OH)
Ford Field, Detroit, MI
Attendance: 34,954
Game reference
John Muse
Goalies
Connor Knapp (out 23:08)
Cody Reichard (in 23:08)
Referees:
Derek Shepherd, Marco Hunt
Tony Czech, Matt Ulwelling
Ben Smith (J. Whitney, S. Whitney) - pp - 18:32
Jimmy Hayes (Mullane, Dumoulin) - pp - 22:06
Joe Whitney (Dumoulin, Gibbons) - 23:08

Cam Atkinson (Gibbons, Whitney) - 50:10
Patch Alber (Smith, Dumoulin) - 50:44
Paul Carey (Shea, Mullane) - 51:45
Ben Smith(Hayes, Kreider) - 56:21
1 – 0
2 – 0
3 – 0
3 – 1
4 – 1
5 – 1
6 – 1
7 – 1



Joe Hartman (Camper, Hirschfeld) - 45:19
8 min
Penalties
14 min
30
Shots
18
National Championship
April 10, 2010
7:00 PM
Boston College
5 – 0
(1–0, 0–0, 4–0)
Wisconsin
Ford Field, Detroit, MI
Attendance: 37,592
Game reference
John Muse
Goalies
Scott Gudmandson
Referees:
Matt Shegos, Mark Wilkins
Bruce Vida, Tony Molina
Ben Smith(S. Whitney, J. Whitney) - pp - 12:57
Cam Atkinson (J. Whitney) - 41:38
Chris Kreider (Hayes, Samuelsson) - 43:40
Cam Atkinson (Gibbons, J. Whitney) - pp - 47:20
Matt Price - en - 55:29
1 – 0
2 – 0
3 – 0
4 – 0
5 – 0
8 min
Penalties
12 min
26
Shots
20
Team Photos