2010 Four Nations Cup
Tournament details
Host nation
 Canada
Dates
November 9 - 13
Teams
4
Venue(s)
2 (in 2 host cities)
Champions
 Canada ( titles)
Tournament statistics
Games played
8
Goals scored
48  (6 per game)
Scoring leader(s)
Tie: Meghan Agosta and Haley Irwin
The 2010 4 Nations Cup was held in Clarenville, Newfoundland and St. John's, Newfoundland from November 9 to November 13, 2010. Games were played at the Clarenville Events Centre and Mile One Centre. The 15th edition of the international tournament was held in Newfoundland to help Hockey Newfoundland and Labrador mark its 75th anniversary.[1]
The teams involved will be Canada, the United States, Sweden, and Finland.
In the gold medal game of the 2010 Four Nations Cup, Rebecca Johnston's second goal of the game clinched the gold medal for Canada. Said goal came on a power play 6:21 into overtime. The goal gave Canada a 3-2 win over the United States. It was Hockey Canada's 12th championship in the tournament's 15-year history. [2] Meaghan Mikkelson of St. Albert, Alta., had a goal and an assist for Canada, while Shannon Szabados of Edmonton stopped 24 shots for the victory. Julie Chu and Kendall Coyne scored for the United States. Golatender Molly Schaus faced 52 shots, including 20 in a scoreless third period. In overtime, Schaus faced 11 shots. Johnston notched the only goal of the first period, with 3:14 left in the period. The U.S. jumped ahead 2-1 midway through the second period, when Chu and Coyne scored in a span of 1:17. Mikkelson drew Canada even with 1:49 left in the third period. Kacey Bellamy picked up a tripping penalty 4:58 into overtime. This led to Johnston scoring on a 4-on-3 power play 1:23 later. The attendance at Mile One Centre was 6,200.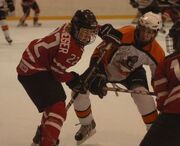 November 8: The Canadian women's team played against the St. John's Pennecon Privateers boys team. The game was contested at the Glacier in Mount Pearl, Newfoundland as a warmup for the 4 Nations Cup. Joe Trenholm's goal with just over two minutes to go in the third period was the game winning goal. The Privateers triumphed by a 5-4 tally. [3]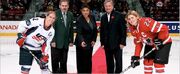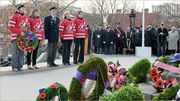 Date
Teams
Location
Time
Score
Goal scorers
Fri Nov 5
USA vs. Sweden (exhibition)
Brunswick, Maine
7 pm
US, 4-1[8]
Jinelle Zaugg-Siergiej (2), Caitlin Cahow, Allie Thunstrom
Tues Nov 9
Finland vs. Sweden
Clarenville, Newfoundland
7 pm
Finland 3-0[9]
Saara Tuominen, Karoliina Rantamäki, Michelle Karvinen
Tues Nov 9
USA vs. Canada
St. John's, Newfoundland
7:30 pm
USA 3-2 (Shootout)[10]
US: Jenny Potter, Meghan Duggan
Can: Marie-Philip Poulin, Meaghan Mikkelson
Wed Nov 10
Sweden vs. Canada
Clarenville, Nfld
7 pm
Canada, 8-1 [11]
Can: Natalie Spooner (3), Haley Irwin, Rebecca Johnston (2), Vicki Bendus, Meaghan Mikkelson
Swe: Therése Sjolander
Wed Nov 10
USA vs. Finland
St. John's, Nfld
7:30 pm
USA, 4-0[12]
US: Jocelyne Lamoureux, Brianne Decker, Meghan Duggan (2)
Fri Nov 12
USA vs. Sweden
St. John's, Nfld
1:00 pm
USA, 4-0[13]
Hilary Knight, Kacey Bellamy, Monique Lamoureux, Erika Lawler
Fri Nov 12
Canada vs. Finland
St. John's, Nfld
7:30 pm
Canada, 15-0[14]
Meghan Agosta, Meaghan Mikkelson, Marie-Philip Poulin (3), Jennifer Wakefield (2), Jayna Hefford, Caroline Ouellette, Hayley Wickenheiser, Haley Irwin (2), Vicki Bendus, Cherie Piper, Natalie Spooner
Sat Nov 13
Finland vs. Sweden (Bronze Medal Game)
St. John's, Nfld
4:00 pm
Finland 2-1[15]
Fin:Karoliina Rantamäki, Annina Rajahuhta
Swe: Pernilla Winberg
Sat Nov 13
Canada vs. US (Gold Medal Game)
St. John's, Nfld
7:30 pm
3-2 (OT) [16]
Canada: Rebecca Johnston(2), Meaghan Mikkelson
US:Julie Chu, Kendall Coyne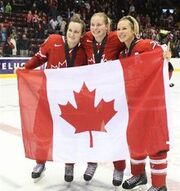 Community content is available under
CC-BY-SA
unless otherwise noted.