The 2010–11 Dartmouth women's ice hockey team will represent Dartmouth College in the 2010–11 NCAA Division I women's ice hockey season.
Offseason
[
]
July 23: Former Dartmouth player Sarah Howald has been named as new head coach of Hockey Canada's National Women's Under-18 Team.[1]
September 15: Head coach Mark Hudak announced that senior defenseman Katie Horner has been named the 64th captain in the history of the Big Green women's hockey program.[2]
September 20: Big Green head coach Mark Hudak was named as one of two assistant coaches for the U.S. Women's Select Team. The team will compete in the 2010 Women's Four Nations Cup from Nov. 8-14, in St. Johns, Newfoundland. [3]
Recruiting
[
]
Player
Nationality
Position
Notes
Ali Winkel
 Canada
Forward
Competed for the Toronto Jr. Aeros of the Provincial Women's Hockey League
Lauren Kelly
 Canada
Defense
Was a member of the Oakville Ice in the Provincial Women's Hockey League
Ellie Gleason
 United States
Defense
Competed in ice hockey for four years at Edina High School and was the team captain as a senior
Lindsay Holcroft
 United States
Goaltender
Awarded the Female Athlete of the Year Award at

North Allegheny High School
Exhibition
[
]
Date
Opponent
Location
Time
Score
Cornell scorers
Fri, Oct. 22
McGill
Hanover, NH
7:00 pm
Regular season
[
]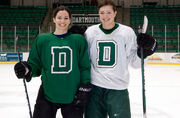 November 13–14: Sasha Nanji had two game winning goals in two consecutive games. On November 13, she registered a hat trick versus Princeton as the Big Green triumphed by a 3-2 mark in overtime. The following day, the Big Green played Quinnipiac and Nanji was the factor again. She had two points, including the game winning goal in overtime in a 4-3 win.[4]
For the week beginning January 14, 2011, Camille Dumais accumulated six points (three goals, three assists) in three victories. In a win versus Vermont, she registered one goal and two helpers. Versus Union, she scored one goal, and then had a two point game versus RPI. Freshman goalie Lindsay Holdcroft won three consecutive games. During the streak, she had a goals against average of 0.67, a save percentage of .947 and made a total of 65 saves. She played 180 minutes and registered a shutout versus RPI.
January 22, 2011: The Big Green shutout Rensselaer by a 3-0 mark at Thompson Arena. The Big Green used two power play goals and an empty netter to secure the victory. It marked the third straight win for Dartmouth, and improved the team to 12-8-0 overall and 8-6-0 in the conference.Lindsay Holdcroft earned the win and the shutout for the Big Green, making nine saves.[5]
January 28-29: Lindsay Holdcroft made 51 saves and allowed only one goal and recorded a shutout in two victories for the Big Green. The Big Green have enjoyed five straight wins as the squad moved into third in the ECAC. In the five victories, Holdcroft has only allowed three goals. In her rookie season, she has accumulated three shutouts.
February 11-12: Lindsay Holdcroft won both games she played in. Versus St. Lawrence, she made a career high 38 saves in a 3-2 win over St. Lawrence. The following day, she made 19 saves as the Big Green bested Clarkson by a 3-1 tally.
February 19: The Dartmouth women's hockey played its final game of the regular season and defeated Colgate by a 4-3 mark. The Big Green jumped out to a 3-0 lead six minutes into the second period. The Raiders assembled a rally but to no avail. Erica Dobos opened the scoring with her fifth goal of the season. Jenna Hobeika netted her ninth goal of the season three minutes into the second period, followed by Kelly Foley three minutes later for her 17th of the season. Camille Dumais scored the game winning goal after a quick pass from senior Amanda Trunzo. Lindsay Holdcroft finished with 24 saves for her 15th win of the season.[6]
Standings
[
]
Schedule
[
]
Date
Opponent
Location
Time
Score
Record
Big Green scorers
Fri, Oct 29
BROWN *
Hanover, N.H.
4:30 pm
4-2
1-0-0
Sasha Nanji, Camille Dumais, Kelly Foley, Katie Horner[8]
Sat, Oct 30
YALE *
Hanover, N.H.
4:00 pm
4-1
2-0-0
Fri, Nov 05
Colgate *
at Hamilton, N.Y.
7:00 pm
6-2
3-0-0
Sat, Nov 06
Cornell *
at Ithaca, N.Y.
4:00 pm
1-6
3-1-0
Fri, Nov 12
Princeton *
at Princeton, N.J.
7:00 pm
3-2 (OT)
4-1-0
Sat, Nov 13
Quinnipiac *
at Hamden, Conn.
4:00 pm
4-3 (OT)
5-1-0
Tue, Nov 16
PROVIDENCE
Hanover, N.H.
7:00 pm
3-2
6-1-0
Fri, Nov 19
Harvard *
at Cambridge, Mass.
7:00 pm
3-5
6-2-0
Sat, Nov 20
HARVARD *
Hanover, N.H.
7:00 pm
2-3
6-3-0
Wed, Nov 24
Boston College
at Chestnut Hill, Mass.
7:00 pm
2-4
6-4-0
Sat, Dec 11
New Hampshire
at Durham, N.H.
2:00 pm
0-1
Sat, Jan 01
Connecticut
Hanover, N.H.
9-2
Sun, Jan 2
Connecticut
Hanover, N.H.
5-0
Fri, Jan 07
Rensselaer *
at Troy, N.Y.
2-5
Sat, Jan 08
Union
at Schenectady, N.Y.
4-1
Fri, Jan 14
Clarkson
Hanover, N.H.
2-3 (OT)
Sat, Jan 15
ST. LAWRENCE *
Hanover, N.H.
2-4
Tue, Jan 18
Vermont
at Burlington, Vt.
5-1
Fri, Jan 21
Union
Hanover, N.H.
5-1
Sat, Jan 22
RENSSELAER *
Hanover, N.H.
3-0
Fri, Jan 28
Yale
at New Haven, Conn.
2-1
Sat. Jan 29
Brown
at Providence, RI
6-0
Fri, Feb 04
QUINNIPIAC *
Hanover, N.H.
0-4
None
Sat, Feb 05
Princeton
Hanover, N.H.
7-0
Reagan Fischer, Jessica Gagner, Alyssa Boehm, Kelly Foley, Amanda Trunzo, Jenna Hobeika (2)[9]
Fri, Feb 11
St. Lawrence *
at Canton, N.Y.
3-2
Sat, Feb 12
Clarkson *
at Potsdam, N.Y.
3-1
Fri, Feb 18
Cornell *
Hanover, NH
4-2
Sat, Feb 19
Colgate *
Hanover, NH
4-3
Conference record
[
]
| | |
| --- | --- |
| CHA school | Record |
| Brown | 2-0-0 |
| Clarkson | 1-1-0 |
| Colgate | 2-0-0 |
| Cornell | 1-1-0 |
| Harvard | 0-2-0 |
| Quinnipiac | 1-1-0 |
| Princeton | 2-0-0 |
| RPI | 1-1-0 |
| St. Lawrence | 1-1-0 |
| Union | 2-0-0 |
| Yale | 2-0-0 |
Player stats
[
]
Skaters
[
]
Player
Games
Goals
Assists
Points
Points/game
PIM
GWG
PPG
SHG
Goaltenders
[
]
| | | | | | | | | |
| --- | --- | --- | --- | --- | --- | --- | --- | --- |
| Player | Games Played | Minutes | Goals Against | Wins | Losses | Ties | Shutouts | Save % |
Postseason
[
]
ECAC tournament
[
]
| | | |
| --- | --- | --- |
| Date | Opponent | Score |
| February 27 | Clarkson | 4-3, OT |
| March 3 | Harvard | 4-1 |
| March 5 | Cornell | 0-3 |
NCAA Tournament
[
]
| | | |
| --- | --- | --- |
| Date | Opponent | Score |
| March 12 | Cornell | 1-7 |
Awards and honors
[
]
Camille Dumais, ECAC MLX Skates Player of the Week (Week of January 25, 2011)
Lindsay Holdcroft, ECAC MLX Skates Rookie of the Week (Week of January 4, 2011)
Lindsay Holdcroft, ECAC MLX Skates Rookie of the Week (Week of January 25, 2011)
Lindsay Holdcroft, MLX Skates Goalie of the Week (Week of February 22, 2011)
Lindsay Holdcroft, Dartmouth Female Athlete of the Week (Week of January 31, 2011) [10]
Lindsay Holdcroft, MLX Skates Goalie of the Week (Week of February 15, 2011)[11]
Lindsay Holdcroft, MLX Skates Goalie of the Week (Week of February 22, 2011)
Sasha Nanji, Dartmouth, ECAC MLX Skates Player of the Week, (Week of November 16) [4]
Amanda Trunzo, ECAC MLX Skates Player of the Week, (Week of February 22, 2011)[12]
All-Ivy honors
[
]
Kelly Foley, 2010-11 First Team All-Ivy
Amanda Trunzo, 2010-11 Second Team All-Ivy
Sasha Nanji, 2010-11 Honorable Mention All-Ivy
Lindsay Holdcroft, 2010-11 Honorable Mention All-Ivy[13]
New England hockey awards
[
]
Mark Hudak, 2010-11 New England Women's CoachPlayer of the Year[14]
Kelly Foley, 2010-11 New England Women's Division I All-Stars
References
[
]