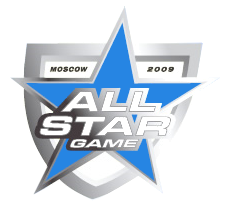 The 2009 KHL All-Star Game was the inaugural edition of the All-Star Game classic for the newfound Continental Hockey League. The game was played outside, on a rink built for the purpose on the Red Square in Moscow, Russia.
The rink had a spall capacity, estimated at about 3,000; however, even fewer people (estimations mention some 2,500) attended the game, played by a cold temperature of -16 Celcius.
Format and nominations
Edit
The two teams that faced each other were Team Yashin (or Team Russia), named after its leader, Alexei Yashin, who led the best Russian players of the league, and Team Jágr (or Team World), named after Jaromír Jágr, who led the best non-Russian players of the league. Both Yashin and Jágr were chosen because they were both highly popular and both automatically linked to ice hockey in their respective countries. They captained their respective team. It was up to them to decide of their two assistant captains.
Players were nominated by two different ways. The starting roster of both teams was decided by popular vote on the KHL's website; the second line players were choosen by the media. Nominees were announced on December 26th 2008. As for the remaining and reserve players, they were announced by January 8th. Each team consisted of nine forwards, six defencemen and two goaltenders.
The main event was preceded by skill competitions, very alike what can be seen in NHL All-Star Games. These competitions were the following (with their winner between brackets):
The Fastest Skater ()
Shootout Skill ()
Long Range Shot ()
Zigzag Team Relay ()
Goalie Competition ()
Accurate Shooting ()
Speed Relay ()
The all-star game's format was decided by popular vote of the fans. The two alternatives were the currently adopted format, i.e. a "Russia vs. World" format, against a more standard interconference matchup. The adopted format helps promote the diversity of the league and the league itself outside of Russia.
Team Jágr (World)
Team Yashin (Russia)
Coach:
Barry Smith (SKA Saint Petersburg)
Sergei Mikhalev (Salavat Yulaev Ufa)
Assistant Coaches:
Kari Heikkilä (Lokomotiv Yaroslavl)
Vladimír Vůjtek (Dynamo Moscow)
Vyacheslav Bykov (CSKA Moscow)
Igor Zakharkin (CSKA Moscow)
Starters:

15 - F Jan Marek (Metallurg Magnitogorsk)
86 - F Tony Mårtensson (Ak Bars Kazan)
28 - F Pavel Brendl (Torpedo Nizhny Novgorod)
35 - D Kevin Dallman (Barys Astana)
05 - D Ray Giroux (SKA Saint Petersburg)
31 - G Robert Esche (SKA Saint Petersburg)

33 - F Maxim Sushinsky (SKA Saint Petersburg)
25 - F Danis Zaripov (Ak Bars Kazan)
95 - F Aleksey Morozov (Ak Bars Kazan)
34 - D Vitali Proshkin (Salavat Yulaev Ufa)
05 - D Ilya Nikulin (Ak Bars Kazan)
30 - G Alexander Eremenko (Salavat Yulaev Ufa)

Reserves:

98 - F Jaromír Jágr (Avangard Omsk) (C)
81 - F Marcel Hossa (Dinamo Riga) (A)
20 - F Jakub Klepiš (Avangard Omsk) (A)
92 - F Branko Radivojević (Spartak Moscow)
12 - F Esa Pirnes (Atlant Moscow)
21 - F Jaroslav Kudrna (Metallurg Magnitogorsk)
## - F Oleg Antonenko (HC MVD)
06 - D Magnus Johansson (Atlant Moscow)
04 - D Karel Rachunek (Dynamo Moscow)
## - D Ben Clymer (Dinamo Minsk)
01 - G Ray Emery (Atlant Moscow)


19 - F Alexei Yashin (Lokomotiv Yaroslavl) (C)
## - F Andrei Nikolishin (Traktor Chelyabinsk) (A)
32 - F Alexei Kudashov (Lokomotiv Yaroslavl) (A)
10 - F Sergei Mozyakin (Atlant Moscow)
27 - F Alexei Tereschenko (Salavat Yulaev Ufa)
47 - F Alexander Radulov (Salavat Yulaev Ufa)
## - F Oleg Saprykin (CSKA Moscow)
22 - D Konstantin Korneyev (CSKA Moscow)
77 - D Alexei Zhitnik (Dynamo Moscow)
## - D Darius Kasparaitis (SKA Saint Petersburg)
84 - G Konstantin Barulin (CSKA Moscow)

*International player's flags indicate nation of origin whereas Russian born player's flags indicate the Federal subject of origin. Two players of the Russian side, Kasparaitis and Zhitnik, were born in the former Soviet Union, respectively in Lithuania and Ukraine; they are today Russian citizens.
Game summary and result
Edit
Final score: Team Jagr 7-6 Team Yashin
Team          1st     2nd     3rd    Total
Team Jagr 	2 	2 	3 	7
Team Yashin 	1 	3 	2 	6

Community content is available under
CC-BY-SA
unless otherwise noted.