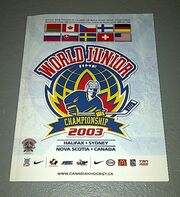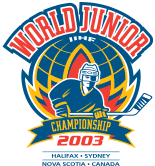 The 2003 World Junior (Under 20) Ice Hockey Championships (2003 WHJC) were held between December 26, 2002 and January 5, 2003 in Halifax and Sydney, Nova Scotia, Canada. The Russian team won gold, Canada silver, and Finland bronze.
Germany and Belarus are relegated to Division I for the 2004 World Junior Ice Hockey Championships.
January 2
January 3
January 4
January 5
January 5
(Minimum 90 minutes played)
The Division I Championships were played December 27, 2002 - January 2, 2003 in Almaty, Kazakhstan (Group A) and December 16 - December 22, 2002 in Bled, Slovenia (Group B)

Austria and Ukraine advance to the 2004 World Junior Ice Hockey Championships, Croatia and Poland are relegated to Division II
The Division II Championships were played January 6, 2003-January 12, 2003 in Miercurea-Ciuc, Romania (Group A) and December 28, 2002-January 3, 2003 in Novi Sad Yugoslavia (Group B)

Hungary and Estonia advance to the 2004 Division I Championships, Bulgaria and Mexico are relegated to the 2004 Division III Championships'
The Division III Championships were held January 21-January 26, 2003 in Izmit, Turkey

Korea and Belgium advance to 2004 Division II Championships
|}
Community content is available under
CC-BY-SA
unless otherwise noted.