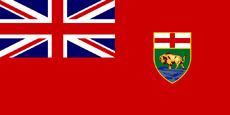 For the 2002-03 season, Hockey Manitoba awarded the
Provincial Championship, the Baldy Northcott Trophy,
to the winner of the Provincial Junior B Final Five Tournament.

The winner and runner-up from both the Manitoba Junior B Hockey League and the Northwest Junior Hockey League, plus a host team from one of the two leagues participates.

The event was held from March 28-30 in Winnipeg.
Round-robin
Selkirk - Norway House 6:4
St. Claude - North Winnipeg 4:3
NCN Flames - Selkirk 4:4
NCN Flames - North Winnipeg 7:3
Norway House - St. Claude 11:5
NCN Flames - Norway House 10:2
North Winnipeg - Selkirk 7:1
Selkirk - St. Claude 3:1
Norway House - North Winnipeg
St. Claude - NCN Flames
3rd place
St. Clause - Norway House 9:2
Final
Selkirk - NCN Flames 6:5 2OT
Selkirk Fishermen won the Baldy Northcott Trophy and advanced to the 2003 Keystone Cup
Community content is available under
CC-BY-SA
unless otherwise noted.