2002–03 ECHL season
League
ECHL
Sport
Ice hockey
Regular season
Season MVP

Bud Smith

(Arkansas)
Top scorer
Bud Smith (Arkansas)
Playoffs
Northern champions
Atlantic City Boardwalk Bullies
  Northern runners-up
Cincinnati Cyclones
Southern champions
Columbia Inferno
  Southern runners-up
Mississippi Sea Wolves
Playoffs MVP
Kevin Colley (Atlantic City)
Finals
Champions
Atlantic City Boardwalk Bullies
  Runners-up
Columbia Inferno
ECHL seasons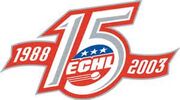 The 2002-03 ECHL season was the 15th season of the ECHL. The ECHL All-Star Game was held at Germain Arena in Estero, Florida and was hosted by the Florida Everblades. The Northern Conference All-Stars dominated the game, beating the Southern Conference All-Stars 8:2. Atlantic City's Scott Stirling was named Most Valuable Player. At the end of the season five teams, the Richmond Renegades, Arkansas RiverBlades, Jackson Bandits, Baton Rouge Kingfish, and Lexington Men O' War all ceased to operate.
Regular season
Final standings
Note: GP = Games played; W = Wins; L= Loses; T = Ties; GF = Goals for; GA = Goals against; Pts = Points; Green shade = Clinched playoff spot; Blue shade = Clinched division; (z) = Clinched home-ice advantage
Northern Conference
Southern Conference
Kelly Cup playoffs
Northern Conference
NE is short for Northeast Division
NW is short for Northwest Division
Southern Conference
SE is short for Southeast Division
SW is short for Southwest Division
Last four
Conference Finals
April 23-May 3
Kelly Cup Finals
May 7-14
 
 
 
 
 
 
NE.1
Atlantic City
4
NW.3
Cincinnati
3
NE.1
Atlantic City
4
SE.1
Columbia
1
SE.1
Columbia
4
SW.1
Mississippi
3
ECHL awards
See also: ECHL awards
See also