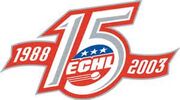 The 2002-03 ECHL season was the 15th season of the ECHL. The ECHL All-Star Game was held at Germain Arena in Estero, Florida and was hosted by the Florida Everblades. The Northern Conference All-Stars dominated the game, beating the Southern Conference All-Stars 8:2. Atlantic City's Scott Stirling was named Most Valuable Player. At the end of the season five teams, the Richmond Renegades, Arkansas RiverBlades, Jackson Bandits, Baton Rouge Kingfish, and Lexington Men O' War all ceased to operate.
Note: GP = Games played; W = Wins; L= Loses; T = Ties; GF = Goals for; GA = Goals against; Pts = Points; Green shade = Clinched playoff spot; Blue shade = Clinched division; (z) = Clinched home-ice advantage
NE is short for Northeast Division
NW is short for Northwest Division
SE is short for Southeast Division
SW is short for Southwest Division
 
Conference Finals
April 23-May 3
Kelly Cup Finals
May 7-14
 
 
 
 
 
 
 
 
 
NE.1
Atlantic City
4
 
NW.3
Cincinnati
3
 
 
 
NE.1
Atlantic City
4
 
SE.1
Columbia
1
SE.1
Columbia
4
SW.1
Mississippi
3
 
See also: ECHL awards
Community content is available under
CC-BY-SA
unless otherwise noted.