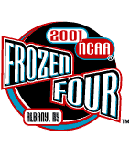 The 2001 Frozen Four was held April 5-7, 2001, in Albany, New York at the Pepsi Arena.
The participants were:
Boston College ended 51 years of frustration by defeating North Dakota in a rematch of the 2000 Frozen Four championship game, 3-2 in overtime, to win its second-ever national championship and the school's first since 1949.
Sophomore Krys Kolanos scored one of the most important goals in Boston College history when he scored the game-winner in overtime, propelling his team to victory.
All-Tournament Team
G Scott Clemmensen, Boston College
D Travis Roche, North Dakota
D Rob Scuderi, Boston College
F Chuck Kobasew, Boston College
F Krys Kolanos, Boston College
F Bryan Lundbohm, North Dakota
Most Outstanding Player: F Chuck Kobasew, Boston College
Team Photos