The 2001-02 NHL season was the 85th regular season of the National Hockey League. Thirty teams each played 82 games. The Stanley Cup winners were the Detroit Red Wings, who won the best of seven series 4–1 against the Carolina Hurricanes.
The Dallas Stars moved their home games from Reunion Arena to American Airlines Center.
Regular season
Edit
Final standings
Edit
Note: W = Wins, L = Losses, T = Ties, OTL = Overtime Losses, GF= Goals For, GA = Goals Against, Pts = Points
Scoring leaders
Edit
Note: GP = Games Played, G = Goals, A = Assists, Pts = Points
Stanley Cup playoffs
Edit
Playoff bracket
Edit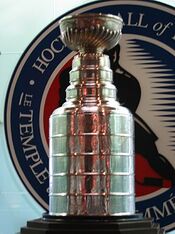 Note: All dates in 2002.
NHL Awards
Edit
The NHL Awards presentation took place in Toronto.
| | |
| --- | --- |
| Presidents' Trophy: | Detroit Red Wings |
| Prince of Wales Trophy: | Carolina Hurricanes |
| Clarence S. Campbell Bowl: | Detroit Red Wings |
| Art Ross Memorial Trophy: | Jarome Iginla, Calgary Flames |
| Bill Masterton Memorial Trophy: | Saku Koivu, Montreal Canadiens |
| Calder Memorial Trophy: | Dany Heatley, Atlanta Thrashers |
| Frank J. Selke Trophy: | Michael Peca, New York Islanders |
| Hart Memorial Trophy: | Jose Theodore, Montreal Canadiens |
| Jack Adams Award: | Bob Francis, Phoenix Coyotes |
| James Norris Memorial Trophy: | Nicklas Lidström, Detroit Red Wings |
| King Clancy Memorial Trophy: | Ron Francis, Carolina Hurricanes |
| Lady Byng Memorial Trophy: | Ron Francis, Carolina Hurricanes |
| Lester B. Pearson Award: | Jarome Iginla, Calgary Flames |
| Lester Patrick Trophy: | Herb Brooks, Larry Pleau |
| Maurice 'Rocket' Richard Trophy: | Jarome Iginla, Calgary Flames |
| NHL Plus/Minus Award: | Chris Chelios, Detroit Red Wings |
| Roger Crozier Saving Grace Award: | Jose Theodore, Montreal Canadiens |
| Vezina Trophy: | José Theodore, Montreal Canadiens |
| William M. Jennings Trophy: | Patrick Roy, Colorado Avalanche |
All-Star teams
Edit
| First Team |   Position   | Second Team |
| --- | --- | --- |
| Patrick Roy, Colorado Avalanche | G | Jose Theodore, Montreal Canadiens |
| Nicklas Lidstrom, Detroit Red Wings | D | Rob Blake, Colorado Avalanche |
| Chris Chelios, Detroit Red Wings | D | Sergei Gonchar, Washington Capitals |
| Joe Sakic, Colorado Avalanche | C | Mats Sundin, Toronto Maple Leafs |
| Jarome Iginla, Calgary Flames | RW | Bill Guerin, Boston Bruins |
| Markus Naslund, Vancouver Canucks | LW | Brendan Shanahan, Detroit Red Wings |
The following is a list of players of note who played their first NHL game in 2001-02 (listed with their first team, asterisk(*) marks debut in playoffs):
Last games
Edit
The following is a list of players of note that played their last game in the NHL in 2001-02 (listed with their last team):
Hat tricks
Edit
References
Edit