The 2001–02 Los Angeles Kings season was the Kings' 35th season in the NHL.
Offseason
NHL draft
Regular season
All-Star game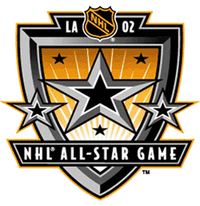 The 52nd National Hockey League All-Star Game took place on February 2, 2002, at the Staples Center in Los Angeles, California. The final score was World 8, North America 5.
Season standings
Note: CR = Conference rank; GP = Games played; W = Wins; L = Losses; T = Ties; OTL = Overtime loss; GF = Goals for; GA = Goals against; Pts = Points
         Bolded teams qualified for the playoffs.
Game log
| No. | R | Date | Score | Opponent | Record |
| --- | --- | --- | --- | --- | --- |
| 1 | T | October 4, 2001 | 2–2 OT | Phoenix Coyotes (2001–02) | 0–0–1–0 |
| 2 | L | October 7, 2001 | 3–4 | Minnesota Wild (2001–02) | 0–1–1–0 |
| 3 | L | October 9, 2001 | 1–2 | @ Dallas Stars (2001–02) | 0–2–1–0 |
| 4 | W | October 11, 2001 | 6–5 | @ St. Louis Blues (2001–02) | 1–2–1–0 |
| 5 | L | October 13, 2001 | 0–1 | Tampa Bay Lightning (2001–02) | 1–3–1–0 |
| 6 | L | October 16, 2001 | 2–3 OT | Washington Capitals (2001–02) | 1–3–1–1 |
| 7 | W | October 18, 2001 | 4–1 | Mighty Ducks of Anaheim (2001–02) | 2–3–1–1 |
| 8 | L | October 20, 2001 | 2–3 | @ Detroit Red Wings (2001–02) | 2–4–1–1 |
| 9 | W | October 23, 2001 | 7–1 | @ Columbus Blue Jackets (2001–02) | 3–4–1–1 |
| 10 | L | October 25, 2001 | 0–3 | @ Tampa Bay Lightning (2001–02) | 3–5–1–1 |
| 11 | L | October 26, 2001 | 2–3 | @ Florida Panthers (2001–02) | 3–6–1–1 |
| 12 | L | October 28, 2001 | 2–3 OT | @ Carolina Hurricanes (2001–02) | 3–6–1–2 |
| 13 | L | October 30, 2001 | 1–5 | @ Chicago Blackhawks (2001–02) | 3–7–1–2 |
| 14 | L | November 1, 2001 | 2–3 | Chicago Blackhawks (2001–02) | 3–8–1–2 |
| 15 | W | November 3, 2001 | 4–1 | Atlanta Thrashers (2001–02) | 4–8–1–2 |
| 16 | L | November 8, 2001 | 2–3 | Calgary Flames (2001–02) | 4–9–1–2 |
| 17 | W | November 10, 2001 | 3–2 OT | Detroit Red Wings (2001–02) | 5–9–1–2 |
| 18 | L | November 15, 2001 | 3–4 | Dallas Stars (2001–02) | 5–10–1–2 |
| 19 | L | November 17, 2001 | 2–4 | @ Detroit Red Wings (2001–02) | 5–11–1–2 |
| 20 | T | November 18, 2001 | 2–2 OT | @ Minnesota Wild (2001–02) | 5–11–2–2 |
| 21 | T | November 20, 2001 | 5–5 OT | @ Calgary Flames (2001–02) | 5–11–3–2 |
| 22 | W | November 22, 2001 | 4–2 | @ Edmonton Oilers (2001–02) | 6–11–3–2 |
| 23 | W | November 24, 2001 | 3–1 | San Jose Sharks (2001–02) | 7–11–3–2 |
| 24 | L | November 29, 2001 | 1–3 | Edmonton Oilers (2001–02) | 7–12–3–2 |
| 25 | W | December 1, 2001 | 4–2 | Nashville Predators (2001–02) | 8–12–3–2 |
| 26 | L | December 3, 2001 | 0–2 | Calgary Flames (2001–02) | 8–13–3–2 |
| 27 | T | December 6, 2001 | 1–1 OT | St. Louis Blues (2001–02) | 8–13–4–2 |
| 28 | L | December 8, 2001 | 0–2 | @ St. Louis Blues (2001–02) | 8–14–4–2 |
| 29 | W | December 9, 2001 | 5–2 | @ Chicago Blackhawks (2001–02) | 9–14–4–2 |
| 30 | T | December 11, 2001 | 1–1 OT | @ Nashville Predators (2001–02) | 9–14–5–2 |
| 31 | W | December 13, 2001 | 6–3 | Vancouver Canucks (2001–02) | 10–14–5–2 |
| 32 | W | December 15, 2001 | 3–2 | Columbus Blue Jackets (2001–02) | 11–14–5–2 |
| 33 | W | December 16, 2001 | 3–2 OT | @ Mighty Ducks of Anaheim (2001–02) | 12–14–5–2 |
| 34 | W | December 18, 2001 | 3–1 | @ Toronto Maple Leafs (2001–02) | 13–14–5–2 |
| 35 | W | December 20, 2001 | 4–2 | @ Ottawa Senators (2001–02) | 14–14–5–2 |
| 36 | L | December 22, 2001 | 1–2 | @ Montreal Canadiens (2001–02) | 14–15–5–2 |
| 37 | T | December 26, 2001 | 1–1 OT | @ Phoenix Coyotes (2001–02) | 14–15–6–2 |
| 38 | T | December 27, 2001 | 2–2 OT | Mighty Ducks of Anaheim (2001–02) | 14–15–7–2 |
| 39 | L | December 29, 2001 | 4–5 | New York Rangers (2001–02) | 14–16–7–2 |
| 40 | W | January 2, 2002 | 3–1 | Florida Panthers (2001–02) | 15–16–7–2 |
| 41 | W | January 5, 2002 | 3–0 | @ New York Islanders (2001–02) | 16–16–7–2 |
| 42 | W | January 7, 2002 | 3–2 | @ New Jersey Devils (2001–02) | 17–16–7–2 |
| 43 | W | January 9, 2002 | 4–0 | @ New York Rangers (2001–02) | 18–16–7–2 |
| 44 | L | January 10, 2002 | 0–5 | @ Boston Bruins (2001–02) | 18–17–7–2 |
| 45 | W | January 12, 2002 | 3–2 | @ San Jose Sharks (2001–02) | 19–17–7–2 |
| 46 | W | January 15, 2002 | 2–0 | Nashville Predators (2001–02) | 20–17–7–2 |
| 47 | W | January 17, 2002 | 4–2 | Buffalo Sabres (2001–02) | 21–17–7–2 |
| 48 | L | January 19, 2002 | 2–3 | New York Islanders (2001–02) | 21–18–7–2 |
| 49 | W | January 21, 2002 | 4–2 | @ Mighty Ducks of Anaheim (2001–02) | 22–18–7–2 |
| 50 | W | January 24, 2002 | 4–1 | Minnesota Wild (2001–02) | 23–18–7–2 |
| 51 | L | January 26, 2002 | 2–4 | Colorado Avalanche (2001–02) | 23–19–7–2 |
| 52 | W | January 28, 2002 | 6–4 | @ Colorado Avalanche (2001–02) | 24–19–7–2 |
| 53 | W | January 30, 2002 | 2–0 | @ Minnesota Wild (2001–02) | 25–19–7–2 |
| 54 | L | February 4, 2002 | 1–3 | Philadelphia Flyers (2001–02) | 25–20–7–2 |
| 55 | W | February 7, 2002 | 2–1 | Carolina Hurricanes (2001–02) | 26–20–7–2 |
| 56 | L | February 8, 2002 | 5–6 OT | @ Phoenix Coyotes (2001–02) | 26–20–7–3 |
| 57 | W | February 11, 2002 | 2–1 | Dallas Stars (2001–02) | 27–20–7–3 |
| 58 | T | February 13, 2002 | 2–2 OT | Phoenix Coyotes (2001–02) | 27–20–8–3 |
| 59 | W | February 26, 2002 | 5–1 | @ Columbus Blue Jackets (2001–02) | 28–20–8–3 |
| 60 | W | February 27, 2002 | 5–4 | @ Pittsburgh Penguins (2001–02) | 29–20–8–3 |
| 61 | L | March 2, 2002 | 0–2 | Columbus Blue Jackets (2001–02) | 29–21–8–3 |
| 62 | T | March 4, 2002 | 1–1 OT | Ottawa Senators (2001–02) | 29–21–9–3 |
| 63 | L | March 6, 2002 | 2–3 OT | @ Dallas Stars (2001–02) | 29–21–9–4 |
| 64 | W | March 7, 2002 | 3–2 | @ Nashville Predators (2001–02) | 30–21–9–4 |
| 65 | L | March 9, 2002 | 3–4 | @ Colorado Avalanche (2001–02) | 30–22–9–4 |
| 66 | W | March 11, 2002 | 2–1 | Chicago Blackhawks (2001–02) | 31–22–9–4 |
| 67 | W | March 14, 2002 | 2–1 | St. Louis Blues (2001–02) | 32–22–9–4 |
| 68 | W | March 16, 2002 | 4–3 | Pittsburgh Penguins (2001–02) | 33–22–9–4 |
| 69 | W | March 18, 2002 | 3–2 | @ San Jose Sharks (2001–02) | 34–22–9–4 |
| 70 | W | March 21, 2002 | 3–1 | Colorado Avalanche (2001–02) | 35–22–9–4 |
| 71 | W | March 23, 2002 | 3–0 | San Jose Sharks (2001–02) | 36–22–9–4 |
| 72 | L | March 24, 2002 | 0–4 | @ Phoenix Coyotes (2001–02) | 36–23–9–4 |
| 73 | L | March 26, 2002 | 0–4 | @ Vancouver Canucks (2001–02) | 36–24–9–4 |
| 74 | T | March 28, 2002 | 2–2 OT | @ Edmonton Oilers (2001–02) | 36–24–10–4 |
| 75 | L | March 30, 2002 | 3–5 | @ Calgary Flames (2001–02) | 36–25–10–4 |
| 76 | T | April 2, 2002 | 4–4 OT | Vancouver Canucks (2001–02) | 36–25–11–4 |
| 77 | W | April 4, 2002 | 3–0 | Detroit Red Wings (2001–02) | 37–25–11–4 |
| 78 | W | April 6, 2002 | 4–3 OT | Edmonton Oilers (2001–02) | 38–25–11–4 |
| 79 | W | April 8, 2002 | 3–0 | Dallas Stars (2001–02) | 39–25–11–4 |
| 80 | L | April 11, 2002 | 2–5 | @ Vancouver Canucks (2001–02) | 39–26–11–4 |
| 81 | L | April 13, 2002 | 1–3 | @ San Jose Sharks (2001–02) | 39–27–11–4 |
| 82 | W | April 14, 2002 | 1–0 | Mighty Ducks of Anaheim (2001–02) | 40–27–11–4 |
Player stats
Regular season
Scoring
Goaltending
| Player | MIN | GP | W | L | T/OT | GA | GAA | SO | SA | SV | SV% |
| --- | --- | --- | --- | --- | --- | --- | --- | --- | --- | --- | --- |
| Felix Potvin | 4071 | 71 | 31 | 27 | 8 | 157 | 2.31 | 6 | 1686 | 1529 | .907 |
| Jamie Storr | 886 | 19 | 9 | 4 | 3 | 28 | 1.90 | 2 | 360 | 332 | .922 |
| Team: | 4957 | 82 | 40 | 31 | 11 | 185 | 2.24 | 8 | 2046 | 1861 | .910 |
Playoffs
Scoring
Goaltending
| Player | MIN | GP | W | L | GA | GAA | SO | SA | SV | SV% |
| --- | --- | --- | --- | --- | --- | --- | --- | --- | --- | --- |
| Felix Potvin | 417 | 7 | 3 | 4 | 15 | 2.16 | 1 | 201 | 186 | .925 |
| Jamie Storr | 1 | 1 | 0 | 0 | 0 | 0.00 | 0 | 0 | 0 | |
| Team: | 418 | 7 | 3 | 4 | 15 | 2.15 | 1 | 201 | 186 | .925 |
Note: Pos = Position; GP = Games played; G = Goals; A = Assists; Pts = Points; +/- = plus/minus; PIM = Penalty minutes; PPG = Power-play goals; SHG = Short-handed goals; GWG = Game-winning goals
      MIN = Minutes played; W = Wins; L = Losses; T/OT = Ties/Overtime losses; GA = Goals-against; GAA = Goals-against average; SO = Shutouts; SA = Shots against; SV = Shots saved; SV% = Save percentage;
References
REDIRECT