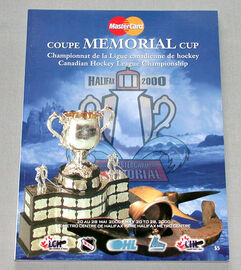 The 2000 Memorial Cup occurred May 20-28 at the Halifax Metro Centre in Halifax, Nova Scotia. It featured the host team, the Halifax Mooseheads as well as the winners of the Ontario Hockey League, Quebec Major Junior Hockey League and the Western Hockey League which were the Barrie Colts, Rimouski Océanic and the Kootenay Ice respectively. The 2000 Memorial Cup was the first ever to be played in Atlantic Canada. The Rimouski Océanic won their first Memorial Cup, beating the Barrie Colts in the final. The Colts in particular made the 2000 Memorial Cup a controversial one, due to the presence of numerous players on their team who were clients of the rogue sports agent David Frost, including future murder-for-hire suspect Mike Danton.
Round Robin
May 20 Halifax 5 Barrie 2
May 21 Rimouski 3 Kootenay 1
May 22 Halifax 7 Kootenay 1
May 23 Rimouski 7 Barrie 2
May 24 Barrie 3 Kootenay 2 (2OT)
May 25 Rimouski 5 Halifax 3
Semi-final
May 27: Barrie 6 Halifax 3
Final
May 28: Rimouski 6 Barrie 2
Jean-Francois Babin, Jonathan Beaulieu, Thatcher Bell, Jean-Philippe Briere, Jan Philippe Cadieux, Sebastien Caron, Alexis Castonguay, Ronnie DeContie, Aaron Johnson, Juraj Kolnik, Jacques Lariviere, Brent MacLellan, Benoit Martin, Michel Ouellet, Michel Periard, Nicolas Pilote, Nicholas Poirier, Brad Richards, Joe Rullier, Eric Saviel, Shawn Scanzano, Patrick Snow, Alexander Tremblay, Rene Vydareny. Coach: Doris Labonte
Ramzi Abid, HAL, (6g 4a) 10p
Juraj Kolnik, RIM, (5g 5a) 10p
Brad Richards, RIM, (4g 6a) 10p
Jasmin Gelinas, HAL, (3g 5a) 8p
Michel Periard, RIM, (2g 6a) 8p
Patrick Snow, RIM, (1g 6a) 7p
Jonathan Beaulieu, RIM, (4g 2a) 6p
Benoit Dusablon, HAL, (3g 3a) 6p
Benoit Martin, RIM, (3g 2a) 5p
Sheldon Keefe, BAR, (2g 3a) 5p
All-star team
Goal - Sebastien Caron, Rimouski
Defence - Michel Periard, Rimouski, Eric Reitz, Barrie
Forward - Brad Richards, Rimouski, Juraj Kolnik, Rimouski, Sheldon Keefe, Barrie
Community content is available under
CC-BY-SA
unless otherwise noted.