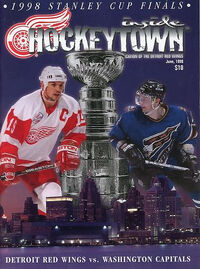 The 1998 Stanley Cup Finals were played in the 105th year of the Stanley Cup. The series was played between the Western Conference champion Detroit Red Wings and the Eastern Conference champion Washington Capitals. The Red Wings won the series for the second year in a row, 4-0.
Background
The Series
The Red Wings were led by Captain Steve Yzerman, Coach Scotty Bowman, and Goalie Chris Osgood. The Capitals were led by Captain Dale Hunter, Coach Ron Wilson, and Goalie Olaf Kolzig.
Washington vs. Detroit
Date
Away
Home
June 9
Washington 1
2 Detroit
June 11
Washington 4
5 Detroit
OT
June 13
Detroit 2
1 Washington
June 16
Detroit 4
1 Washington
Detroit wins series 4–0
and Stanley Cup
Steve Yzerman (Detroit)
wins Conn Smythe Trophy
Detroit Red Wings - 1998 Stanley Cup Champions
Roster
  Non-players
Mike Ilitch Sr. (Owner/President/Governor),

Marian Ilitch

(Owner/Secretary-Treasurer)
Atanas Ilitch, Christopher Ilitch (Vice Presidents), Denise Ilitch Lites, Ronald Ilitch (Minority Owners)
Michael Ititch Jr., Lisa Ilitch Murray, Carole Ilitch Trepeck (Minority Owners)
Jim Devellano (Sr. Vice President), Ken Holland (General Manager),
Don Waddell (Ass't General Manager), William Scotty Bowman (Head Coach/Director of Player Personnel)
Barry Smith, Dave Lewis (Associate Coaches),
Jim Nill (Director of Player Development/Director of Amateur Scouting), Dan Belise, Mark Howe (Pro Scouts)
Jim Bedard (Goaltending Consultant), Hakan Andersson (Director of European Scouting)
Mark Leach, Joe McDonnell, Bruce Haralson (Scout)
John Wharton (Athletic Trainer), Paul Boyer (Equipment Manager), Tim Abbott (Ass't Equipment Manager)
Bob Huddleston (Massage Therapist), Sergei Mnatsakanov (Masseur), Wally Crossman (Dressing Room Assistant)
Art Mnatsusakanov†, Johnny Remejes†, Mike Vella† (Dressing Room Assistants).
† Name not engraved on Stanley Cup, but included on the Stanley Cup team picture.
Stanley Cup engravings
Wally Crossman was oldest person engraved on the Stanley Cup at age 87.
Detroit wanted to included a record 55 names on the Stanley Cup in 1997–98. Following that request NHL decided to limit the number of names to 52 to make sure all names fit on the Cup. Players who play in Stanley Cup Finals, or play at least 41 regular season games for the winning team, must be included on the Cup each year. Other players who do not officially qualify may also be included if requested by the team. There are no rules for which non-players must be included on the Stanley Cup, only a limit on total number of names going on the cup. No player who officially qualifies may be left off to include more non-players.
Aftermath
The following season, the Red Wings would reach the Western Conference Semifinals, only to be ousted by the Colorado Avalanche in six games. The Red Wings would not return to the Stanley Cup Finals until four years later , when they defeated the Carolina Hurricanes in five games. The Washington Capitals, however, missed the playoffs the following year. The Capitals would not return to the Stanley Cup Finals until 20 years later, when they would win their first Stanley Cup in franchise history after defeating the expansion Vegas Golden Knights.
See Also