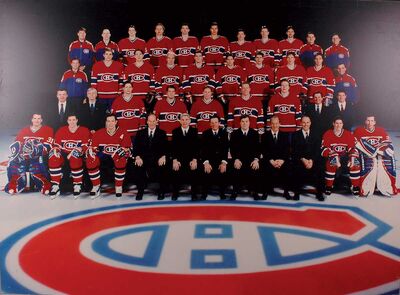 The 1998–99 Montreal Canadiens season was the club's 90th season of play. The club finished 5th in the Northeast Division and did not qualify for the Stanley Cup playoffs.
Regular season
Final standings
Note: CR = Conference rank; GP = Games played; W = Wins; L = Losses; T = Ties; GF = Goals for; GA = Goals against; Pts = Points
Teams that qualified for the playoffs are highlighted in bold.
Game log
Regular season schedule
No.
R
Date
Score
Opponent
Record
1
W
October 10, 1998
7–1
New York Rangers (1998–99)
1–0–0
2
W
October 13, 1998
1–0
Mighty Ducks of Anaheim (1998–99)
2–0–0
3
T
October 16, 1998
2–2 OT
@ Washington Capitals (1998–99)
2–0–1
4
L
October 17, 1998
3–4
Buffalo Sabres (1998–99)
2–1–1
5
L
October 19, 1998
1–2
Chicago Blackhawks (1998–99)
2–2–1
6
W
October 21, 1998
3–2
Ottawa Senators (1998–99)
3–2–1
7
L
October 24, 1998
0–3
Detroit Red Wings (1998–99)
3–3–1
8
L
October 28, 1998
2–9
Boston Bruins (1998–99)
3–4–1
9
T
October 29, 1998
1–1 OT
@ Boston Bruins (1998–99)
3–4–2
10
L
October 31, 1998
1–5
@ Ottawa Senators (1998–99)
3–5–2
11
W
November 4, 1998
4–1
@ New York Rangers (1998–99)
4–5–2
12
W
November 7, 1998
4–2
New York Islanders (1998–99)
5–5–2
13
W
November 9, 1998
5–1
Philadelphia Flyers (1998–99)
6–5–2
14
L
November 11, 1998
0–3
@ New Jersey Devils (1998–99)
6–6–2
15
L
November 12, 1998
0–4
@ New York Islanders (1998–99)
6–7–2
16
L
November 14, 1998
1–4
Edmonton Oilers (1998–99)
6–8–2
17
L
November 17, 1998
4–5
@ Carolina Hurricanes (1998–99)
6–9–2
18
W
November 19, 1998
4–3
Calgary Flames (1998–99)
7–9–2
19
L
November 21, 1998
2–3
Colorado Avalanche (1998–99)
7–10–2
20
L
November 27, 1998
1–5
@ Boston Bruins (1998–99)
7–11–2
21
L
November 28, 1998
3–4
Pittsburgh Penguins (1998–99)
7–12–2
22
W
November 30, 1998
3–1
Los Angeles Kings (1998–99)
8–12–2
23
L
December 2, 1998
1–4
@ Carolina Hurricanes (1998–99)
8–13–2
24
T
December 4, 1998
1–1 OT
@ New Jersey Devils (1998–99)
8–13–3
25
L
December 5, 1998
3–4 OT
Toronto Maple Leafs (1998–99)
8–14–3
26
L
December 9, 1998
2–4
@ Phoenix Coyotes (1998–99)
8–15–3
27
L
December 11, 1998
2–3
@ Dallas Stars (1998–99)
8–16–3
28
T
December 12, 1998
2–2 OT
@ Nashville Predators (1998–99)
8–16–4
29
T
December 14, 1998
2–2 OT
Phoenix Coyotes (1998–99)
8–16–5
30
L
December 18, 1998
2–4
@ Buffalo Sabres (1998–99)
8–17–5
31
T
December 19, 1998
1–1 OT
New Jersey Devils (1998–99)
8–17–6
32
T
December 21, 1998
2–2 OT
Dallas Stars (1998–99)
8–17–7
33
L
December 23, 1998
1–3
@ Ottawa Senators (1998–99)
8–18–7
34
W
December 26, 1998
2–1
@ Toronto Maple Leafs (1998–99)
9–18–7
35
W
December 29, 1998
5–2
@ Edmonton Oilers (1998–99)
10–18–7
36
W
December 31, 1998
2–1
@ Calgary Flames (1998–99)
11–18–7
37
W
January 2, 1999
2–1
@ Vancouver Canucks (1998–99)
12–18–7
38
L
January 4, 1999
3–4
@ Colorado Avalanche (1998–99)
12–19–7
39
W
January 7, 1999
4–1
Tampa Bay Lightning (1998–99)
13–19–7
40
W
January 9, 1999
3–2
New York Islanders (1998–99)
14–19–7
41
W
January 11, 1999
3–1
St. Louis Blues (1998–99)
15–19–7
42
L
January 12, 1999
1–5
@ Detroit Red Wings (1998–99)
15–20–7
43
W
January 15, 1999
3–0
@ Washington Capitals (1998–99)
16–20–7
44
W
January 16, 1999
3–0
New York Rangers (1998–99)
17–20–7
45
T
January 18, 1999
4–4 OT
Washington Capitals (1998–99)
17–20–8
46
L
January 21, 1999
0–3
@ Chicago Blackhawks (1998–99)
17–21–8
47
W
January 26, 1999
2–1
@ Tampa Bay Lightning (1998–99)
18–21–8
48
L
January 27, 1999
1–2
@ Florida Panthers (1998–99)
18–22–8
49
L
January 30, 1999
1–3
Carolina Hurricanes (1998–99)
18–23–8
50
L
January 31, 1999
3–5
Pittsburgh Penguins (1998–99)
18–24–8
51
W
February 3, 1999
2–1
Vancouver Canucks (1998–99)
19–24–8
52
L
February 4, 1999
2–5
@ Philadelphia Flyers (1998–99)
19–25–8
53
W
February 6, 1999
3–2
Buffalo Sabres (1998–99)
20–25–8
54
L
February 9, 1999
2–3 OT
@ Pittsburgh Penguins (1998–99)
20–26–8
55
L
February 11, 1999
2–5
@ Buffalo Sabres (1998–99)
20–27–8
56
W
February 13, 1999
4–0
Florida Panthers (1998–99)
21–27–8
57
W
February 17, 1999
6–3
@ New York Rangers (1998–99)
22–27–8
58
W
February 18, 1999
3–1
@ Philadelphia Flyers (1998–99)
23–27–8
59
L
February 20, 1999
2–3 OT
@ Toronto Maple Leafs (1998–99)
23–28–8
60
L
February 25, 1999
1–3
@ Ottawa Senators (1998–99)
23–29–8
61
W
February 27, 1999
4–1
Ottawa Senators (1998–99)
24–29–8
62
W
March 2, 1999
4–1
Philadelphia Flyers (1998–99)
25–29–8
63
T
March 3, 1999
4–4 OT
@ Pittsburgh Penguins (1998–99)
25–29–9
64
L
March 6, 1999
1–6
Tampa Bay Lightning (1998–99)
25–30–9
65
L
March 8, 1999
2–5
Florida Panthers (1998–99)
25–31–9
66
W
March 11, 1999
3–0
@ St. Louis Blues (1998–99)
26–31–9
67
W
March 13, 1999
2–1
Toronto Maple Leafs (1998–99)
27–31–9
68
W
March 18, 1999
3–2
Nashville Predators (1998–99)
28–31–9
69
L
March 20, 1999
0–1
Washington Capitals (1998–99)
28–32–9
70
T
March 22, 1999
1–1 OT
San Jose Sharks (1998–99)
28–32–10
71
W
March 24, 1999
2–0
@ Edmonton Oilers (1998–99)
29–32–10
72
L
March 25, 1999
1–2
@ Calgary Flames (1998–99)
29–33–10
73
L
March 27, 1999
1–5
@ Vancouver Canucks (1998–99)
29–34–10
74
L
April 1, 1999
2–3
Boston Bruins (1998–99)
29–35–10
75
W
April 3, 1999
2–1
Buffalo Sabres (1998–99)
30–35–10
76
L
April 5, 1999
0–3
@ Boston Bruins (1998–99)
30–36–10
77
W
April 7, 1999
2–0
Carolina Hurricanes (1998–99)
31–36–10
78
L
April 8, 1999
1–3
@ New York Islanders (1998–99)
31–37–10
79
L
April 10, 1999
2–6
New Jersey Devils (1998–99)
31–38–10
80
T
April 13, 1999
2–2 OT
@ Tampa Bay Lightning (1998–99)
31–38–11
81
L
April 14, 1999
2–3 OT
@ Florida Panthers (1998–99)
31–39–11
82
W
April 17, 1999
3–2
Toronto Maple Leafs (1998–99)
32–39–11
Player stats
Regular season
Scoring
Goaltending
| Player | MIN | GP | W | L | T | GA | GAA | SO | SA | SV | SV% |
| --- | --- | --- | --- | --- | --- | --- | --- | --- | --- | --- | --- |
| Jeff Hackett | 3091 | 53 | 24 | 20 | 9 | 117 | 2.27 | 5 | 1360 | 1243 | .914 |
| Jose Theodore | 913 | 18 | 4 | 12 | 0 | 50 | 3.29 | 1 | 406 | 356 | .877 |
| Jocelyn Thibault | 529 | 10 | 3 | 4 | 2 | 23 | 2.61 | 1 | 250 | 227 | .908 |
| Frederic Chabot | 430 | 11 | 1 | 3 | 0 | 16 | 2.23 | 0 | 188 | 172 | .915 |
| Team: | 4963 | 82 | 32 | 39 | 11 | 206 | 2.49 | 7 | 2204 | 1998 | .907 |
Note: GP = Games played; G = Goals; A = Assists; Pts = Points; +/- = Plus/Minus; PIM = Penalty Minutes; PPG=Power-play goals; SHG=Short-handed goals; GWG=Game-winning goals
      MIN=Minutes played; W = Wins; L = Losses; T = Ties; GA = Goals Against; GAA = Goals Against Average; SO = Shutouts; SA=Shots Against; SV=Shots saved; SV% = Save Percentage;
Awards and records
Transactions
Roster
Draft picks
See also: 1998 NHL Entry Draft
Farm teams
See also
References