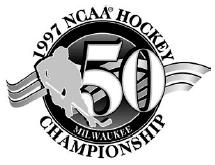 The 1997 Frozen Four was held March 27 and 29, 1997 in Milwaukee, Wisconsin at the Bradley Center.
The participants were:
North Dakota won its sixth National Championship, defeating Boston University 6-4 in the title game.
Boston University appeared in their fifth straight Frozen Four, their seventh in eight years, and their twentieth all-time.
Semifinals

March 27

National Championship

March 29

Colorado College
2
North Dakota
6
North Dakota
6
Boston Univ.
4
Boston Univ.
3
Michigan
2
All-Tournament Team
G Aaron Schweitzer, North Dakota
D Curtis Murphy, North Dakota
D Tom Poti, Boston University
F Chris Drury, Boston University
F Matt Henderson, North Dakota
F David Hoogsteen, North Dakota
Most Outstanding Player: F Matt Henderson, North Dakota

This entry is a stub. You can help the Ice Hockey Wiki by expanding it. Click the "edit" button to add information.