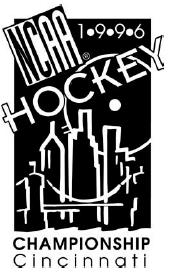 The 1996 Frozen Four was held March 30 and April 1, 1996 in Cincinnati, Ohio at Riverfront Coliseum. It was the first Frozen Four to be held in the state of Ohio and was hosted by Miami University.
The participants were:
Michigan, winners of six of the first nine Frozen Fours, won their first National Championship since 1964, and their eighth overall, defeating Colorado College 3-2 in overtime. The Tigers were appearing in their first Frozen Four since winning in 1957.
Vermont was participating in its first and, as of 2005, only Frozen Four. Boston University appeared in their fourth straight Frozen Four, their sixth in seven years.
All-Tournament Team
G Marty Turco, Michigan
D Steven Halko, Michigan
D Scott Swanson, Colorado College
F Peter Geronazzo, Colorado College
F Brendan Morrison, Michigan
F Martin St. Louis, Vermont
Most Outstanding Player: F Brendan Morrison, Michigan
Team Photos

This entry is a stub. You can help the Ice Hockey Wiki by expanding it. Click the "edit" button to add information.