The 1995-96 NHL season was the 79th regular season of the National Hockey League. Twenty-six teams each played 82 games. The Stanley Cup winners were the Colorado Avalanche, who swept the Florida Panthers in four games.
League Business
1995-96 was the first season in Denver for the Avalanche, who had relocated from Quebec City where they were previously known as the Quebec Nordiques.
It was also the last season of existence for the Winnipeg Jets, as they announced that they would be moving from Manitoba to Arizona and become the Phoenix Coyotes at season's end.
Regular season
The Detroit Red Wings had a spectacular season, finishing with the second-highest regular-season point total in NHL history (131 points), yet they fell to the Avalanche in the Western Conference final, the sixth game of which marked the beginning of the heated Detroit-Colorado rivalry.
Final standings
Note: W = Wins, L = Losses, T = Ties, GF= Goals For, GA = Goals Against, Pts = Points
Scoring leaders
Note: GP = Games Played, G = Goals, A = Assists, Pts = Points
Stanley Cup playoffs
Playoff bracket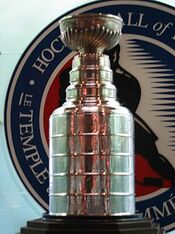 Conference quarterfinals
Eastern Conference
Philadelphia vs. Tampa Bay
Date
Away
Home
April 16
Tampa Bay 3
7 Philadelphia
April 18
Tampa Bay 2
1 Philadelphia
OT
April 21
Philadelphia 4
5 Tampa Bay
OT
April 23
Philadelphia 4
1 Tampa Bay
April 25
Tampa Bay 1
4 Philadelphia
April 27
Philadelphia 6
1 Tampa Bay
Philadelphia wins series 4–2

Pittsburgh vs. Washington
Date
Away
Home
April 17
Washington 6
4 Pittsburgh
April 19
Washington 5
3 Pittsburgh
April 22
Pittsburgh 4
1 Washington
April 24
Pittsburgh 3
2 Washington
4 OT
April 26
Washington 1
4 Pittsburgh
April 28
Pittsburgh 3
2 Washington
Pittsburgh wins series 4–2

NY Rangers vs. Montreal
Date
Away
Home
April 16
Montreal 3
2 NY Rangers
OT
April 18
Montreal 5
3 NY Rangers
April 21
NY Rangers 2
1 Montreal
April 23
NY Rangers 4
3 Montreal
April 26
Montreal 2
3 NY Rangers
April 28
NY Rangers 5
3 Montreal
NY Rangers wins series 4–2

Florida vs. Boston
Date
Away
Home
April 17
Boston 3
6 Florida
April 22
Boston 2
6 Florida
April 24
Florida 4
2 Boston
April 25
Florida 2
6 Boston
April 27
Boston 3
4 Florida
Florida wins series 4–1
Western Conference
Detroit vs. Winnipeg
Date
Away
Home
April 17
Winnipeg 1
4 Detroit
April 19
Winnipeg 0
4 Detroit
April 21
Detroit 1
4 Winnipeg
April 23
Detroit 6
1 Winnipeg
April 26
Winnipeg 3
1 Detroit
April 28
Detroit 4
1 Winnipeg
Detroit wins series 4–2

Colorado vs. Vancouver
Date
Away
Home
April 16
Vancouver 2
5 Colorado
April 18
Vancouver 5
4 Colorado
April 20
Colorado 4
0 Vancouver
April 22
Colorado 3
4 Vancouver
April 25
Vancouver 4
5 Colorado
OT
April 27
Colorado 3
2 Vancouver
Colorado wins series 4–2

Chicago vs. Calgary
Date
Away
Home
April 17
Calgary 1
4 Chicago
April 19
Calgary 0
3 Chicago
April 21
Chicago 7
5 Calgary
April 23
Chicago 2
1 Calgary
Chicago wins series 4–0

Toronto vs. St. Louis
Date
Away
Home
April 16
St. Louis 3
1 Toronto
April 18
St. Louis 4
5 Toronto
OT
April 21
Toronto 2
3 St. Louis
OT
April 23
Toronto 1
5 St. Louis
April 25
St. Louis 4
5 Toronto
OT
April 27
Toronto 1
2 St. Louis
St. Louis wins series 4–2
Conference semifinals
Eastern Conference

Florida vs. Philadelphia
Date
Away
Home
May 2
Florida 2
0 Philadelphia
May 4
Florida 2
3 Philadelphia
May 7
Philadelphia 3
1 Florida
May 9
Philadelphia 3
4 Florida
OT
May 12
Florida 2
1 Philadelphia
2OT
May 14
Philadelphia 1
4 Florida
Florida win series 4–2

NY Rangers vs. Pittsburgh
Date
Away
Home
May 3
NY Rangers 1
4 Pittsburgh
May 5
NY Rangers 6
3 Pittsburgh
May 7
Pittsburgh 3
2 NY Rangers
May 9
Pittsburgh 4
1 NY Rangers
May 11
NY Rangers 3
7 Pittsburgh
Pittsburgh wins series 4–1
Western Conference

St. Louis vs. Detroit
Date
Away
Home
May 3
St. Louis 2
3 Detroit
May 5
St. Louis 3
8 Detroit
May 8
Detroit 4
5 St. Louis
OT
May 10
Detroit 0
1 St. Louis
May 12
St. Louis 3
2 Detroit
May 14
Detroit 4
2 St. Louis
May 16
St. Louis 0
1 Detroit
2OT
Detroit wins series 4–3

Chicago vs. Colorado
Date
Away
Home
May 2
Chicago 3
2 Colorado
OT
May 4
Chicago 1
5 Colorado
May 6
Colorado 3
4 Chicago
OT
May 8
Colorado 3
2 Chicago
3OT
May 11
Chicago 1
4 Colorado
May 13
Colorado 4
3 Chicago
2OT
Colorado wins series 4–2
Conference finals
Eastern Conference
Florida vs. Pittsburgh
Date
Away
Home
May 18
Florida 5
1 Pittsburgh
May 20
Florida 2
3 Pittsburgh
May 24
Pittsburgh 2
5 Florida
May 26
Pittsburgh 2
1 Florida
May 28
Florida 0
3 Pittsburgh
May 30
Pittsburgh 3
4 Florida
June 1
Florida 3
1 Pittsburgh
Florida wins series 4–3
and Prince of Wales Trophy

Western Conference
Colorado vs. Detroit
Date
Away
Home
May 19
Colorado 3
2 Detroit
OT
May 21
Colorado 3
0 Detroit
May 23
Detroit 6
4 Colorado
May 25
Detroit 2
4 Colorado
May 27
Colorado 2
5 Detroit
May 29
Detroit 1
4 Colorado
Colorado wins series 4–2 and
Clarence S. Campbell Bowl
Finals
Colorado vs. Florida
Date
Away
Score
Home
Score
Notes
June 4
Florida
1
Colorado
3
June 6
Florida
1
Colorado
8
June 8
Colorado
3
Florida
2
June 10
Colorado
1
Florida
0
3OT
Colorado wins series 4–0
and Stanley Cup
Joe Sakic (Colorado)
wins Conn Smythe Trophy
Scoring leaders
Note: GP = Games Played, G = Goals, A = Assists, Pts = Points
NHL Awards
Presidents' Trophy:
Detroit Red Wings
Prince of Wales Trophy:
Florida Panthers
Clarence S. Campbell Bowl:
Colorado Avalanche
Art Ross Memorial Trophy:
Mario Lemieux, Pittsburgh Penguins
Bill Masterton Memorial Trophy:
Gary Roberts, Calgary Flames
Calder Memorial Trophy:
Daniel Alfredsson, Ottawa Senators
Conn Smythe Trophy:
Joe Sakic, Colorado Avalanche
Frank J. Selke Trophy:
Sergei Fedorov, Detroit Red Wings
Hart Memorial Trophy:
Mario Lemieux, Pittsburgh Penguins
Jack Adams Award:
Scotty Bowman, Detroit Red Wings
James Norris Memorial Trophy:
Chris Chelios, Chicago Blackhawks
King Clancy Memorial Trophy:
Kris King, Winnipeg Jets
Lady Byng Memorial Trophy:
Paul Kariya, Mighty Ducks of Anaheim
Lester B. Pearson Award:
Mario Lemieux, Pittsburgh Penguins
NHL Plus/Minus Award:
Vladimir Konstantinov, Detroit Red Wings
Vezina Trophy:
Jim Carey, Washington Capitals
William M. Jennings Trophy:
Chris Osgood/Mike Vernon, Detroit Red Wings
Lester Patrick Trophy:

George Gund

, Ken Morrow, Milt Schmidt
All-Star teams
| First Team |   Position   | Second Team |
| --- | --- | --- |
| Jim Carey, Washington Capitals | G | Chris Osgood, Detroit Red Wings |
| Chris Chelios, Chicago Blackhawks | D | Vladimir Konstantinov, Detroit Red Wings |
| Ray Bourque, Boston Bruins | D | Brian Leetch, New York Rangers |
| Mario Lemieux, Pittsburgh Penguins | C | Eric Lindros, Philadelphia Flyers |
| Jaromir Jagr, Pittsburgh Penguins | RW | Alexander Mogilny, Vancouver Canucks |
| Paul Kariya, Anaheim Mighty Ducks | LW | John LeClair, Philadelphia Flyers |
Debuts
The following is a list of players of note who played their first NHL game in 1995-96 (listed with their first team, asterisk(*) marks debut in playoffs):
Last games
The following is a list of players of note that played their last game in the NHL in 1995-96 (listed with their last team):
Hat tricks
See also
References