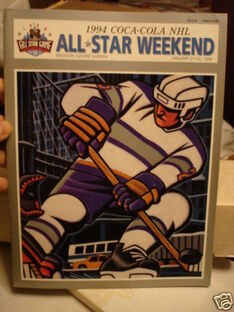 The 45th National Hockey League All-Star Game was held in New York City, New York, on January 22, 1994.
Super Skills Competition
[
]
The Western Conference would win the Skills Competition for the second straight season. In the individual events Al Iafrate won the Hardest Shot event for the second straight season, while both John Vanbiesbrouck and Patrick Roy would share the Goaltenders Competition victory. In addition, the Puck Control Relay event would be introduced as part of the individual competition with its first winner being Russ Courtnall.
Individual Event winners
[
]
The game
[
]
A capacity crowd saw Ottawa Senators' rookie Alexei Yashin score with 3:42 left in the third period, to give the Eastern Conference a 9–8 victory. The Western Conference were leading 8–6 in the third period, until Quebec Nordiques' centre Joe Sakic scored his first All-Star Game goal to cut the lead to 8–7. Then Florida Panthers' centre Bob Kudelski scored with 6:01 left to tie the game at 8–8, before Yashin would score the eventual game-winner. New York Rangers' goaltender Mike Richter was named All-Star M.V.P. after he turned away 19 of 21 shots in the second period.
Boxscore
[
]
Western Conference
Eastern Conference
Final score
8
9
Head coach
Barry Melrose (Los Angeles Kings)
Jacques Demers (Montreal Canadiens)
Honorary captain
Gordie Howe
Rod Gilbert
Lineup
Starting lineup:

Commissioner's selection:

Reserves:

Starting lineup:

Commissioner's selection:

Reserves:

Scoring summary

Roenick (Nieuwendyk, Blake), 7:31 1st
Fedorov (Bure, Ozolinsh), 10:20 1st
Shanahan (Gretzky, Hull), 13:21 1st
Andreychuk (MacInnis, Fedorov), 15:10 1st
Coffey (Andreychuk, Gilmour), 12:36 2nd
Ozolinsh (Taylor, Roenick), 14:39 2nd
Ozolinsh (Bure), 0:55 3rd
Shanahan (Gretzky, Chelios), 7:40 3rd

Kudelski (Turgeon, Bourque), 9:46 1st
Lindros (unassisted), 11:00 1st
Yashin (Sakic, Turgeon), 14:29 1st
Stevens (Oates, Sanderson), 10:37 2nd
Messier (Mullen, Graves), 15:05 2nd
Mullen (Graves, Messier), 1:28 3rd
Sakic (Turgeon, Stevens), 10:41 3rd
Kudelski (Messier), 13:59 3rd
Yashin (Sakic, Turgeon), 16:18 3rd (GWG)

Penalties

none

none

Shots on goal
17–21–8–46
19–18–19–56
Win/Loss
L - Curtis Joseph
W - John Vanbiesbrouck
Notes
[
]
↑ Jaromir Jagr was voted as a starter, but was not able to play due to injury. Mark Messier was his replacement in the starting lineup.
↑ Mark Howe was originally selected by the commissioner, but was not able to play due to injury. Joe Mullen was his replacement.
See also
[
]
Miscellaneous
[
]
In 1994, the New York Rangers made history by becoming the first (and to this date, the only) NHL team ever to host an All-Star Game, have one of its own named MVP of the All-Star Game, win the President's Trophy, and the Stanley Cup in one season, as no one from the Colorado Avalanche was named MVP of the All-Star Game in 2001.