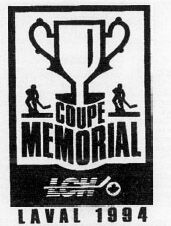 The 1994 Memorial Cup was held May 14-22 at the Colisée de Laval in Laval, Quebec. Participating teams were the host Laval Titan from the Quebec Major Junior Hockey League, as well as the winners of the Quebec Major Junior Hockey League, Ontario Hockey League and Western Hockey League, which were the Chicoutimi Saguenéens, North Bay Centennials and Kamloops Blazers. Kamloops won their second Memorial Cup, defeating Laval in the final game.
Round-robin
May 14 Laval 5-4 North Bay (OT)
May 15 Kamloops 5-4 Laval
May 15 Chicoutimi 3-1 North Bay
May 17 Kamloops 5-0 Chicoutimi
May 18 Kamloops 5-1 North Bay
May 19 Chicoutimi 2-0 Laval
Semi-final
May 21 Laval 4-2 Chicoutimi
Final
May 22 Kamloops 5-3 Laval
Nolan Baumgartner, Rod Branch, Hnat Domenichelli, Jarrett Deuling, Louis Dumont, Scott Ferguson, Dion Hagan, Greg Hart, Jason Holland, Ryan Huska, Jarome Iginla, Mike Josephson, Aaron Keller, Mike Krooshoop, Brad Lukowich, Sean Matile, Bob Maudie, Chris Murray, Tyson Nash, Steve Passmore, Rod Stevens, Jason Strudwick, Darcy Tucker, Bob Westerby. Coach: Don Hay
All-star team
Community content is available under
CC-BY-SA
unless otherwise noted.