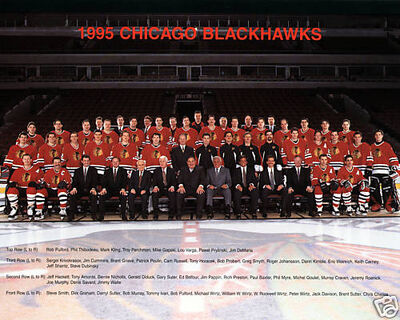 The 1994–95 Chicago Blackhawks season was the Hawks' 69th season. The Hawks ended the regular season on a high note, winning their final five games. They tied the Detroit Red Wings for most power play goals (52) and had the best power play in the league (24.76%). They also allowed the fewest goals during the regular season (115). It was an inconsistent season for the team, as they had three 5-game winning streaks (February 1 to 9; March 16 to 26; and April 25 to May 3) and one 13-game winless streak from March 29 to April 23. Within their winless streak, they lost 8 games in a row. Points-leader Bernie Nicholls had 3 hat tricks, including two four-goal games (the first one came on February 5 and the second one came on February 28). Nicholls' three-goal game came on March 21 in a 7-3 Blackhawks' win at San Jose.
In the playoffs, they defeated the Maple Leafs in a tight seven-game series, swept the Vancouver Canucks, and then lost to the Detroit Red Wings in the Western Conference Finals in five games; three of those games went into overtime (Detroit won all three).
The Blackhawks were one of only three teams in 1994–95 to have a better regular-season record on the road then at home (the other two teams were the Florida Panthers and the Los Angeles Kings).
Offseason
NHL Draft
See also: 1994 NHL Entry Draft
Regular season
Season standings
Note: No. = Division rank, CR = Conference rank, W = Wins, L = Losses, T = Ties, GF = Goals For, GA = Goals Against, Pts = Points
       Teams that qualified for the playoffs are highlighted in bold.
Game log
| No. | R | Date | Score | Opponent | Record |
| --- | --- | --- | --- | --- | --- |
| 1 | L | January 20, 1995 | 1–4 | @ Detroit Red Wings (1994–95) | 0–1–0 |
| 2 | L | January 23, 1995 | 3–5 | @ Winnipeg Jets (1994–95) | 0–2–0 |
| 3 | W | January 25, 1995 | 5–1 | Edmonton Oilers (1994–95) | 1–2–0 |
| 4 | W | January 27, 1995 | 4–1 | Toronto Maple Leafs (1994–95) | 2–2–0 |
| 5 | W | January 29, 1995 | 6–3 | @ Los Angeles Kings (1994–95) | 3–2–0 |
| 6 | L | January 30, 1995 | 1–2 | @ San Jose Sharks (1994–95) | 3–3–0 |
| 7 | W | February 1, 1995 | 7–0 | @ Edmonton Oilers (1994–95) | 4–3–0 |
| 8 | W | February 3, 1995 | 4–3 OT | @ Calgary Flames (1994–95) | 5–3–0 |
| 9 | W | February 5, 1995 | 9–4 | @ Vancouver Canucks (1994–95) | 6–3–0 |
| 10 | W | February 7, 1995 | 3–0 | @ Mighty Ducks of Anaheim (1994–95) | 7–3–0 |
| 11 | W | February 9, 1995 | 5–0 | @ St. Louis Blues (1994–95) | 8–3–0 |
| 12 | L | February 13, 1995 | 2–4 | @ Toronto Maple Leafs (1994–95) | 8–4–0 |
| 13 | T | February 16, 1995 | 2–2 OT | Calgary Flames (1994–95) | 8–4–1 |
| 14 | W | February 19, 1995 | 4–1 | Edmonton Oilers (1994–95) | 9–4–1 |
| 15 | W | February 20, 1995 | 3–2 | San Jose Sharks (1994–95) | 10–4–1 |
| 16 | L | February 23, 1995 | 2–4 | Detroit Red Wings (1994–95) | 10–5–1 |
| 17 | W | February 26, 1995 | 2–1 | @ Dallas Stars (1994–95) | 11–5–1 |
| 18 | W | February 28, 1995 | 8–4 | @ Los Angeles Kings (1994–95) | 12–5–1 |
| 19 | L | March 1, 1995 | 1–3 | @ Mighty Ducks of Anaheim (1994–95) | 12–6–1 |
| 20 | W | March 3, 1995 | 5–2 | @ Edmonton Oilers (1994–95) | 13–6–1 |
| 21 | W | March 5, 1995 | 3–0 | Mighty Ducks of Anaheim (1994–95) | 14–6–1 |
| 22 | L | March 7, 1995 | 3–6 | Calgary Flames (1994–95) | 14–7–1 |
| 23 | L | March 9, 1995 | 3–4 | Los Angeles Kings (1994–95) | 14–8–1 |
| 24 | T | March 11, 1995 | 2–2 OT | @ Toronto Maple Leafs (1994–95) | 14–8–2 |
| 25 | L | March 13, 1995 | 2–4 | @ Dallas Stars (1994–95) | 14–9–2 |
| 26 | W | March 16, 1995 | 9–2 | Vancouver Canucks (1994–95) | 15–9–2 |
| 27 | W | March 19, 1995 | 3–2 | @ Winnipeg Jets (1994–95) | 16–9–2 |
| 28 | W | March 21, 1995 | 7–3 | @ San Jose Sharks (1994–95) | 17–9–2 |
| 29 | W | March 23, 1995 | 3–1 | @ Vancouver Canucks (1994–95) | 18–9–2 |
| 30 | W | March 26, 1995 | 5–2 | Mighty Ducks of Anaheim (1994–95) | 19–9–2 |
| 31 | L | March 29, 1995 | 1–3 | St. Louis Blues (1994–95) | 19–10–2 |
| 32 | T | March 31, 1995 | 3–3 OT | Toronto Maple Leafs (1994–95) | 19–10–3 |
| 33 | L | April 2, 1995 | 1–2 | Dallas Stars (1994–95) | 19–11–3 |
| 34 | L | April 4, 1995 | 2–3 | @ Calgary Flames (1994–95) | 19–12–3 |
| 35 | L | April 5, 1995 | 1–4 | @ Winnipeg Jets (1994–95) | 19–13–3 |
| 36 | L | April 9, 1995 | 1–4 | Detroit Red Wings (1994–95) | 19–14–3 |
| 37 | L | April 12, 1995 | 2–3 | San Jose Sharks (1994–95) | 19–15–3 |
| 38 | L | April 14, 1995 | 1–3 | Detroit Red Wings (1994–95) | 19–16–3 |
| 39 | L | April 16, 1995 | 0–2 | @ Dallas Stars (1994–95) | 19–17–3 |
| 40 | L | April 17, 1995 | 1–3 | Toronto Maple Leafs (1994–95) | 19–18–3 |
| 41 | T | April 19, 1995 | 2–2 OT | St. Louis Blues (1994–95) | 19–18–4 |
| 42 | L | April 21, 1995 | 1–2 | Winnipeg Jets (1994–95) | 19–19–4 |
| 43 | T | April 23, 1995 | 2–2 OT | @ St. Louis Blues (1994–95) | 19–19–5 |
| 44 | W | April 25, 1995 | 4–3 OT | Vancouver Canucks (1994–95) | 20–19–5 |
| 45 | W | April 27, 1995 | 5–1 | Dallas Stars (1994–95) | 21–19–5 |
| 46 | W | April 30, 1995 | 4–0 | @ Detroit Red Wings (1994–95) | 22–19–5 |
| 47 | W | May 1, 1995 | 3–2 | Winnipeg Jets (1994–95) | 23–19–5 |
| 48 | W | May 3, 1995 | 5–1 | Los Angeles Kings (1994–95) | 24–19–5 |
Player stats
Forwards
Note: GP = Games played; G = Goals; A = Assists; Pts = Points; PIM = Penalty minutes
Defencemen
Note: GP = Games played; G = Goals; A = Assists; Pts = Points; PIM = Penalty minutes
Goaltending
Note: GP = Games played; W = Wins; L = Losses; T = Ties; SO = Shutouts; GAA = Goals against average
References