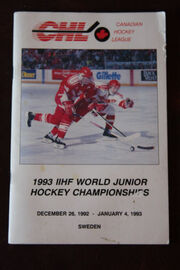 The 1993 World Junior Ice Hockey Championships (1993 WJHC) was the 17th edition of the World Junior Ice Hockey Championships and was held in Gavle, Sweden. Canada won the gold medal, its sixth championship, while Sweden won silver, and the combined team of the Czech and Slovak Republics won bronze. Peter Forsberg of Sweden scored a tournament record 31 points, while teammate Markus Naslund's 13 goals also set a tournament record.
Final standings
The 1993 tournament was a round-robin format, with the top three teams winning gold, silver and bronze medals respectively. As the tournament was ongoing, the nation of Czechoslovakia was dissolved into two separate nations, the Czech Republic and Slovakia, on New Years Day, 1993. The team remained unified throughout the tournament, however the Czechoslovakian flag and anthem were replaced with the flag and anthem of the International Ice Hockey Federation after January 1. Meanwhile, the former Soviet Union, which had competed in 1992 as the Commonwealth of Independent States competed in this tournament as Russia.
Japan was relegated to Pool B for 1994.
Results
Leading scorers
Tournament all-stars
References
Podnieks, Andrew (1998). Red, White, and Gold: Canada at the World Junior Championships 1974–1999. ECW Press. ISBN 1-55022-382-8.