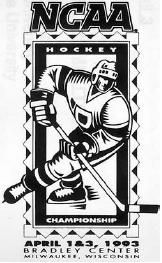 The 1993 Frozen Four was held April 1 and 3, 1993 in Milwaukee, Wisconsin at the Bradley Center. It was the first Frozen Four to take place in the state of Wisconsin.
The participants were:
Maine became the first Hockey East team to win a National Championship since the split with the ECAC in 1984, defeating the reigning champions Lake Superior 5-4. The victory capped a record-setting season as the Black Bears lost only one game all season long while becoming the first team to win 40 games.
Semifinals

April 1

National Championship

April 3

Maine
4 (OT)
Michigan
3
Maine
5
Lake Superior State
4
Boston Univ.
1
Lake Superior State
6
All-Tournament Team
G Garth Snow, Maine
D Chris Imes, Maine
D Michael Smith, Lake Superior
F Paul Kariya, Maine
F Brian Rolston, Lake Superior
F Jim Montgomery, Maine
Most Outstanding Player: F Jim Montgomery, Maine
Team Photos

This entry is a stub. You can help the Ice Hockey Wiki by expanding it. Click the "edit" button to add information.