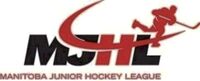 This is the 1993-94 Manitoba Junior Hockey League Season.
League Notes
Edit
Canadian Junior A Hockey League (CJAHL) is formed.
MJHL renames the Leauge's two divisions.
South Division becomes the Addison Division, honoring former commissioner Bill Addison.
North Division renamed the Allard Division to honor George Allard, longtime executive director of the MAHA.
Winkler Cup
Edit
Winnipeg South Blues won the annual Winkler Cup, by defeating the Winkler Flyers 8-5 in the final of the 10 day pre-season tournament at Notre Dame Arena in Winnipeg. All MJHL teams except Dauphin participated.
Regular Season
Edit
 
Division Semi-Finals
Division Finals
Turnbull Cup Championship
 
 
 
 
 
 
 
 
 
 
 
 
 
 
 
1
 St. Boniface Saints
4
 
4
 Southeast Blades
1
 
 
1
 St. Boniface Saints
4
 
Addison Division
 
2
 St. James Canadians
1
 
2
 St. James Canadians
4
 
3
 Winnipeg South Blues
3
 
 
 
1
 St. Boniface Saints
4
 
4
 Winkler Flyers
2
 
1
 Portage Terriers
1
 
4
 Winkler Flyers
4
 
4
 Winkler Flyers
4
Allard Division
 
3
 Dauphin Kings
3
 
2
 Neepawa Natives
2
 
3
 Dauphin Kings
4
 
Manitoba / Saskatchewan Playoff
Edit
Anavet Cup Championship
St. Boniface lost to Weyburn Red Wings (SJHL) 4-games-to-3
see 1994 Anavet Cup
Viking Cup
Edit
The Dauphin Kings won the silver medal at the Viking Cup held December 29 to January 4, hosted by Augustana University College in Camrose, Alberta. The Kings lost the gold metal game 7-1 to the Russia National Junior "18" Selects. Kings' winger Lars Molgaard was named to the tournament All-Star Team.
All-Star Game
Edit
The MJHL All-Star Game was held January 22, at the St. James Civic Centre, with the Addison Division defeating the Allard Division 11-8. Game MVP's were Mitch Grant (Addison) and Paul Carey (Allard).
see 1994 MJHL All-Star Game
Players of the Month
Edit
League Leaders
Edit
Scoring Leaders
Edit
CJAHL Award
Edit
Scholarships
Edit
All-Star Team
Edit
Jason Gudmundson • Darcy Pelletier • Ryan Smith
Winkler Flyers • Southeast Blades • St. James Canadians
Laird Lidster • Cory Francis
Portage Terriers • St. Boniface Saints
Ryan Tempel
St. Boniface Saints

in the News
Edit
June
March
May
1994
National Hockey League
Edit
Professional
Edit
Major Junior
Edit
University & College
Edit
Community content is available under
CC-BY-SA
unless otherwise noted.