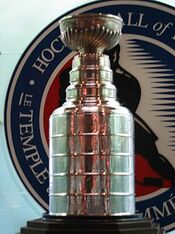 The 1992 Stanley Cup playoffs, the championship of the National Hockey League (NHL) began on April 18, after the conclusion of the 1991–92 NHL season. It was the 100th anniversary of the first awarding of the Stanley Cup, and it was won by the Pittsburgh Penguins, defeating the Chicago Blackhawks.
Playoff series[]
The 1992 playoffs saw history being made. For the first time ever, all four division winners (Detroit, Montreal, NY Rangers, Vancouver) were eliminated in the same round. In the division finals, Detroit was swept by Chicago in four straight. Montreal was also swept in four straight by Boston. The New York Rangers lost in six games to eventual champion Pittsburgh. And, Vancouver also lost in six games to Edmonton. This would be the last time the Hartford Whalers would be in the playoffs before moving to Carolina in 1997. This would be the last time the Minnesota North Stars would make the post season before moving to Dallas in 1993. The Playoffs would return to Minnesota in 2003.
Of the eight division semifinal series, three of them would take place again the following year. Vancouver defeated Winnipeg four games to two. Buffalo swept Boston in four straight. And, St. Louis swept Chicago in four straight.
Playoff bracket[]
Note: All dates in 1992
Division semi-finals[]
Wales Conference[]
Montreal vs. Hartford
Date
Away
Home
April 19
Hartford 0
2 Montreal
April 21
Hartford 2
5 Montreal
April 23
Montreal 2
5 Hartford
April 25
Montreal 1
3 Hartford
April 27
Hartford 4
7 Montreal
April 29
Montreal 1
2 Hartford
OT
May 1
Hartford 2
3 Montreal
2OT†
Montreal wins series 4–3

† Last playoff game in Hartford Whalers history.

Boston vs. Buffalo
Date
Away
Home
April 19
Buffalo 3
2 Boston
April 21
Buffalo 2
3 Boston
OT
April 23
Boston 3
2 Buffalo
April 25
Boston 5
4 Buffalo
OT
April 27
Buffalo 2
0 Boston
April 29
Boston 3
9 Buffalo
May 1
Buffalo 2
3 Boston
Boston wins series 4–3

NY Rangers vs. New Jersey
Date
Away
Home
April 19
New Jersey 1
2 NY Rangers
April 21
New Jersey 7
3 NY Rangers
April 23
NY Rangers 1
3 New Jersey
April 25
NY Rangers 3
0 New Jersey
April 27
New Jersey 5
8 NY Rangers
April 29
NY Rangers 3
5 New Jersey
May 1
New Jersey 4
8 NY Rangers
NY Rangers wins series 4–3

Washington vs. Pittsburgh
Date
Away
Home
April 19
Pittsburgh 1
3 Washington
April 21
Pittsburgh 2
6 Washington
April 23
Washington 4
6 Pittsburgh
April 25
Washington 7
2 Pittsburgh
April 27
Pittsburgh 5
2 Washington
April 29
Washington 4
6 Pittsburgh
May 1
Pittsburgh 3
1 Washington
Pittsburgh wins series 4–3
Campbell Conference[]
Detroit vs. Minnesota
Date
Away
Home
April 18
Minnesota 4
3 Detroit
April 20
Minnesota 4
2 Detroit
April 22
Detroit 5
4 Minnesota
OT
April 24
Detroit 4
5 Minnesota
April 26
Minnesota 0
3 Detroit
April 28
Detroit 1
0 Minnesota
OT
April 30
Minnesota 2
5 Detroit†
Detroit wins series 4–3

† Last playoff game in Minnesota North Stars history.

Chicago vs. St. Louis
Date
Away
Home
April 18
St. Louis 1
3 Chicago
April 20
St. Louis 5
3 Chicago
April 22
Chicago 4
5 St. Louis
2OT
April 24
Chicago 5
3 St. Louis
April 26
St. Louis 4
6 Chicago
April 28
Chicago 2
1 St. Louis
Chicago wins series 4–2

Vancouver vs. Winnipeg
Date
Away
Home
April 18
Winnipeg 3
2 Vancouver
April 20
Winnipeg 2
3 Vancouver
April 22
Vancouver 2
4 Winnipeg
April 24
Vancouver 1
3 Winnipeg
April 26
Winnipeg 2
8 Vancouver
April 28
Vancouver 8
3 Winnipeg
April 30
Winnipeg 0
5 Vancouver
Vancouver wins series 4–3

Los Angeles vs. Edmonton
Date
Away
Home
April 18
Edmonton 3
1 Los Angeles
April 20
Edmonton 5
8 Los Angeles
April 22
Los Angeles 3
4 Edmonton
April 24
Los Angeles 4
3 Edmonton
April 26
Edmonton 5
2 Los Angeles
April 28
Los Angeles 0
3 Edmonton
Edmonton wins series 4–2
Division finals[]
Wales Conference

Montreal vs. Boston
Date
Away
Home
May 3
Boston 6
4 Montreal
May 5
Boston 3
2 Montreal
OT
May 7
Montreal 2
3 Boston
May 9
Montreal 0
2 Boston
Boston win series 4–0

NY Rangers vs. Pittsburgh
Date
Away
Home
May 3
Pittsburgh 4
2 NY Rangers
May 5
Pittsburgh 2
4 NY Rangers
May 7
NY Rangers 6
5 Pittsburgh
OT
May 9
NY Rangers 4
5 Pittsburgh
OT
May 11
Pittsburgh 3
2 NY Rangers
May 13
NY Rangers 1
5 Pittsburgh
Pittsburgh wins series 4–2
Campbell Conference

Detroit vs. Chicago
Date
Away
Home
May 2
Chicago 2
1 Detroit
May 4
Chicago 3
1 Detroit
May 6
Detroit 4
5 Chicago
May 8
Detroit 0
1 Chicago
Chicago wins series 4–0

Vancouver vs. Edmonton
Date
Away
Home
May 3
Edmonton 4
3 Vancouver
OT
May 4
Edmonton 0
4 Vancouver
May 6
Vancouver 2
5 Edmonton
May 8
Vancouver 2
3 Edmonton
May 10
Edmonton 3
4 Vancouver
May 12
Vancouver 0
3 Edmonton
Edmonton wins series 4–2
Conference finals[]
Wales Conference
Pittsburgh vs. Boston
Date
Away
Home
May 17
Boston 3
4 Pittsburgh
OT
May 19
Boston 2
5 Pittsburgh
May 21
Pittsburgh 5
1 Boston
May 23
Pittsburgh 5
1 Boston
Pittsburgh wins series 4–0
and Prince of Wales Trophy

Campbell Conference
Chicago vs. Edmonton
Date
Away
Home
May 16
Edmonton 2
8 Chicago
May 18
Edmonton 2
4 Chicago
May 20
Chicago 4
3 Edmonton
OT
May 22
Chicago 5
1 Edmonton
Chicago wins series 4–0 and
Clarence S. Campbell Bowl
Finals[]
Pittsburgh vs. Chicago
Date
Away
Home
May 26
Chicago 4
5 Pittsburgh
May 28
Chicago 1
3 Pittsburgh
May 30
Pittsburgh 1
0 Chicago
June 1
Pittsburgh 6
5 Chicago
Pittsburgh wins series 4–0
and Stanley Cup
Mario Lemieux (Pittsburgh)
wins Conn Smythe Trophy
See also[]