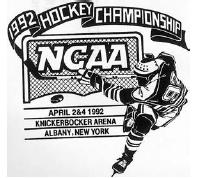 The 1992 Frozen Four was held April 2 and 4, 1992 in Albany, New York at Knickerbocker Arena. It was the first Frozen Four to take place entirely within the month of April, and part of the first NCAA Tournament since the tournament was expanded beyond four teams to have taken place entirely at neutral sites.
The participants were:
Lake Superior won its second National Championship in as many Frozen Four appearances, defeating Wisconsin 5-3 in the title game.
Wisconsin's appearance would later be vacated by the NCAA Committee on Infractions, the first time since the 1973 Frozen Four that a team was forced to vacate its appearance due to rules violations.
Semifinals

April 2

National Championship

April 4

Michigan St.
2
Lake Superior St.
4
Lake Superior St.
5
Wisconsin
3
Wisconsin
4
Michigan
2
All-Tournament Team
G Darrin Madeley, Lake Superior
D Mark Astley, Lake Superior
D Barry Richter, Wisconsin
F Paul Constantin, Lake Superior
F Brian Rolston, Lake Superior
F Jason Zent, Wisconsin
Most Outstanding Player: F Scott Beattie, Northern Michigan
Richter and Zent were officially removed from the All-Tournament Team due to Wisconsin's rules violation.
Team Photos

This entry is a stub. You can help the Ice Hockey Wiki by expanding it. Click the "edit" button to add information.