The 1990–91 WHL season was the 25th season for the Western Hockey League. Fourteen teams completed a 72 game season. The Spokane Chiefs won the President's Cup before going on to win the Memorial Cup.
Note: GP = Games played; G = Goals; A = Assists; Pts = Points; PIM = Penalties in minutes
Lethbridge earned a bye
Medicine Hat earned a bye
Regina defeated Prince Albert 3 games to 0
Moose Jaw defeated Swift Current 3 games to 0
Lethbridge defeated Moose Jaw 4 games to 1
Medicine Hat defeated Regina 4 games to 1
Kamloops defeated Tri-City 5 games to 2
Spokane defeated Seattle 5 games to 1
Lethbridge defeated Medicine Hat 4 games to 3
Spokane defeated Kamloops 5 games to 0
Spokane defeated Lethbridge 4 games to 0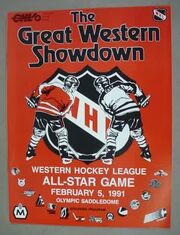 On February 5, the East division defeated the West division 8–2 at Calgary, Alberta before a crowd of 7,473.
Most Valuable Player - Four Broncos Memorial Trophy: Ray Whitney, Spokane Chiefs
Scholastic Player of the Year - Daryl K. (Doc) Seaman Trophy: Scott Niedermayer, Kamloops Blazers
Top Scorer - Bob Clarke Trophy: Ray Whitney, Spokane Chiefs
Most Sportsmanlike Player - Brad Hornung Trophy: Pat Falloon, Spokane Chiefs
Top Defenseman - Bill Hunter Trophy: Darryl Sydor, Kamloops Blazers
Rookie of the Year - Jim Piggott Memorial Trophy: Donevan Hextall, Prince Albert Raiders
Top Goaltender - Del Wilson Trophy: Jamie McLennan, Lethbridge Hurricanes
Coach of the Year - Dunc McCallum Memorial Trophy: Tom Renney, Kamloops Blazers
Executive of the Year - Lloyd Saunders Memorial Trophy: Bob Brown, Kamloops Blazers
Regular season Champions - Scotty Munro Memorial Trophy: Kamloops Blazers
Marketing/Public Relations Award - St. Clair Group Trophy: Bill Lee, Seattle Thunderbirds
WHL Plus-Minus Award: Frank Evans, Spokane Chiefs
Community content is available under
CC-BY-SA
unless otherwise noted.