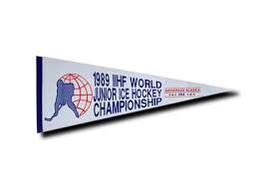 The 1989 World Junior Ice Hockey Championships (1989 WJHC) was the 13th edition of the World Junior Ice Hockey Championships and was held in Anchorage, Alaska, United States. The Soviet Union won the gold medal, its eighth, and ultimately final, championship. Sweden won silver, and Czechoslovakia the bronze.
Final standings
The 1989 tournament was a round-robin format, with the top three teams winning gold, silver and bronze medals respectively.
West Germany was relegated to Pool B for 1990.
Results
Leading scorers
Tournament all-stars
Alexei Ivashkin

Rickard Persson

Milan Tichý
Niklas Eriksson
Pavel Bure
Jeremy Roenick
References
Podnieks, Andrew (1998). Red, White, and Gold: Canada at the World Junior Championships 1974–1999. ECW Press. ISBN 1-55022-382-8.