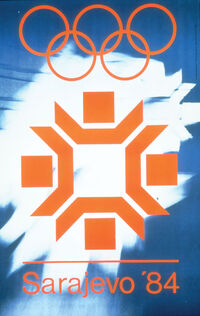 At the 1984 Winter Olympics held in Sarajevo, Yugoslavia, one ice hockey event was held: men's ice hockey. Games were held at the Olympic Hall Zetra.
Medalists
Gold:
Silver:
Bronze:
 Soviet Union

---

Vladislav Tretyak
Zinetula Bilyaletdinov
Sergei Chepelev
Nikolai Drozdetski
Viacheslav Fetisov
Aleksandr Gerasimov
Alexei Kasatonov
Andrei Komutov
Vladimir Kovin
Alexandr Kozhernikov
Vladimir Krutov
Igor Larionov
Sergei Makarov
Vladimir Myshkin
Vasili Pervukhin
Aleksandr Skvortsov
Sergei Starikov
Igor Stelnov
Viktor Tyumenev
Mikhail Vasiliev
 Czechoslovakia

---

Milan Chalupa
Jaroslav Benak
Vladimír Caldr
Frantisek Cernik
Miloslav Horava
Jiri Hrdina
Arnold Kadlec
Jaroslav Korbela
Jiri Kralik
Vladimir Kyhos
Jiri Lala
Igor Liba
Vincent Lukac
Dusan Pasek
Pavel Richter

Darius Rusnak
Vladimir Ruzicka
Jaromir Sindel
Radoslav Svoboda
Eduard Uvira

 Sweden

---

Thomas Ahlen
Pelle Eklund
Thomas Eklund
Bo Ericsson
Hakan Eriksson
Peter Gradin
Mats Hessel
Michael Hjalm
Goran Lindblom
Tommy Mörth
Hakan Nordin
Rolf Riddervall
Jens Ohling
Thomas Rundqvist
Thomas Sandstroem
Karl Haakan Södergren
Mats Thelin
Arne Michael
Mats Waltin
Göte Wälitalo
Group A
Top two teams (shaded ones) advanced to the medal round.
February 7

Sweden 11-3 Italy
USSR 12-1 Poland
West Germany 8-1 Yugoslavia
February 9

USSR 5-1 Italy
West Germany 8-5 Poland
Sweden 11-0 Yugoslavia
February 11

USSR 9-1 Yugoslavia
Italy 6-1 Poland
Sweden 1-1 West Germany
February 13

USSR 6-1 West Germany
Sweden 10-1 Poland
Yugoslavia 5-1 Italy
February 15

West Germany 9-4 Italy
Poland 8-1 Yugoslavia
USSR 10-1 Sweden
Group B
Top two teams (shaded ones) advanced to the medal round.
February 7

Canada 4-2 USA
Finland 4-3 Austria
Czechoslovakia 10-4 Norway
February 9

Canada 8-1 Austria
Czechoslovakia 4-1 USA
Finland 16-2 Norway
February 11

Czechoslovakia 13-0 Austria
Norway 3-3 USA
Canada 4-2 Finland
February 13

Canada 8-1 Norway
Czechoslovakia 7-2 Finland
USA 7-3 Austria
February 15

Czechoslovakia 4-0 Canada
Finland 3-3 USA
Austria 6-5 Norway
Medal Round
The top two teams from each group play the top two teams from the other group once. Points from previous games against their own group carry over, excluding teams who failed to make the medal round. First place team wins gold, second silver and third bronze.
February 17

USSR 4-0 Canada
Czechoslovakia 2-0 Sweden
February 19

Sweden 2-0 Canada
USSR 2-0 Czechoslovakia
Carried Over Group Matches

USSR 10-1 Sweden
Czechoslovakia 4-0 Canada
5th Place Game

7th Place Game
Leading scorers
Final ranking
Team Photos
References
See Also