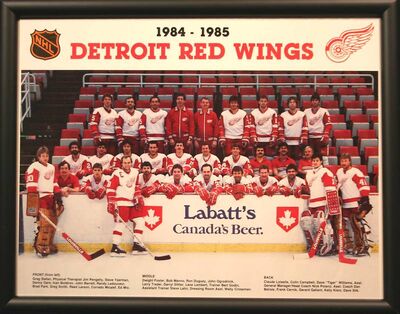 Offseason
Regular season
On October 26, 1984, Paul Coffey of the Edmonton Oilers would be the last defenceman in the 20th Century to score four goals in one game. It occurred in a game versus the Detroit Red Wings. [1]
Final standings
Note: W = Wins, L = Losses, T = Ties, GF = Goals For, GA = Goals Against, Pts = Points
Teams that qualified for the playoffs are highlighted in bold.
Game log
| No. | R | Date | Score | Opponent | Record |
| --- | --- | --- | --- | --- | --- |
| 1 | L | October 11, 1984 | 3–7 | @ Chicago Black Hawks (1984–85) | 0–1–0 |
| 2 | W | October 13, 1984 | 4–1 | New Jersey Devils (1984–85) | 1–1–0 |
| 3 | L | October 14, 1984 | 4–6 | @ Buffalo Sabres (1984–85) | 1–2–0 |
| 4 | L | October 17, 1984 | 4–6 | New York Islanders (1984–85) | 1–3–0 |
| 5 | L | October 18, 1984 | 3–7 | @ Hartford Whalers (1984–85) | 1–4–0 |
| 6 | W | October 20, 1984 | 7–4 | Chicago Black Hawks (1984–85) | 2–4–0 |
| 7 | L | October 24, 1984 | 1–6 | @ Toronto Maple Leafs (1984–85) | 2–5–0 |
| 8 | W | October 26, 1984 | 7–3 | Buffalo Sabres (1984–85) | 3–5–0 |
| 9 | L | October 30, 1984 | 3–4 | @ Pittsburgh Penguins (1984–85) | 3–6–0 |
| 10 | L | November 1, 1984 | 5–9 | Calgary Flames (1984–85) | 3–7–0 |
| 11 | T | November 2, 1984 | 3–3 OT | Winnipeg Jets (1984–85) | 3–7–1 |
| 12 | W | November 6, 1984 | 4–2 | Montreal Canadiens (1984–85) | 4–7–1 |
| 13 | L | November 8, 1984 | 2–5 | @ Boston Bruins (1984–85) | 4–8–1 |
| 14 | L | November 10, 1984 | 2–4 | Boston Bruins (1984–85) | 4–9–1 |
| 15 | L | November 13, 1984 | 4–5 OT | @ Calgary Flames (1984–85) | 4–10–1 |
| 16 | L | November 14, 1984 | 2–3 | @ Vancouver Canucks (1984–85) | 4–11–1 |
| 17 | T | November 17, 1984 | 3–3 OT | @ Minnesota North Stars (1984–85) | 4–11–2 |
| 18 | W | November 21, 1984 | 4–2 | Hartford Whalers (1984–85) | 5–11–2 |
| 19 | W | November 23, 1984 | 6–5 | Toronto Maple Leafs (1984–85) | 6–11–2 |
| 20 | L | November 24, 1984 | 4–6 | @ Montreal Canadiens (1984–85) | 6–12–2 |
| 21 | T | November 28, 1984 | 3–3 OT | Montreal Canadiens (1984–85) | 6–12–3 |
| 22 | L | November 30, 1984 | 3–5 | St. Louis Blues (1984–85) | 6–13–3 |
| 23 | L | December 1, 1984 | 5–10 | @ St. Louis Blues (1984–85) | 6–14–3 |
| 24 | W | December 4, 1984 | 7–6 | Toronto Maple Leafs (1984–85) | 7–14–3 |
| 25 | W | December 5, 1984 | 4–2 | @ Toronto Maple Leafs (1984–85) | 8–14–3 |
| 26 | W | December 7, 1984 | 5–4 | Chicago Black Hawks (1984–85) | 9–14–3 |
| 27 | L | December 9, 1984 | 0–4 | @ Washington Capitals (1984–85) | 9–15–3 |
| 28 | W | December 10, 1984 | 4–3 | @ Minnesota North Stars (1984–85) | 10–15–3 |
| 29 | L | December 12, 1984 | 1–5 | @ Chicago Black Hawks (1984–85) | 10–16–3 |
| 30 | T | December 14, 1984 | 4–4 OT | @ Buffalo Sabres (1984–85) | 10–16–4 |
| 31 | L | December 16, 1984 | 2–5 | @ Winnipeg Jets (1984–85) | 10–17–4 |
| 32 | W | December 20, 1984 | 5–4 | Quebec Nordiques (1984–85) | 11–17–4 |
| 33 | L | December 22, 1984 | 4–5 | Minnesota North Stars (1984–85) | 11–18–4 |
| 34 | W | December 26, 1984 | 5–2 | New York Rangers (1984–85) | 12–18–4 |
| 35 | W | December 28, 1984 | 4–3 | @ Calgary Flames (1984–85) | 13–18–4 |
| 36 | L | December 29, 1984 | 3–6 | @ Edmonton Oilers (1984–85) | 13–19–4 |
| 37 | T | December 31, 1984 | 4–4 OT | Pittsburgh Penguins (1984–85) | 13–19–5 |
| 38 | L | January 2, 1985 | 2–7 | New York Islanders (1984–85) | 13–20–5 |
| 39 | L | January 3, 1985 | 2–6 | @ Hartford Whalers (1984–85) | 13–21–5 |
| 40 | L | January 5, 1985 | 3–5 | Los Angeles Kings (1984–85) | 13–22–5 |
| 41 | L | January 8, 1985 | 2–4 | Washington Capitals (1984–85) | 13–23–5 |
| 42 | L | January 12, 1985 | 3–4 | @ Boston Bruins (1984–85) | 13–24–5 |
| 43 | L | January 13, 1985 | 2–5 | @ Quebec Nordiques (1984–85) | 13–25–5 |
| 44 | T | January 16, 1985 | 1–1 OT | Philadelphia Flyers (1984–85) | 13–25–6 |
| 45 | L | January 17, 1985 | 5–7 | @ Philadelphia Flyers (1984–85) | 13–26–6 |
| 46 | L | January 19, 1985 | 5–8 | Winnipeg Jets (1984–85) | 13–27–6 |
| 47 | L | January 21, 1985 | 3–6 | St. Louis Blues (1984–85) | 13–28–6 |
| 48 | W | January 22, 1985 | 5–4 | @ New York Islanders (1984–85) | 14–28–6 |
| 49 | L | January 24, 1985 | 1–3 | @ New York Rangers (1984–85) | 14–29–6 |
| 50 | T | January 26, 1985 | 4–4 OT | @ Minnesota North Stars (1984–85) | 14–29–7 |
| 51 | W | January 29, 1985 | 4–3 | Washington Capitals (1984–85) | 15–29–7 |
| 52 | L | January 31, 1985 | 2–3 | @ St. Louis Blues (1984–85) | 15–30–7 |
| 53 | W | February 2, 1985 | 6–3 | Quebec Nordiques (1984–85) | 16–30–7 |
| 54 | T | February 3, 1985 | 5–5 OT | @ New Jersey Devils (1984–85) | 16–30–8 |
| 55 | T | February 7, 1985 | 5–5 OT | St. Louis Blues (1984–85) | 16–30–9 |
| 56 | L | February 9, 1985 | 5–6 | Edmonton Oilers (1984–85) | 16–31–9 |
| 57 | T | February 14, 1985 | 5–5 OT | Minnesota North Stars (1984–85) | 16–31–10 |
| 58 | W | February 16, 1985 | 7–4 | Chicago Black Hawks (1984–85) | 17–31–10 |
| 59 | T | February 17, 1985 | 4–4 OT | @ Chicago Black Hawks (1984–85) | 17–31–11 |
| 60 | W | February 20, 1985 | 3–2 | St. Louis Blues (1984–85) | 18–31–11 |
| 61 | L | February 23, 1985 | 2–4 | Toronto Maple Leafs (1984–85) | 18–32–11 |
| 62 | L | February 24, 1985 | 2–3 | @ Chicago Black Hawks (1984–85) | 18–33–11 |
| 63 | W | February 27, 1985 | 11–5 | Vancouver Canucks (1984–85) | 19–33–11 |
| 64 | W | March 1, 1985 | 6–2 | Minnesota North Stars (1984–85) | 20–33–11 |
| 65 | L | March 2, 1985 | 2–5 | @ Minnesota North Stars (1984–85) | 20–34–11 |
| 66 | W | March 6, 1985 | 5–3 | @ Toronto Maple Leafs (1984–85) | 21–34–11 |
| 67 | L | March 9, 1985 | 5–8 | New Jersey Devils (1984–85) | 21–35–11 |
| 68 | L | March 10, 1985 | 2–6 | @ St. Louis Blues (1984–85) | 21–36–11 |
| 69 | L | March 13, 1985 | 6–7 | @ Edmonton Oilers (1984–85) | 21–37–11 |
| 70 | W | March 15, 1985 | 6–5 | @ Vancouver Canucks (1984–85) | 22–37–11 |
| 71 | L | March 16, 1985 | 3–8 | @ Los Angeles Kings (1984–85) | 22–38–11 |
| 72 | W | March 20, 1985 | 8–6 | Los Angeles Kings (1984–85) | 23–38–11 |
| 73 | W | March 22, 1985 | 5–3 | New York Rangers (1984–85) | 24–38–11 |
| 74 | L | March 24, 1985 | 3–5 | Toronto Maple Leafs (1984–85) | 24–39–11 |
| 75 | W | March 26, 1985 | 5–1 | Minnesota North Stars (1984–85) | 25–39–11 |
| 76 | L | March 28, 1985 | 1–3 | @ Philadelphia Flyers (1984–85) | 25–40–11 |
| 77 | W | March 30, 1985 | 9–3 | @ Toronto Maple Leafs (1984–85) | 26–40–11 |
| 78 | W | April 3, 1985 | 3–2 | @ Pittsburgh Penguins (1984–85) | 27–40–11 |
| 79 | T | April 6, 1985 | 2–2 OT | Chicago Black Hawks (1984–85) | 27–40–12 |
| 80 | L | April 7, 1985 | 5–6 OT | @ St. Louis Blues (1984–85) | 27–41–12 |
Playoffs
Player stats
Regular season
Scoring
Goaltending
| Player | MIN | GP | W | L | T | GA | GAA | SO |
| --- | --- | --- | --- | --- | --- | --- | --- | --- |
| Greg Stefan | 2635 | 46 | 21 | 19 | 3 | 190 | 4.33 | 0 |
| Corrado Micalef | 1856 | 36 | 5 | 19 | 7 | 136 | 4.40 | 0 |
| Eddie Mio | 376 | 7 | 1 | 3 | 2 | 27 | 4.31 | 0 |
| Team: | 4867 | 80 | 27 | 41 | 12 | 353 | 4.35 | 0 |
Playoffs
Scoring
Goaltending
Note: GP = Games played; G = Goals; A = Assists; Pts = Points; +/- = Plus-minus PIM = Penalty minutes; PPG = Power-play goals; SHG = Short-handed goals; GWG = Game-winning goals;
      MIN = Minutes played; W = Wins; L = Losses; T = Ties; GA = Goals against; GAA = Goals-against average; SO = Shutouts;
Awards and records
Transactions
Roster
Draft picks
Farm teams
See also
References
External links
Detroit Red Wings
Team
Franchise • Players • Coaches • GMs • Seasons • Draft Picks • Little Caesars Arena
Stanley Cups
1936, 1937, 1943, 1950, 1952, 1954, 1955, 1997, 1998, 2002, 2008
Affiliates
Grand Rapids Griffins (AHL), Toledo Walleye (ECHL)