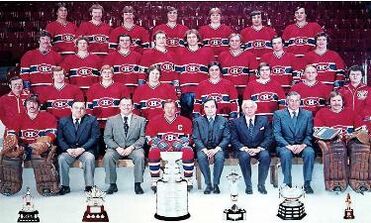 The 1979 Stanley Cup Final NHL championship series was contested by the New York Rangers and the defending champion Montreal Canadiens, making their fourth straight appearance. It was New York's first appearance since 1972. The Canadiens would win the best-of-seven series four games to one, to win their fourth consecutive Stanley Cup. As of 2009, this is the most recent time that two teams of the Original Six have competed for the Stanley Cup championship.
Paths to the Final
Montreal defeated the Toronto Maple Leafs 4–0 and the Boston Bruins 4–3 to advance to the finals. New York defeated the Los Angeles Kings 2–0, the Philadelphia Flyers 4–1 and the New York Islanders 4–2 to make it to the finals.
The series
The Canadiens won the Cup in five games, winning it on home ice for the first time since 1968. After the game Jacques Lemaire, Yvan Cournoyer and Ken Dryden retired. Coach Scotty Bowman would leave the Canadiens to join the Buffalo Sabres.
| Date | Visitors | Score | Home | Score | Notes |
| --- | --- | --- | --- | --- | --- |
| Sun, May 13 | New York | 4 | Montreal | 1 | |
| Tue, May 15 | New York | 2 | Montreal | 6 | |
| Thu, May 17 | Montreal | 4 | New York | 1 | |
| Sat, May 19 | Montreal | 4 | New York | 3 | OT |
| Mon, May 21 | New York | 1 | Montreal | 4 | |
Montreal wins the series 4–1.
Montreal Canadiens 1979 Stanley Cup champions
Roster
Stanley Cup Engraving
†Yvan Cournoyer played only 18 regular season games. He missed the rest of the season due to a back injury. His name was still put on the cup, even though he did not qualify. Serge Savard served as captain while Cournoyer was injured.
††Richard Sevigny's name was engraved on the Stanley Cup, before he played his first NHL game. He was dressed in the finals when Michel Larocque was injured in pre-game warm-up for game two. Sevigny would join Montreal full-time, the next season after Ken Dryden retired.
†††Dan Newman played 16 regular season games, but did not qualify to be on the cup. He was dressed for one playoff in the quarter-finals, but did not play
Members of Montreal Canadiens 1976 to 1979 dynasty
Rick Chartraw, Yvan Cournoyer, Ken Dryden, Bob Gainey, Doug Jarvis, Guy Lalfeur, Yvon Lambert, Guy Lapointe, Jacques Lemaire, Michel Laroque, Doug Risebrough, Mario Tremblay, Larry Robinson, Serge Savard, Steve Shutt (15 Players), Jacques Courtois, Sam Pollock, Jean Beliveau, Scotty Bowman, Claude Ruel, Eddie Palchak, Pierre Meilleur, Ron Caron (8 Non-Players)
.
See also
References
(2000) Total Stanley Cup. NHL.

 

Podnieks, Andrew; Hockey Hall of Fame (2004). Lord Stanley's Cup. Triumph Books. ISBN 1–55168–261.

 
Links to related articles