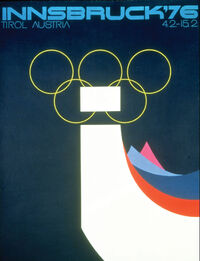 At the 1976 Winter Olympics held in Innsbruck, Austria, the Soviet Union won the Gold Medal in ice hockey. Star forward, Valeri Kharlamov scored the game-winning goal in the final game. Games were held at the Olympiahalle Innsbruck.
Highlights
The main rivalry in the tournament was between the USSR and Czechoslovakian national teams. The Czechoslovakian team suffered from influenza throughout the tournament, and they finished the game against Poland with only twelve players on the bench. A doping test of one of the players was positive and a loss was recorded for the Czechoslovakian team, although Poland did not receive points.
In the final, Czechoslovakia was up 2-0 after the first period. In the second the score was tied by Vladimir Shadrin and Vladimir Petrov. Eight minutes before the end of the game Eduard Novak scored the third goal for the Czechoslovakian team. But subsequent goals by Aleksandr Yakushev and one minute later by Valeri Kharlamov lead to the victory of the USSR.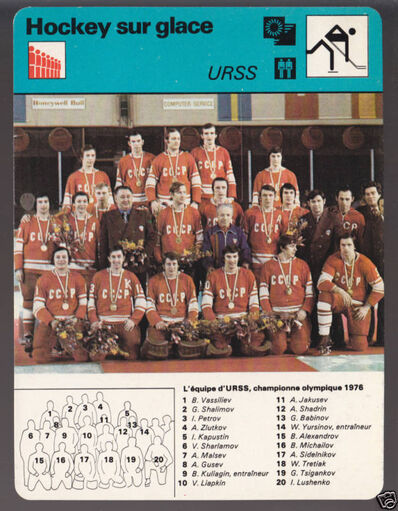 Medalists
Qualification matches
Winners qualify for the Group A to play for 1st-6th places. Other teams played in Group B for 7th-12th places. Canada withdrew from international amateur hockey entirely because of disagreements over professionals not being allowed to play, therefore they did not send a team to the 1976 Winter Olympics. Sweden also withdrew from these Olympics because of amateur-professional disputes.
February 2

Poland 7-4 Romania
Czechoslovakia 14-1 Bulgaria
West Germany 5-1 Switzerland
February 3

USSR 16-3 Austria
Finland 11-2 Japan
USA 8-4 Yugoslavia
Group A
First place team wins gold, second silver and third bronze.
February 6

Czechoslovakia 2-1 Finland
West Germany 7-4 Poland
USSR 6-2 USA
February 8

Finland 5-3 West Germany
USSR 16-1 Poland
Czechoslovakia 5-0 USA
February 10

USSR 7-3 West Germany
Poland 1-0* Czechoslovakia
USA 5-4 Finland
February 12

Czechoslovakia 7-4 West Germany
USA 7-2 Poland
USSR 7-2 Finland
February 14

USSR 4-3 Czechoslovakia
Finland 7-1 Poland
West Germany 4-1 USA
* Note: The score after the Czechoslovakia vs Poland match was 7-1, but due to the positive doping test of one of the Czechoslovakian players, the team was recorded a nil-1 loss. Poland didn't receive any points.
Group B
Teams, which lost their games in the qualification round, played in this group.
February 5

Yugoslavia 6-4 Switzerland
Romania 3-1 Japan
Austria 6-2 Bulgaria
February 7

Yugoslavia 4-3 Romania
Switzerland 8-3 Bulgaria
Austria 3-2 Japan
February 9

Yugoslavia 8-5 Bulgaria
Austria 3-4 Romania
Japan 6-4 Switzerland
February 11

Romania 9-4 Bulgaria
Austria 3-5 Switzerland
Japan 4-3 Yugoslavia
February 13

Romania 4-3 Switzerland
Japan 7-5 Bulgaria
Austria 3-1 Yugoslavia
Leading scorers
Final ranking
Team Photos
See Also
References