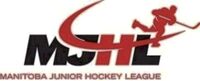 This is the 1976-77 Manitoba Junior Hockey League Season.
League Notes
[
]
West Kildonan name shorted to Kildonan North Stars.
Brian Kozak Memorial Award for Top Defenseman introduced.
Regular Season
[
]
Thompson played 3 four-point games, against St. James, Assiniboine Park, and Selkirk. Thompson lost all 3.
Playoffs
[
]
Division Semi-Finals
Division Finals
Turnbull Cup Championship
 
 
 
 
 
 
 
 
 
1
Dauphin Kings
4
4
Thompson King Miners
0
1
Dauphin Kings
4
North Division
2
Brandon Travellers
0
2
Brandon Travellers
4
3
Selkirk Steelers
3
1
Dauphin Kings
2
1
Kildonan North Stars
1
1
Kildonan North Stars
4
4
St. James Canadians
1
1
Kildonan North Stars
4
South Division
2
Kenora Thistles
3
2
Kenora Thistles
4
3
St. Boniface Saints
2
On April 5, MJHL commissioner Bill Addison called off the Turnbull Cup Finals between the Dauphin Kings and Kildonan North Stars, saying "No, I am not going to allow these characters an opportunity to beat on each other any longer. I am calling the series (a best-of-seven) and awarding it to Dauphin on the basis they won two of the three games completed." The decision came just hours after the two clubs had engaged in a pre-game brawl, in which two Kings players were taken to hospital and two North Stars were criminally charged.


Manitoba / Saskatchewan Playoff
[
]
Anavet Cup Championship
Dauphin lost to Prince Albert Raiders (SJHL) 4-games-to-1
see 1977 Anavet Cup
League Leaders
[
]
League Records
[
]
Scoring Leaders
[
]
Awards
[
]
All-Star Team
[
]
Dale Maksymyk • Ken Krentz • Jim Misener
Selkirk Steelers • Selkirk Steelers • Dauphin Kings
Dan Bryck • Mark Johnston
Kenora Thistles • Portage Terriers
Jim Tkachuk
Dauphin Kings
Coach
Phil Fafard
Kenora Thistles

in the News
[
]
October
National Hockey League
[
]
World Hockey Association
[
]
Professional Players
[
]
Major Junior Players
[
]
University & College Players
[
]