The 1975–76 Phoenix Roadrunners season was the 2nd season of operation of the Phoenix Roadrunners in the World Hockey Association (WHA). The Roadrunners finished 2nd in the Western Division and lost in the Preliminary Round to the San Diego Mariners 3 games to 2.
Off-season
[
]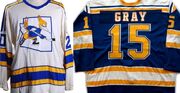 The Roadrunners overhauled the jersey design from their inaugural season in 1974-75. Although the colours remained the same, the shoulder yolks no longer extended to the sleeve ends and the roadrunner logo was removed from the yolks. The yolks also went from being mono-coloured to one main colour trimmed with stripes. Three stripes were added to the arms and while the back number was outlined, the arm numbers were not. Lastly, an outline of a map of Arizona was added around the hockey-playing roadrunner logo. This jersey design remained unchanged for the Roadrunners last season in 1976-77.
Regular Season
[
]
Final Standings
[
]
Note: GP = Games played, W = Wins, L = Losses, T = Ties, Pts = Points, GF = Goals For, GA = Goals Against, PIM = Penalties Minutes
Teams that qualified for the playoffs are highlighted in bold.
Game Log
[
]
Regular Season Results
No.
R
Date
Score
Opponent
Record
1
W
October 10, 1975
6–5
San Diego Mariners (1975–76)
1–0–0
2
W
October 11, 1975
4–2
@ San Diego Mariners (1975–76)
2–0–0
3
L
October 12, 1975
0–4
Winnipeg Jets (1975–76)
2–1–0
4
L
October 17, 1975
4–5
Denver Spurs (1975–76)
2–2–0
5
W
October 19, 1975
6–5
Winnipeg Jets (1975–76)
3–2–0
6
W
October 24, 1975
4–3
@ Calgary Cowboys (1975–76)
4–2–0
7
L
October 26, 1975
0–5
@ Winnipeg Jets (1975–76)
4–3–0
8
L
October 28, 1975
3–7
@ Edmonton Oilers (1975–76)
4–4–0
9
W
October 30, 1975
3–2
@ Denver Spurs (1975–76)
5–4–0
10
L
November 1, 1975
2–3
@ Minnesota Fighting Saints (1975–76)
5–5–0
11
L
November 2, 1975
2–5
@ Cleveland Crusaders (1975–76)
5–6–0
12
L
November 7, 1975
3–5
@ Houston Aeros (1975–76)
5–7–0
13
W
November 8, 1975
3–2
@ New England Whalers (1975–76)
6–7–0
14
L
November 9, 1975
3–7
@ Quebec Nordiques (1975–76)
6–8–0
15
T
November 14, 1975
2–2
Toronto Toros (1975–76)
6–8–1
16
T
November 16, 1975
4–4
Cleveland Crusaders (1975–76)
6–8–2
17
W
November 20, 1975
3–1
Edmonton Oilers (1975–76)
7–8–2
18
L
November 22, 1975
5–7
@ New England Whalers (1975–76)
7–9–2
19
L
November 27, 1975
1–5
Calgary Cowboys (1975–76)
7–10–2
20
T
November 29, 1975
4–4
Quebec Nordiques (1975–76)
7–10–3
21
L
November 30, 1975
1–2
Quebec Nordiques (1975–76)
7–11–3
22
W
December 4, 1975
5–4
New England Whalers (1975–76)
8–11–3
23
W
December 6, 1975
6–5 OT
Houston Aeros (1975–76)
9–11–3
24
L
December 10, 1975
1–2
Indianapolis Racers (1975–76)
9–12–3
25
L
December 12, 1975
2–4
Cincinnati Stingers (1975–76)
9–13–3
26
W
December 13, 1975
4–1
@ Denver Spurs (1975–76)
10–13–3
27
W
December 14, 1975
4–2
San Diego Mariners (1975–76)
11–13–3
28
W
December 18, 1975
7–1
Indianapolis Racers (1975–76)
12–13–3
29
L
December 20, 1975
3–4
Houston Aeros (1975–76)
12–14–3
30
W
December 23, 1975
5–3
@ Cincinnati Stingers (1975–76)
13–14–3
31
L
December 26, 1975
2–4
@ San Diego Mariners (1975–76)
13–15–3
32
W
December 27, 1975
10–0
Denver Spurs (1975–76)
14–15–3
33
W
December 28, 1975
5–2
@ Denver Spurs (1975–76)
15–15–3
34
L
January 2, 1976
1–4
@ Toronto Toros (1975–76)
15–16–3
35
W
January 3, 1976
4–1
@ Quebec Nordiques (1975–76)
16–16–3
36
L
January 4, 1976
2–3
@ Cleveland Crusaders (1975–76)
16–17–3
37
L
January 7, 1976
6–7 OT
@ Minnesota Fighting Saints (1975–76)
16–18–3
38
W
January 8, 1976
7–1
Cincinnati Stingers (1975–76)
17–18–3
39
W
January 10, 1976
8–5
Ottawa Civics (1975–76)
18–18–3
40
W
January 16, 1976
3–1
Minnesota Fighting Saints (1975–76)
19–18–3
41
L
January 17, 1976
2–4
Minnesota Fighting Saints (1975–76)
19–19–3
42
T
January 20, 1976
4–4
New England Whalers (1975–76)
19–19–4
43
W
January 22, 1976
6–4
Toronto Toros (1975–76)
20–19–4
44
W
January 25, 1976
7–5
San Diego Mariners (1975–76)
21–19–4
45
W
January 27, 1976
4–3 OT
@ San Diego Mariners (1975–76)
22–19–4
46
W
January 28, 1976
5–0
Calgary Cowboys (1975–76)
23–19–4
47
T
January 30, 1976
4–4
Cleveland Crusaders (1975–76)
23–19–5
48
L
January 31, 1976
1–6
@ San Diego Mariners (1975–76)
23–20–5
49
W
February 4, 1976
5–1
Cleveland Crusaders (1975–76)
24–20–5
50
W
February 5, 1976
5–1
Edmonton Oilers (1975–76)
25–20–5
51
W
February 7, 1976
4–2
Minnesota Fighting Saints (1975–76)
26–20–5
52
T
February 8, 1976
3–3
Minnesota Fighting Saints (1975–76)
26–20–6
53
L
February 11, 1976
1–2
@ Indianapolis Racers (1975–76)
26–21–6
54
L
February 12, 1976
1–4
Houston Aeros (1975–76)
26–22–6
55
W
February 14, 1976
5–2
@ Minnesota Fighting Saints (1975–76)
27–22–6
56
W
February 15, 1976
4–2
@ Edmonton Oilers (1975–76)
28–22–6
57
L
February 18, 1976
3–4
@ Winnipeg Jets (1975–76)
28–23–6
58
L
February 20, 1976
1–4
@ Cincinnati Stingers (1975–76)
28–24–6
59
W
February 22, 1976
6–5
@ Indianapolis Racers (1975–76)
29–24–6
60
W
February 27, 1976
4–3
San Diego Mariners (1975–76)
30–24–6
61
W
February 29, 1976
5–2
@ Calgary Cowboys (1975–76)
31–24–6
62
W
March 2, 1976
5–2
Indianapolis Racers (1975–76)
32–24–6
63
L
March 5, 1976
3–6
@ Houston Aeros (1975–76)
32–25–6
64
L
March 6, 1976
3–5
New England Whalers (1975–76)
32–26–6
65
L
March 7, 1976
2–5
@ San Diego Mariners (1975–76)
32–27–6
66
W
March 10, 1976
3–2
@ New England Whalers (1975–76)
33–27–6
67
W
March 12, 1976
5–2
@ Toronto Toros (1975–76)
34–27–6
68
L
March 13, 1976
4–6
@ Indianapolis Racers (1975–76)
34–28–6
69
W
March 14, 1976
3–2 OT
@ Cleveland Crusaders (1975–76)
35–28–6
70
L
March 17, 1976
4–7
Houston Aeros (1975–76)
35–29–6
71
L
March 19, 1976
5–6 OT
Cleveland Crusaders (1975–76)
35–30–6
72
W
March 20, 1976
4–3 OT
@ San Diego Mariners (1975–76)
36–30–6
73
L
March 21, 1976
3–4
@ Houston Aeros (1975–76)
36–31–6
74
L
March 24, 1976
4–5
Cincinnati Stingers (1975–76)
36–32–6
75
W
March 26, 1976
3–1
San Diego Mariners (1975–76)
37–32–6
76
W
March 27, 1976
5–2
@ San Diego Mariners (1975–76)
38–32–6
77
L
March 28, 1976
4–7
@ Houston Aeros (1975–76)
38–33–6
78
W
March 31, 1976
7–2
@ Cincinnati Stingers (1975–76)
39–33–6
79
L
April 3, 1976
2–8
Houston Aeros (1975–76)
39–34–6
80
L
April 6, 1976
5–8
@ Houston Aeros (1975–76)
39–35–6
Playoffs
[
]
San Diego Mariners 3, Phoenix Roadrunners 2
[
]
| | | | | | |
| --- | --- | --- | --- | --- | --- |
| # | Date | Visitor | Score | Home | Record |
| 1 | April 9 | San Diego Mariners | 2–3 OT | Phoenix Roadrunners | 0-1 |
| 2 | April 10 | Phoenix Roadrunners | 2–4 | San Diego Mariners | 1-1 |
| 3 | April 13 | San Diego Mariners | 4–6 | Phoenix Roadrunners | 1-2 |
| 4 | April 15 | Phoenix Roadrunners | 1–5 | San Diego Mariners | 2-2 |
| 5 | April 17 | San Diego Mariners | 2–1 | Phoenix Roadrunners | 3-2 |
Player Stats
[
]
Regular Season
Scoring
Goaltending
| Player | MIN | GP | W | L | T | GA | GAA | SO |
| --- | --- | --- | --- | --- | --- | --- | --- | --- |
| Jack Norris | 2412 | 41 | 21 | 14 | 4 | 128 | 3.18 | 1 |
| Gary Kurt | 2369 | 40 | 18 | 20 | 2 | 147 | 3.72 | 1 |
| Clay Hebenton | 80 | 2 | 0 | 1 | 0 | 9 | 6.75 | 0 |
| Team: | 4861 | 80 | 39 | 35 | 6 | 284 | 3.51 | 2 |
Playoffs
Scoring
Goaltending
| Player | MIN | GP | W | L | GA | GAA | SO |
| --- | --- | --- | --- | --- | --- | --- | --- |
| Jack Norris | 298 | 5 | 2 | 3 | 17 | 3.42 | 0 |
| Team: | 298 | 5 | 2 | 3 | 17 | 3.42 | 0 |
Note: Pos = Position; GP = Games played; G = Goals; A = Assists; Pts = Points; +/- = plus/minus; PIM = Penalty minutes; PPG = Power-play goals; SHG = Short-handed goals; GWG = Game-winning goals
MIN = Minutes played; W = Wins; L = Losses; T = Ties; GA = Goals-against; GAA = Goals-against average; SO = Shutouts
Awards and Records
[
]
Transactions
[
]
Draft Picks
[
]
Farm Teams
[
]
Gallery
[
]
See Also
[
]
References
[
]