The 1975–76 Boston Bruins season was the Bruins' 52nd season in the NHL. The Bruins finished 1st in the Adams Division and lost in the Semi-finals to the Philadelphia Flyers 4 games to 1.
Off-season
Regular Season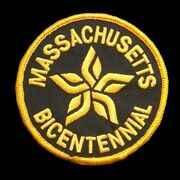 The Bruins uniforms underwent one minor change from the previous season with the addition of the Massachusetts 200th anniversary patch to the shoulders. The white jersey was worn at home with white socks and the black jersey on the road with gold socks. Although player names on the backs of the jerseys existed for select games in the 1973–74 season, this practice was abandoned for the Bruins for both the 1974–75 and 1975-76 seasons.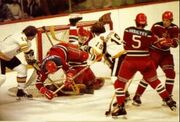 As part of the 1976 Super Series, the Bruins played CSKA Moscow on January 8, 1976. After a scoreless first period, Dave Forbes opened the scoring for the Bruins early in the second period. Valeri Kharlamov scored a pair, followed by Alexander Maltsev. Jean Ratelle cut the lead to 3-2 with a Power play marker late in the period. Despite out shooting the Soviets 40-19, the brilliant play of goalie Vladislav Tretiak kept the Bruins from adding to their tally and CSKA Moscow won 5-2.
Final Standings
Note: W = Wins, L = Losses, T = Ties, GF = Goals For, GA = Goals Against, Pts = Points
Teams that qualified for the playoffs are highlighted in bold.
Game Log
Regular Season Results
No.
R
Date
Score
Opponent
Record
2
T
October 12, 1975
3–3
New York Islanders (1975–76)
0–1–1
3
T
October 16, 1975
2–2
@ Detroit Red Wings (1975–76)
0–1–2
4
W
October 18, 1975
5–2
@ New York Islanders (1975–76)
1–1–2
5
W
October 19, 1975
3–0
Toronto Maple Leafs (1975–76)
2–1–2
6
L
October 23, 1975
2–3
Kansas City Scouts (1975–76)
2–2–2
7
L
October 25, 1975
2–6
@ Montreal Canadiens (1975–76)
2–3–2
8
W
October 26, 1975
7–3
Detroit Red Wings (1975–76)
3–3–2
9
W
October 30, 1975
3–2
St. Louis Blues (1975–76)
4–3–2
10
L
November 1, 1975
1–8
@ Philadelphia Flyers (1975–76)
4–4–2
11
W
November 2, 1975
5–0
California Golden Seals (1975–76)
5–4–2
12
L
November 5, 1975
0–4
@ Buffalo Sabres (1975–76)
5–5–2
13
L
November 8, 1975
2–4
@ Vancouver Canucks (1975–76)
5–6–2
14
W
November 9, 1975
6–3
@ California Golden Seals (1975–76)
6–6–2
15
W
November 13, 1975
6–0
Minnesota North Stars (1975–76)
7–6–2
16
W
November 15, 1975
5–3
@ Atlanta Flames (1975–76)
8–6–2
17
W
November 16, 1975
4–2
Kansas City Scouts (1975–76)
9–6–2
18
T
November 19, 1975
3–3
@ Detroit Red Wings (1975–76)
9–6–3
19
T
November 20, 1975
2–2
New York Islanders (1975–76)
9–6–4
20
T
November 23, 1975
3–3
Toronto Maple Leafs (1975–76)
9–6–5
21
W
November 25, 1975
4–2
Los Angeles Kings (1975–76)
10–6–5
22
W
November 26, 1975
6–4
@ New York Rangers (1975–76)
11–6–5
23
T
November 29, 1975
4–4
@ Chicago Black Hawks (1975–76)
11–6–6
24
W
November 30, 1975
4–2
Pittsburgh Penguins (1975–76)
12–6–6
25
W
December 4, 1975
3–2
Washington Capitals (1975–76)
13–6–6
26
W
December 6, 1975
4–2
@ Toronto Maple Leafs (1975–76)
14–6–6
27
T
December 7, 1975
2–2
Montreal Canadiens (1975–76)
14–6–7
28
L
December 11, 1975
1–5
New York Rangers (1975–76)
14–7–7
29
T
December 13, 1975
4–4
@ Pittsburgh Penguins (1975–76)
14–7–8
30
W
December 14, 1975
3–2
Vancouver Canucks (1975–76)
15–7–8
31
W
December 17, 1975
3–2
@ Washington Capitals (1975–76)
16–7–8
32
W
December 20, 1975
5–3
Buffalo Sabres (1975–76)
17–7–8
33
L
December 21, 1975
1–2
Atlanta Flames (1975–76)
17–8–8
34
L
December 23, 1975
3–4
Los Angeles Kings (1975–76)
17–9–8
35
W
December 26, 1975
6–3
@ Buffalo Sabres (1975–76)
18–9–8
36
W
December 28, 1975
4–2
@ Philadelphia Flyers (1975–76)
19–9–8
37
W
December 31, 1975
6–1
@ Minnesota North Stars (1975–76)
20–9–8
38
T
January 2, 1976
4–4
@ Vancouver Canucks (1975–76)
20–9–9
39
W
January 3, 1976
3–0
@ Los Angeles Kings (1975–76)
21–9–9
40
W
January 10, 1976
3–2
California Golden Seals (1975–76)
22–9–9
41
W
January 11, 1976
7–4
@ Washington Capitals (1975–76)
23–9–9
42
W
January 13, 1976
6–2
Pittsburgh Penguins (1975–76)
24–9–9
43
W
January 15, 1976
4–0
Los Angeles Kings (1975–76)
25–9–9
44
L
January 17, 1976
5–7
@ St. Louis Blues (1975–76)
25–10–9
45
W
January 22, 1976
5–3
Buffalo Sabres (1975–76)
26–10–9
46
W
January 24, 1976
6–1
@ Detroit Red Wings (1975–76)
27–10–9
47
W
January 25, 1976
5–3
Philadelphia Flyers (1975–76)
28–10–9
48
W
January 29, 1976
5–3
Chicago Black Hawks (1975–76)
29–10–9
49
W
January 30, 1976
4–2
@ Atlanta Flames (1975–76)
30–10–9
50
W
February 1, 1976
5–3
Atlanta Flames (1975–76)
31–10–9
51
W
February 5, 1976
5–1
Pittsburgh Penguins (1975–76)
32–10–9
52
L
February 7, 1976
4–11
@ Toronto Maple Leafs (1975–76)
32–11–9
53
W
February 8, 1976
7–0
Detroit Red Wings (1975–76)
33–11–9
54
W
February 11, 1976
5–2
@ Minnesota North Stars (1975–76)
34–11–9
55
W
February 13, 1976
6–5
@ California Golden Seals (1975–76)
35–11–9
56
W
February 15, 1976
4–1
@ Chicago Black Hawks (1975–76)
36–11–9
57
T
February 18, 1976
3–3
@ Kansas City Scouts (1975–76)
36–11–10
58
W
February 21, 1976
2–1
@ New York Islanders (1975–76)
37–11–10
59
W
February 22, 1976
5–2
@ New York Rangers (1975–76)
38–11–10
60
W
February 26, 1976
4–2
St. Louis Blues (1975–76)
39–11–10
61
T
February 27, 1976
3–3
@ Washington Capitals (1975–76)
39–11–11
62
W
February 29, 1976
5–3
Vancouver Canucks (1975–76)
40–11–11
63
W
March 3, 1976
5–3
@ Los Angeles Kings (1975–76)
41–11–11
64
L
March 5, 1976
3–4
@ California Golden Seals (1975–76)
41–12–11
65
W
March 7, 1976
4–3
Washington Capitals (1975–76)
42–12–11
66
L
March 9, 1976
0–9
@ Atlanta Flames (1975–76)
42–13–11
67
W
March 11, 1976
6–2
Toronto Maple Leafs (1975–76)
43–13–11
68
L
March 13, 1976
2–4
@ Montreal Canadiens (1975–76)
43–14–11
69
W
March 14, 1976
4–2
California Golden Seals (1975–76)
44–14–11
70
T
March 16, 1976
3–3
@ St. Louis Blues (1975–76)
44–14–12
71
W
March 18, 1976
5–2
@ Kansas City Scouts (1975–76)
45–14–12
72
W
March 20, 1976
8–1
New York Rangers (1975–76)
46–14–12
73
T
March 24, 1976
5–5
@ Pittsburgh Penguins (1975–76)
46–14–13
74
W
March 25, 1976
4–2
Chicago Black Hawks (1975–76)
47–14–13
75
T
March 27, 1976
4–4
Philadelphia Flyers (1975–76)
47–14–14
76
T
March 28, 1976
2–2
Montreal Canadiens (1975–76)
47–14–15
77
T
March 30, 1976
4–4
Buffalo Sabres (1975–76)
47–14–16
78
L
April 1, 1976
2–7
@ Buffalo Sabres (1975–76)
47–15–16
79
W
April 3, 1976
4–2
@ Toronto Maple Leafs (1975–76)
48–15–16
80
T
April 4, 1976
2–2
Minnesota North Stars (1975–76)
48–15–17
Playoffs
Boston Bruins 4, Los Angeles Kings 3
Philadelphia Flyers 4, Boston Bruins 1
Player Stats
Regular Season
Scoring
Goaltending
Playoffs
Scoring
Goaltending
Note: Pos = Position; GP = Games played; G = Goals; A = Assists; Pts = Points; +/- = plus/minus; PIM = Penalty minutes; PPG = Power-play goals; SHG = Short-handed goals; GWG = Game-winning goals
MIN = Minutes played; W = Wins; L = Losses; T = Ties; GA = Goals-against; GAA = Goals-against average; SO = Shutouts
Awards and Records
Transactions
Draft Picks
Trivia
Gallery
References