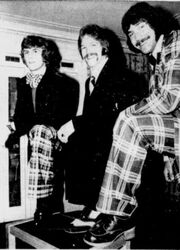 The 1973 NHL Amateur Draft, the 11th National Hockey League draft was the first to be held on a separate day from other league activities on May 15, 1973, at the Mount Royal Hotel in Montreal so it would not overshadow the rest of the league meetings. Previously, the league had held the amateur draft in mid-June. It also marks the second time the meeting took place at the Mount Royal Hotel rather than the Queen Elizabeth Hotel. In 1972, when the World Hockey Association was beginning to take form, some teams were more focused on the amateur draft that they stopped paying attention to other issues (mainly the WHA raiding NHL rosters) and were spending their time preparing for the draft.
With the WHA having already operated for a full season, NHL teams realized they would have to fight to sign their top picks. This was especially important in a year when the draft was considered extremely deep and the WHA was scheduled to draft players just three days after the NHL.
The top pick of the 1973 NHL amateur draft was Ottawa 67's star Denis Potvin who was projected to be the next Bobby Orr. The Montreal Canadiens, the most active team on draft day, re-positioned themselves by trading for several high picks and then offered the New York Islanders all types of packages for the first choice overall as they want to select Potvin for themselves. Islanders general manager Bill Torrey was not interested, however and held on to the top pick. He selected Potvin, who became a big part of the building block for the Islanders hockey dynasty between 1980 to 1983
Although the NHL had to compete hard with the WHA to sign these amateur players, they managed to sign all 16 of their first-round draft picks before the rival league could. The NHL-WHA competition was so fierce that the Toronto Maple Leafs offered a staggering, at the time, five-year $600,000 contract for right winger Lanny McDonald of the Medicine Hat Tigers , which kept the No. 4 pick from signing with the WHA's Cleveland Crusaders.
Eligible for the draft were all amateur players born before January 1, 1954 The NHL paid a lump sum to the Canadian Amateur Hockey Association to support major junior hockey as a group. Teams could offer a player a contract at any time after the draft without risking then re-entering a future NHL draft.
Below are listed the selections in the 1973 NHL Amateur Draft.
| | | | | |
| --- | --- | --- | --- | --- |
| | = NHL All-Star [1] | | | = Hall of Famers |
Community content is available under
CC-BY-SA
unless otherwise noted.