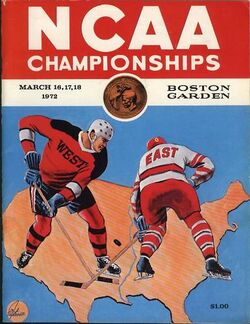 The 1972 Frozen Four was held March 16-18, 1972, in Boston, Massachusetts at Boston Garden.
The participants were:
The Terriers of Boston University would win their second straight national championship, blanking rival Cornell 4-0 with help from the hometown crowd. It would be the last time that a team would enjoy a second straight championship win until 2003, when Minnesota accomplished the feat.
Tournament bracket
Semifinals
Final
Boston U.
4
Wisconsin
1
Boston U.
4
Cornell
0
Third place
Denver
2
Wisconsin
5
Cornell
7
Denver
2
Team Photos
All-Tournament Team
G Tim Regan, Boston University
D Bob Brown, Boston University
D Ric Jordan, Boston University
F John Danby, Boston University
F Bob Krieger, Denver
F Dave Westner, Cornell
F Gary Winchester, Wisconsin
Most Outstanding Player: G Tim Regan, Boston University