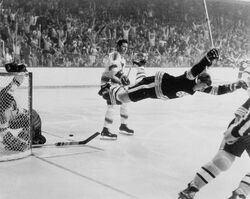 The 1970 Stanley Cup Final NHL championship series was contested by the Boston Bruins and the St. Louis Blues, appearing in their third straight finals. The Bruins were making their first appearance in the Final since the 1958 Final. The Bruins would win the series 4–0, their first Stanley Cup victory in 29 years. Bobby Orr scored the Cup-winning goal on Glenn Hall, with an assist from Derek Sanderson, at forty seconds of overtime, and the subsequent image of Orr flying through the air, his arms raised in victory — he had been tripped by Blues' defenceman Noel Picard at the moment of shooting — is arguably the most famous and recognized hockey image of all time.
Paths to the Final
Edit
Boston defeated the New York Rangers 4–2 and the Chicago Black Hawks 4–0 to advance to the final. St. Louis defeated the Minnesota North Stars 4–2 and the Pittsburgh Penguins 4–2.
The series
Edit
At 3:57 of the first period, a hard shot from Fred Stanfield was deflected and struck Jacques Plante in the forehead of his face mask, splitting the mask in half and injuring Plante. Plante was finished for the series. Doctors later said if he hadn't been wearing the mask, he surely would have been killed. Ernie Wakely took over in goal but only held off the Bruins for a few minutes before becoming a rather easy mark for Bruins sharpshooters.
| Date | Visitors | Score | Home | Score | Notes |
| --- | --- | --- | --- | --- | --- |
| May 3 | Boston | 6 | St. Louis | 1 | |
| May 5 | Boston | 6 | St. Louis | 2 | |
| May 7 | St. Louis | 1 | Boston | 4 | |
| May 10 | St. Louis | 3 | Boston | 4 | OT |
Boston wins the series 4–0.
Boston Bruins 1970 Stanley Cup champions
Edit
Roster
  Non-players
Weston Adams Sr. (Chairman/Owner), Weston Adams Jr. (President/Owner)
Charles Mulcahy Jr., Ed Powers, Shelby Davis (Vice Presidents)
Harry Sinden (Head Coach), Milt Schmidt (General Manager)
Tom Johnson (Ass't General Manager), Dan Canney (Trainer)
John Forristall (Ass't Trainers)
Stanley Cup engravings
Edit
Tom Johnson's name was engraved T. Johnson TR by mistake. Johnson was actually the assistant manager, not the trainer. The mistake was not corrected on the replica Cup created in 1992–93.
Ted Green received a head injury in a pre-season game. He missed the entire season, but his name was still engraved on the Stanley Cup. John Adams (goal) and Ivan Boldirev (forward) had their names engraved on the Cup before they played their first NHL game. Boldirev played his first NHL game during 1970–71 season, Adams played his first NHL game for Boston during in the 1972–73 season. Dan Schock played in the minors, but was called up to play one playoff game, earning a spot on the Stanley Cup.
Links to related articles
Community content is available under
CC-BY-SA
unless otherwise noted.