The 1968-69 NHL season was the 52nd season of the National Hockey League. Twelve teams each played 76 games (two more than in 1967-68). For the second time in a row, the Montreal Canadiens faced the St. Louis Blues in the Stanley Cup finals. Montreal won for their second Stanley Cup in a row as they swept the Blues in four, which was the exact same result of the previous season.
Regular Season
Edit
Prior to this season no player had ever achieved 100 points in a season. This season saw not just one player reach 100, but three. The Boston Bruins' Phil Esposito led the way with 49 goals, 77 assists for an astounding new record of 126 points. Bobby Hull of Chicago set a new record for goals with 58 and came in second in overall scoring with 107. Forty-one year old Gordie Howe came in third with 103 points.
Red Berenson of St. Louis tied an NHL record, scoring six goals for the Blues in an 8-0 conquest of the Philadelphia Flyers November 7th. Doug Favell was the victim of the goals.
Despite finishing last in the West Division, Minnesota came up with a fine rookie left wing in Danny Grant, who tied Nels Stewart's record for most goals by a rookie with 34. Norm Ferguson of Oakland also tied the mark with 34.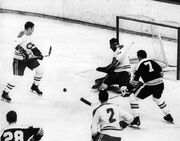 On December 21st, with Gump Worsley out because of a nervous breakdown and Rogie Vachon out with a broken hand, rookie goaltender Tony Esposito of the Canadiens and Gerry Cheevers of the Bruins hooked up in a classic scoreless tie. Esposito made 41 saves, many of the stellar variety, against Johnny McKenzie, Fred Stanfield, Ron Murphy and big brother Phil. Cheevers made 34 saves, including breakaways by Henri Richard and Bobby Rousseau, and a labeled backhand by Jean Beliveau on a three on one break. The Esposito brothers faced each other twice more during December, a 2-2 tie on December 5, where Phil scored both Bruins goals and a 7-5 Bruins win on December 22 where Phil scored twice more.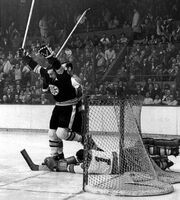 Los Angeles introduced a fine rookie goaltender named Gerry Desjardins who did a fine job for the ailing Wayne Rutledge, who was bothered by a groin injuries most of the season. Desjardins recorded 4 shutouts during the season in helping the Kings make the playoffs and win their first round series over Oakland.
On March 2nd, Phil Esposito became the first NHL player to score 100 points in a season in a 4-0 win over the Pittsburgh Penguins by notching 2 goals on Joe Daley.
In March 20th's Boston-Chicago game, two milestones were accomplished. Bobby Hull broke his own record for goals with his 55th goal, and Bobby Orr broke Flash Hollett's record for goals by a defenceman with his 21st goal. The game ended in a 5-5 tie.
Final Standings
Edit
Note: GP = Games played, W = Wins, L = Losses, T = Ties, Pts = Points, GF = Goals for, GA = Goals against, PIM = Penalties in minutes
Note: Teams that qualified for the playoffs are highlighted in bold
Scoring Leaders
Edit
Note: GP = Games played, G = Goals, A = Assists, PTS = Points, PIM = Penalties in minutes
Leading Goaltenders
Edit
Stanley Cup Playoffs
Edit
Playoff Bracket
Edit
Boston Bruins 4, Toronto Maple Leafs 0
Edit
The teams last met a decade before in the 1959 Semi-finals where the Leafs edged the Bruins 4 games to 3. The Bruins ran roughshod over the Maple Leafs in the 1969 Semi-finals, led by Phil Esposito who had 10 points, 5 goals from Derek Sanderson and Gerry Cheevers who had 2 shutouts and allowed only 5 goals in Boston's four game sweep.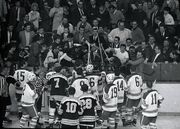 Game 1 at Boston Garden was a wide open, penalty-filled affair dominated by the Bruins who outshot the Leafs 51-40. Boston scored two quick Power play goals by Esposito and John Bucyk and led 2-0 before four minutes were played. Esposito potted another before the first period ended. Johnny Bower was pulled and gave way to Bruce Gamble at the start of the second period. Bucyk scored his second goal and then Sanderson his first at 10:40. With the Bruins leading 5-0, the roughness picked up with the Leafs Forbes Kennedy drawing a double minor. Esposito scored on the power play for his first playoff Hat trick. Sanderson and Tim Horton fought and with two minutes to go in the period, Pat Quinn caught Bobby Orr with his head down and hit him with a high check. Orr lay motionless and the crowd began to bay for Quinn's head. Receiving a 5 minute elbowing penalty, he went to the penalty box where he was attacked by fans. The glass behind the box shattered, police had to intervene and the Leafs bench cleared to help Quinn. Orr was taken to hospital with a concussion but played in the next game. Esposito scored his fourth goal of the game during Quinn's penalty, who had gone to the dressing room. With Boston leading 7-0 starting the third period, Fred Stanfield scored during the remainder of Quinn's penalty. Quinn returned to the ice where fans showered him with debris. Multiple melees broke out as the period progressed with 17 penalties called. Gerry Cheevers fought while Kennedy had two fights, punched a linesman and received seven penalties and a game misconduct as part of 135 minutes in penalties called in the game. Sanderson scored his second of the game and Ken Hodge his first as the Bruins destroyed the Leafs 10-0 powered by 6 points by Esposito.

Game 2 at Boston saw Toronto's Forbes Kennedy out of the line-up with a four game suspension and $1000 fine. It was a much tamer affair than Game 1 with only one fight. The Bruins continued to dominate the Leafs with a pair of goals by John Bucyk and one by Ted Green in the first period. John McKenzie added another in the second period and Johnny Bower was once again pulled in favour of Bruce Gamble. Ken Hodge put the Bruins up 5-0 by the end of the second period and third period goals by Phil Esposito and Ron Murphy completed a 7-0 rout.

Game 3 at Maple Leaf Gardens was the closest game of the series as the Leafs came to life. The teams traded chances all game with Ed Westfall opening the scoring with a shorthanded goal to which Ron Ellis responded four minutes later. Ted Green's second of the series put the Bruins up 2-1 heading into the second period. Fred Stanfield extended the lead to 3-1 before Murray Oliver and Norm Ullman tied the game 3-3. Johnny Bower was pulled for the third game in a row for Bruce Gamble but Derek Sanderson's was set up by Bobby Orr for the third period's only goal as Boston edged Toronto 4-3. It was the first victory for Boston in Toronto since November 27, 1965.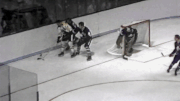 Game 4 at Toronto saw Phil Esposito take a hooking penalty 23 seconds into the game. Ed Westfall picked off a pass by George Armstrong and sent Derek Sanderson in for a shorthanded goal at 1:21. Two minutes later on the power play, John Bucyk beat two Leafs to the puck in the left corner and passed it to Phil Esposito whose one-timer beat Johnny Bower for a 2-0 Bruins lead. The Leafs got one back on the power play as Murray Oliver made a nice move on Don Awrey and fed it to Ron Ellis who shot in the open right side of the net. In the second period, Westfall beat two Leafs to the puck and passed it out front to Eddie Shack. He pulled Tim Horton with him and then fed a pass to Derek Sanderson, who fired the game winner into the open left side of the net. With Mike Pelyk off for cross checking, Dave Keon scored a shorthanded goal on a 2 on 1 with Ellis. The Leafs couldn't even the score in the third period and the game ended with a 3-2 Boston win and a series sweep. It was the only game in which the Maple Leafs didn't pull their goalie. Immediately afterwards, Leafs GM and coach of over a decade, Punch Imlach, was let go.
| | | | | | |
| --- | --- | --- | --- | --- | --- |
| # | Date | Visitor | Score | Home | Record |
| 1 | April 2 | Toronto Maple Leafs | 0-10 | Boston Bruins | 0-1 |
| 2 | April 3 | Toronto Maple Leafs | 0-7 | Boston Bruins | 0-2 |
| 3 | April 5 | Boston Bruins | 4-3 | Toronto Maple Leafs | 3-0 |
| 4 | April 6 | Boston Bruins | 3-2 | Toronto Maple Leafs | 4-0 |
Montreal Canadiens 4, Boston Bruins 2
Edit
The teams met the year before in the 1968 Quarter-finals where Montreal swept Boston 4 games to 0. The 1969 Semi-finals was much closer with the Canadiens winning three games in overtime to take the series 4 games to 2.
Game 1 at the Montreal Forum had 10 penalties called in the first period as both teams tried to establish a physical edge. Derek Sanderson opened the scoring as he pulled the puck through Canadiens defenseman Ted Harris and then fired a slapshot past Gump Worsley's stick side at 13:28 of the first period. Montreal pressed hard for an equalizer in the second period and out chanced Boston. Mickey Redmond hit the post, Bobby Rousseau and Henri Richard had great chances which Bruins goalie Gerry Cheevers turned aside. With Boston down two men, Derek Sanderson for slashing and Bobby Orr off for tripping, the Bruins killed off Sanderson's penalty. He returned to the ice, picked up the puck in his own zone, broke into the Habs zone, beat J.C. Tremblay to the outside left, cut to the net and caromed a shot off Worsley for a shorthanded goal. The Bruins continued to frustrate the Habs in the third period, killing off two early penalties in which Montreal had few chances and the crowd began to boo. Fred Stanfield hit the post and nearly made it 3-0 before Eddie Shack took an elbowing penalty that would change the game. John Ferguson took a long shot while racing down the left wing that beat Cheevers and made it 2-1. Boston had no chances on a power play with less than five minutes to play. With 1:02 to play, Montreal pulled Worsley for an extra attacker and Jean Béliveau won a face-off over Phil Esposito in Boston's zone. Cheevers saved a point shot but Beliveau whacked in the rebound to send the game into overtime. 40 seconds in, Dallas Smith turned over the puck at the Bruins blueline to Serge Savard who passed it to Ralph Backstrom, who was in full flight. Backstrom's slapper from the slot beat Cheevers to the stick side for a 3-2 Montreal win.

Game 2 at Montreal mirrored Game 1 in many ways. Despite taking too many penalties (Montreal had 7 power plays), the Bruins penalty killing was excellent but eventually it proved fatal. After a scoreless first period, Yvan Cournoyer and John McKenzie traded goals with the man advantage in the second period. Jean Beliveau put the Habs up 2-1 but Ron Murphy tied it up less than a minute later. With less than six minutes left in the third period, John Bucyk gave the Bruins a 3-2 lead. As in Game 1, the Canadiens pulled Gump Worsley for an extra attacker. Serge Savard tied the game in the last minute, shovelling a bouncing puck past Gerry Cheevers. In overtime, Ted Green took a hooking penalty 3:31 in and Ralph Backstrom won a draw in the Bruins zone back to Savard. Mickey Redmond deflected Savard's point shot past Cheevers for a 4-3 Canadiens win.

Game 3 at the Boston Garden saw the Bruins play with more discipline and Phil Esposito's line dominated Montreal's top line of Jean Beliveau, Dick Duff and Bobby Rousseau. Esposito opened the scoring as he one-timed a Bobby Orr dump-in that bounced off the boards in front of the Habs net 3:37 into the game. After killing off three penalties, the Bruins made it 2-0 at 16:35 of the second period as Ed Westfall picked off a Montreal clearing attempt, passed it to Esposito in the corner who found Orr in front of the Canadiens net. Orr passed it to Westfall, after drawing the Habs defenders to him, and Westfall slid it into the open net. Early in the third period on the power play, Ron Murphy won a puck battle at centre ice, skated into Montreal's zone and backhanded a pass to Esposito in the slot. Orr drove for net, leaving Esposito to fire the puck past Worsley. At 10:07, Ken Hodge stripped Rousseau of the puck in the Canadiens zone, passed it back to Murphy who beat Worsley to the stick side for a 4-0 Boston lead. Right off the face-off, Dallas Smith carried the puck into the Canadien's zone and fed it to Esposito. His shot on Worsley rebounded out to Ken Hodge who made it 5-0. Jean Beliveau finished -4, Esposito had a hand in all five Bruin goals as Boston narrowed Montreal's series lead to 2-1.

Game 4 at Boston was penalty-filled with the Bruins taking the majority of the 18 called. However, Boston turned this to their advantage with Ed Westfall and Derek Sanderson both scoring shorthanded goals in the first period, countered by a power play goal by Jacques Lemaire. The game remained scoreless through the second period with a melee involving spearing between Ted Harris and Glen Sather. With less than two minutes left in the third period, Bobby Orr put the Bruins up 3-1. Serge Savard again scored with Worsley pulled but the game ended in a 3-2 Bruins win and the series tied 2-2.

Game 5 at Montreal saw the Bruins fail to take advantage of their chances. Jacques Laperriere opened the scoring on the power play late in the first period. Claude Provost and J.C. Tremblay scored two quick goals early in the second period before Ken Hodge notched a pair, including one on the power play. Provost's second of the game at 7:06 of the third period made it 4-2 Montreal. Despite out shooting Montreal 42-25 and having seven power plays, the game ended 4-2 and the Canadiens took a 3-2 series lead.

Game 6 at Boston was a wide open, goaltender's duel in which the Bruins outshot the Canadiens 51-47. Ron Murphy opened the scoring 2:29 into the game and then Boston killed off three penalties. The second period was scoreless, despite the Bruins having a 5 on 3 power play for 1:24. Early in the third period, Serge Savard tied the game on the power play. The teams kept trading chances for the remainder of regulation and the first overtime period, in which the Bruins had a power play, but with no scoring. Past the midway point of the second overtime period, Phil Esposito won a face-off in the Bruins zone and Hodge cleared it back to Ted Green. Green rounded the net and passed it out front to Don Awrey. Claude Provost picked off Awrey's clearing attempt, passed it in the slot to Jean Beliveau who beat Cheevers with a high shot to the glove side for his only career OT goal. The Canadiens took the close series 4 games to 2. Despite not playing in the Cup Finals, Esposito still led all playoff scorers with 18 points.

| | | | | | |
| --- | --- | --- | --- | --- | --- |
| # | Date | Visitor | Score | Home | Record |
| 1 | April 10 | Boston Bruins | 2-3 (OT) | Montreal Canadiens | 0-1 |
| 2 | April 13 | Boston Bruins | 3-4 (OT) | Montreal Canadiens | 0-2 |
| 3 | April 17 | Montreal Canadiens | 0-5 | Boston Bruins | 2-1 |
| 4 | April 20 | Montreal Canadiens | 2-3 | Boston Bruins | 2-2 |
| 5 | April 22 | Boston Bruins | 2-4 | Montreal Canadiens | 2-3 |
| 6 | April 24 | Montreal Canadiens | 2-1 (OT) | Boston Bruins | 4-2 |
NHL Awards
Edit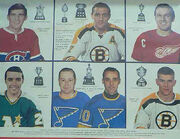 All-Star Teams
Edit
| First Team |   Position   | Second Team |
| --- | --- | --- |
| Glenn Hall, St. Louis Blues | G | Ed Giacomin, New York Rangers |
| Bobby Orr, Boston Bruins | D | Ted Green, Boston Bruins |
| Tim Horton, Toronto Maple Leafs | D | Ted Harris, Montreal Canadiens |
| Phil Esposito, Boston Bruins | C | Jean Beliveau, Montreal Canadiens |
| Gordie Howe, Detroit Red Wings | RW | Yvan Cournoyer, Montreal Canadiens |
| Bobby Hull, Chicago Blackhawks | LW | Frank Mahovlich, Detroit Red Wings |
The following is a list of players of note who played their first NHL game in 1968-69 (listed with their first team, asterisk(*) marks debut in playoffs):
Last Games
Edit
The following is a list of players of note that played their last game in the NHL in 1968-69 (listed with their last team):
Complete game with commercials from the Leafs-Bruins match on October 26, 1968. During the second intermission (at 1:34:00), Tim Horton talks about his donut stores.
Footage of the third period melee between the Bruins and Leafs during Game 1 of the 1969 Quarter-finals in which Forbes Kennedy has multiple fights, April 2, 1969.
The game tying and overtime goal from the Bruins-Canadiens Semi-finals Game 2, all five goals from Game 3, the overtime winner in Game 6, then highlights from the 1969 Stanley Cup Finals.
References
Edit
Community content is available under
CC-BY-SA
unless otherwise noted.